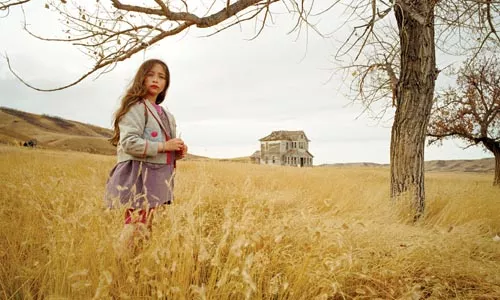 We've seen it before, in nearly each of the films of Terry Gilliam: the cold war, and the hot skirmishes, between fantasy and reality.
Gilliam's latest, the American gothic Tideland, is in some ways the most daring of the lot. It's also not the least problematic.
The film's setting is a nominal refuge: the boyhood Great Plains home to which aging junkie rock musician Noah (Jeff Bridges) flees with his precocious daughter, Jeliza-Rose (Jodelle Ferland), after her mother overdoses.
The home on the range, however, only starts out looking preferable to what's been left behind. Noah himself quickly and quietly croaks, leaving Jeliza-Rose to the care and company of four imaginary friends -- embodied in plastic doll heads she wears on her fingers -- and two live humans: Dell (Janet McTeer), an imposing, dreadlocked, one-eyed neo-frontier woman dressed all in black, and Dickens (Brendan Fletcher), her childlike, epileptic brother, with a hideously scarred scalp and overactive imagination.
That's to say that Tideland, based on the Mitch Cullin novel, begins with a nightmare of post-'60s America, where a child might be forced to raise not only herself but her helplessly narcissistic parents (or at least to help Dad shoot up). But it careens into a twisted, fable-damaged version of that mythic, traditional rural America -- where, even if you do make it home again, the past dooms you to repeat it, and you, or somebody else, can't help ending up dead.
The film strikes first as a pastiche of the references it flaunts. Jeliza-Rose starts the film reading aloud from Alice's Adventures in Wonderland, and Tideland has enough surrogate March Hares, for instance -- including a squirrel -- to overrun the Australian outback. Noah's arc has him expiring in an armchair, then remaining there, politely decomposing, while Jeliza-Rose bewigs and cosmeticizes him. He suggests Mrs. Bates -- especially after his Norman shows up in the person of Dell. Turns out she was his childhood sweetheart, and sees in his return occasion to put her taxidermy skills to good use.
That the fate of Noah's husk recalls his old fixation upon bog people -- those hapless ancients tanned like leather in the marshes of Northern Europe -- is just one of the many crookedly poetic connections to be made in Tideland. One's course through the film, in fact, feels navigated by Gilliam's unbridled camera. The director of Brazil and Fear and Loathing in Las Vegas is habitually free with the lens, but here it is positively, madly, joyously anchorless: floating, fisheyed, drunkenly lurching as if attempting to rationalize what's senseless, from the corpses of mothers in beds (the film has two) to fireflies in broad daylight.
Or maybe the camera bobs in sympathy with metaphorical links between the plains of sun-lit grass and the sea. Benighted Dickens imagines himself a submarine captain, a crypto-Ahab whose whale is a monster shark is the passenger train that roars past their desolate prospect, heedless as night, murderous and vulnerable.
"You brought him back to me, so we'll share him now," Dell informs Jeliza-Rose of Noah. Young Ferland plays the heroine proficiently, as well as you could expect of a child actor carrying a film; her one-girl cast of voices for her doll-heads -- Southern Belle, British lass, et al. -- are a creepy hoot. But it's McTeer (Tumbleweeds) who rivets as a lonely woman, as desperate to control her life as she is deathly afraid of the bees she believes could snatch it any moment.
Meanwhile, just as Jeliza-Rose and Dickens crawl to "the edge of the world" -- a sudden industrial site behind the waving grasses -- so does Gilliam approach taboo. Alice's glimpsed Wonderland, it turns out, is in part the mystery-grove of adult sex; the fact that it can be reached here only through tangles of preadolescent sexuality makes Tideland hypnotically disturbing, however innocent Jeliza-Rose's banter with Dickens. But what to think when a filmmaker who's addressed sexuality as little as Gilliam gives you, as he does here, a cryptic mock wedding, complete with parodic child bride? And a climactic disaster that's a metaphorical consummation?
It is dark terrain, but ultimately you are glad you visited. In Brazil, Tuttle's fantasies cannot keep totalitarian reality at bay; in The Brothers Grimm, myth demands a hearing to set the everyday world right. With Tideland, Gilliam paints the danger to reality of the fantasies that reality requires of us to survive.

Starts Fri., Dec. 8. Harris