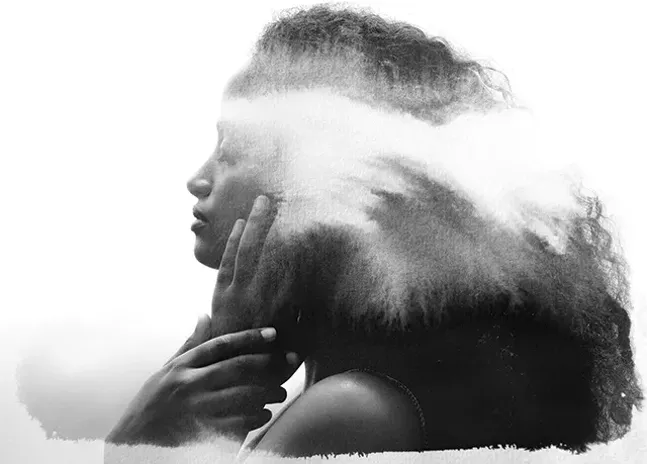 What to do in a world obsessed with youth and anti-aging/anti-frizz beauty products when you're a woman in her 40s with an Afro?
The lessons of society come at you from an early age. Jack and Jill, Barbie, Disney, Star Wars ... Sure, there was also Sesame Street, Fat Albert, and Ezra Jack Keats. But for the most part, as a little Black girl, my erasure from so-called mainstream media and society was absolute.
"You're not valuable; you're not smart, nor beautiful. You have no history, no present, and no future." That was what American society told me in so many words, but so thorough and insidious was the lesson that often no words were needed.
So what to do?
For a little while, you follow along. You straighten your hair, you even put a tank top on your head, whip it around to mimic the coiffure you see in TV and movies.
Then one day your dad argues with your mom when she is about to grab the heated metal straightening comb from the oven burner. "You are teaching our daughter to hate herself!" He yells.
Both you and your mom ignore him and continue to press away the Afro coils into straight strands.
But you don't completely disregard his words.
A seed of rejection was planted, which comes to fruition years later. In college, you style your hair into an Afro; the ease, the beauty, history, and heritage all come through in the proud cloud of ebony brown nappy curls. You ignore the "anti-frizz," "curl defining" creams and let your hair just be your hair. Let it be you.
Now you have years of self-defined beauty and hard-fought self-love. You have fortified yourself for whatever society throws at you. Or so you think.
Then a growing crescendo of anti-aging messaging you easily ignored before starts to grow louder and louder. The well-earned laugh lines and eye wrinkles are to be rubbed, acid-washed, or lasered away. The words "old" and "aging" are not a gift, but something to be fought against.
"You don't look your age!" It is meant as a compliment.
Imagine a rallying cry: "What do we want? Anti-aging! When do we want it? Now!" Are we using the very skin on our bodies to fight against the beautiful gift of life? Or is it that we want to be 80 years old but look 25? If so, why? What kind of system values us, especially women, for only 10-15 years of our 78 years of life expectancy in the United States?
It is an ageist, ableist system that makes us do whatever we can to look as young as we can for as long as possible. But what are we conforming to? Why are we disappointed when we see the evidence of a life of laughter, joy, pain, and as the song goes, "sunshine and rain?"

That is our life, we earned all of it, celebrate! Show the world every spin around the sun, our life's continued adventures - wrinkles and all. In one way I am lucky: I have had a lifetime of rejecting and ignoring society's harmful lessons on who I am.
But I know me. I am valuable, smart, and beautiful. So are you. I have a proud history, thriving present, and joyful future. We all do, that's the gift of aging.