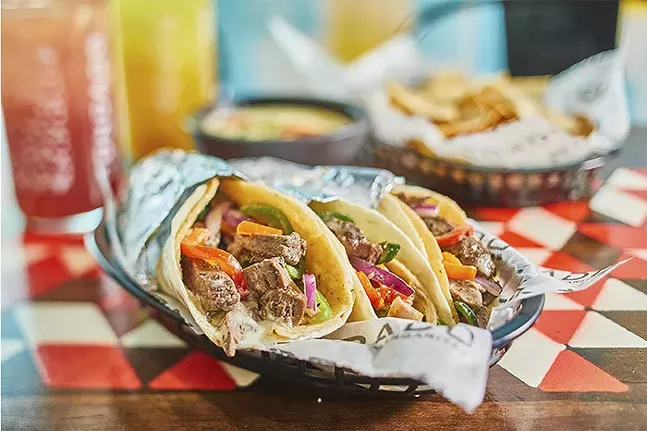 Lorelei x East End Brewing
124 S. Highland Ave., East Liberty. loreleipgh.com
Fans of barleywine will want to check out
the latest event
from <!———StartFragment———>Lorelei and East End Brewing. On Sat., Jan. 21 at 2 p.m., patrons can enjoy small pours of six barleywines available on tap at Lorelei. Included are the <!———StartFragment———>OEC Esgaroth, J.W. Lees 2020 Harvest Ale, and Alvinne Cuvee D'Erpigny. Admission is free.
Hidden Harbor x Golden Age Beer
<!———StartFragment———>37 E. Eighth Ave., Homestead. hiddenharborpgh.com/merch
Tickets are now on sale for the Hi-Tide Winter Holiday Tiki Brunch presented by Hidden Harbor and Golden Age Beer<!———EndFragment———>. Taking place on Feb. 19, the event includes a three-course meal (vegan options will also be available), tropical cocktails, and live Hawaiian-themed jazz music by <!———StartFragment———>Slowey and the Boats. Each timed ticket costs $35 and can be purchased at the link above.
<!———StartFragment———>
Rodef Shalom x Greater Pittsburgh Community Food Bank<!———EndFragment———>
<!———EndFragment———><!———StartFragment———>4905 Fifth Ave., Oakland. pittsburghfoodbank.org
The Greater Pittsburgh Community Food Bank wants people to save the date for its annual
Empty Bowls Dinner
taking place this spring. The annual community meal will offer "local chef-created soups," as well as fresh bread and other treats. Diners are also encouraged to take home ceramic bowls made by local artisans as reminders of those in the region facing hunger. All proceeds from the 2023 Empty Bowls Dinner, happening at the Rodef Shalom Congregation on March 26, will benefit Greater Pittsburgh Community Food Bank and Just Harvest.
The
recently opened Pittsburgh location
for Aslin Beer has an updated menu at its Strip District taproom. In an Instagram post, the brewery spotlights a number of new dishes, including fri-chos (think nachos but with French fries) with a variety of toppings, sides like fried Brussels sprouts, salads, and filling entrees. There are even vegetarian options, including plant-based versions of various sandwiches, made with oyster mushrooms or Impossible burger patties.
<!———StartFragment———>
Condado Tacos
Multiple locations. condadotacos.com
This
Mexican food chain
introduced new items that are sure to add some heat to your winter. You can now order the Tequila-Lime Steak Tacos made with queso blanco, fajita peppers and onions, and a smoked cheddar queso drizzle, all on a soft flour tortilla or hard corn shell. There's also the Fire-Roasted Street Bowl with roasted chicken, rice, black beans, fire-roasted corn, cilantro-lime aioli, cotija cheese, cilantro, Tajin, and a lime wedge. The Brussel Simmons Queso comes with shaved Brussels sprouts and is topped with bacon and a balsamic glaze. Wash it all down with the sweet, citrusy, tequila-based Pom Pom Club.
<!———EndFragment———><!———StartFragment———>
Some locally made cheese took home top awards at the recent PA Farm Show in Harrisburg, Pa. Goat Rodeo, a farm based in Allison Park, dominated the categories of "Flavored Cheese from Goat Milk, Sheep Milk, or Mixed Milk" and "Soft, Semi-soft, Semi-hard Goat Cheese." More Cowbell, described in a release as a semi-firm, cave-aged cheese made with local cow's milk, won Best in Show in the latter category.
Goodlander Cocktail Brewery
6614 Hamilton Ave., Larimer. goodlandercocktails.com
<!———StartFragment———>Goodlander announced a new winter cocktail, the vodka-based Blood Orange Mule. In
an Instagram post
, the brewery described it as a spin on its Moscow Mule recipe, made with ginger, lime, and a "healthy measure of house-made blood orange sherbet (a blend of peels, juice, sugar, and a pinch of salt)." Try one before it's gone.
Latte Lane
2581 Freeport Road, Harmar. lattelanepgh.com
This drive-thru coffee company has
a new menu
just in time for Valentine's Day. Try drinks featuring flavors like banana split, caramel cookie dough, chocolate cherry cheesecake, and more.