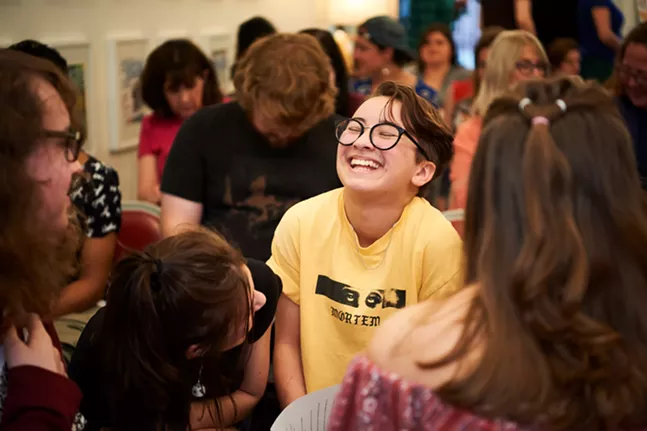 It's no secret that being a teenager is difficult, or as the Creative Nonfiction Foundation describes it, a "volatile stage." The literary organization, which hosts on-site and online writing workshops, in addition to its Creative Nonfiction and True Story publications, will host a free, eight-week
workshop
for teens. The aptly titled Writing the Tough Stuff workshop will give teens a creative outlet to express whatever it is they see as "tough stuff."
The subject is deliberately open-ended. Last year, CNF hosted a teen workshop on "writing away the stigma," that focused on mental health, but this time, they wanted to expand and open up the workshop to writing about a wider variety of issues (which students can specify in their applications).
Last year's workshop was the first CNF had hosted for teens, and director of education Sharla Yates says everyone was happy to see how well teens responded to it. "We didn't know what to expect, and we were really pleasantly surprised at how the group just bonded and really made our space their own, and they became real advocates for each other," says Yates. "You don't see that in adult workshops as much. It was a different social equity there."
The workshop will be taught by Julie Albright, director of The Writing Studio and an instructor with 27 years of experience teaching workshops, tutoring, and editing. She'll be assisted by Bekezela Mguni, creator of the Black Unicorn Project, an Allentown library that showcases work by Black women, queer, trans, and gender-nonconforming people. While CNF focuses on the nonfiction genre, the workshop is designed to help teens express themselves in whatever form they want.
"Writing is kind of that exercise where you start doing it and you start discovering things that you didn't even know you were thinking about," says Yates. "It's giving students an opportunity to delve into whatever it is that might be concerning them and giving them a place to voice it and take ownership of it."
Allegheny County teens in grades 9-12 interested in participating can fill out an application with a writing sample and personal statement. Applications are due by Sept. 29 and the course runs on Wednesdays from Oct. 16-Dec. 11 at the Creative Nonfiction office in Bloomfield.