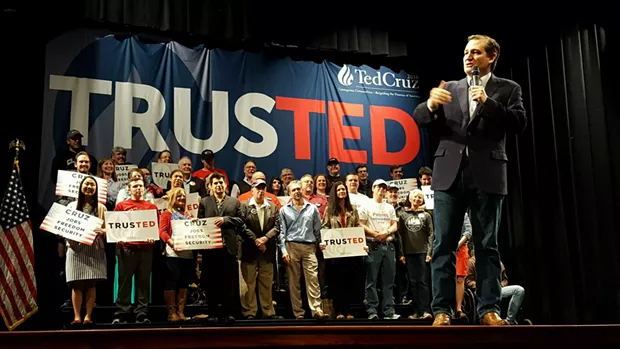 Republican presidential candidate Ted Cruz doesn't think grown men should be in the bathroom with little girls. It's a point he made several times during his visit near Pittsburgh today at Gateway High School in Monroeville.
The comments continue the onslaught of insults that Cruz has been hurling at trans men and women. At a Maryland rally yesterday,
Cruz staffers reportedly ejected a trans teen
and his mother before the event even got under way. The boy, James Van Kuilenburg, was even
called ma'am on his way out
.
Video by Ashley Murray
The Texas senator used this morning's Monroeville rally to attack recent comments by his opponent, Donald Trump, who said transgender men and women should be allowed to use the bathroom of their choosing.
"That's just nuts," Cruz said in response to Trump. "This is not a matter of whether you're a Democrat or Republican, whether you're a conservative or a liberal. It's a matter of basic common sense. As a father of two daughters I can tell you it doesn't make sense for grown men to be in the bathroom with little girls. That's just political correctness on steroids.
A larger portion of Cruz's appearance today was spent attacking Trump and recent reports that Trump staffer claimed the candidate's campaign is an act.
"Trump is a Washington insider who has been supporting liberal politicians for 40 years," said Cruz. "When Donald Trump was writing checks to Jimmy Carter over Ronald Reagan, I was still in grade school."
Cruz's speech at the rally today followed the script he's been reading from during debates and rallies around the country: jobs, national security and decreased government regulation. It followed it so closely that at a press briefing following his speech he couldn't help but repeat his talking points.
"We're going to repeal Obamacare, pass a flat tax, reign in the regulators, stop amnesty. That's going to create millions and millions of new jobs, bring manufacturing jobs back to America, raise wages," said Cruz. "That'll generate trillions in new government revenue and we will use that revenue to rebuild our military so it remains the mightiest fighting force in the world."
Attendance at the Cruz rally was lower than the crowds that have come out to rallies of Trump and Democrats Hillary Clinton and Bernie Sanders. But Cruz supporters were vocal about their passion for the candidate.
"I love Ted. I'm sold. His values, what he stands for, everything he stand for, I'm in support of," Lynn Maranowski of Stowe Township. "He's somebody who can be trusted. He's not going to flip-flop."
"He's for the constitution. He's for each state deciding what they want," said Theresa Yancy of Homewood. "Right now, his stance on transgender [people], I agree with. Everyone's always looking out for the gays and the transgender [people], but no one's ever looking out for us."
There were also supporters who had travelled great distances to attend the rally like college student Madison Bierdermann, a Salt Lake City native who attends school in Washington D.C. and has volunteered for Cruz's campaign.
"I agree with his foreign policy position of not backing down," said Bierdermann. "I like that he supports the constitution. He doesn't what to expand what the government does."