An online video by a Pittsburgh rapper has waded into the controversial territory of race and politics -- and become an Internet phenomenon as a result.
Titled "What if the Tea Party was black?" the music video (http://tinyurl.com/2blckvy) by Jasiri X targets the conservative movement. While it never explicitly accuses the Tea Party of being racist, the local MC's song takes aim at media and government hypocrisy, challenging listeners to imagine the reaction to a Tea Party movement led by black Americans rather than whites.
"What if the Tea Party was black / holding guns like the Black Panther Party was back?" the chorus begins. It concludes, "Ya'll know if the Tea Party was black / The government would have been had the army attack."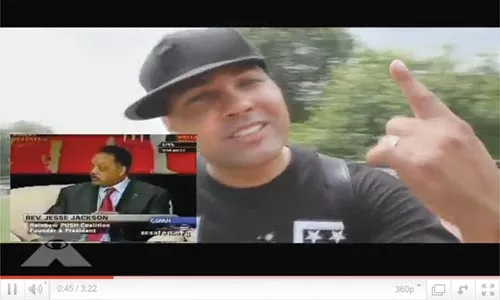 Jasiri says the video was inspired by a widely circulated blog post written by nationally known anti-racism activist Tim Wise. Titled "Imagine if the Tea Party was black," the piece asks readers to imagine if a group of angry black protesters surrounded members of Congress and started spitting and hurling racial epithets at the congressmen, as some white Tea Partiers were accused of doing before the health-care vote earlier this year. "Would the protesters be seen as merely patriotic Americans ... or as an angry, potentially violent ... mob?" Wise's article asks.
Jasiri says he was forwarded the article by Paradise Gray, another local rapper who filmed Jasiri's music video. "Paradise said, 'That would make a great song,'" he recalls. "Right when he said that, the light went on."
The music video opens with a short clip showing Jasiri asking the song's title question during a June 5 Race in America conference at the University of Pittsburgh. As the music starts, Jasiri is seen rapping in Washington, D.C., with clips of Tea Party protests, black activists and conservative talk-show hosts popping up throughout the video.
Since being posted on YouTube July 14, the song's popularity has exploded online. The music video -- set to beats created by producer Cynik Lethal -- has already received more than 150,000 views and more than 3,000 comments. News websites, including the Huffington Post and an online forum for Fox News personality Sean Hannity, have featured the local artist's video.
"Jasiri X, Pittsburgh Rapper, Asks America: 'What If the Tea Party Was Black?'" read the July 19 Huffington Post headline.
"I knew it would be controversial, but I didn't think it would take off the way it did," says Jasiri, a Nation of Islam minister and outspoken local activist. "Any time you talk about race, it's very divisive."
The Tea Party movement has been controversial ever since it began in 2009. And racism has been at the center of the debate. Tea Party critics cite the movement rallies, where members have compared President Barack Obama to Hitler and hoisted signs reading, "Monkey See, Monkey Spend!" Its critics contend that racism is a key component of the right-wing movement.
But supporters of the party deny such allegations, arguing that the movement's mission is to uphold the Constitution and promote fiscal conservatism.
"It appears as though the entire premise of Jasiri X's song is that the Tea Party movement is racist," Pittsburgh Tea Party organizer Patricia Weaver wrote in an e-mail to CP after seeing the rap video. "[B]ut that couldn't be further from the truth.
"What unites people in the Tea Party is their love of the Constitution and the freedoms outlined in it," she continued. "Our core values are free markets, a constitutionally limited government, and fiscal responsibility; and we welcome ALL Americans who appreciate these values."
Jasiri says right-wing politicians and media pundits have largely ignored the Tea Party's racist elements. Instead, he says "Tea Party activists are just considered 'patriots.'" But, as the MC asks in his song's first verse, how would they react if roles were reversed?
"What if President Obama would have lost the election / Quit his job so he could go talk to the left and / Bash the government for being off of direction / Fraught with deception / ... Would he be arrested and tossed in corrections / For trying to foster aggression / Against the people's lawful selection?"
"Is it a coincidence that the first time you have a movement like this the president is black?" says Jasiri, of East Liberty. "I don't see how you can argue that there is no racism."
Jasiri says reaction to the music video has been "split right down the middle." Some comments posted on YouTube, for instance, condemn the video as "another black embarrassment," while others praise it as "very powerful, and very true."
"It's a wonderful critique," says George Yancy, a Duquesne University philosophy professor who studies the role of race in modern culture and has written about rap and hip hop. "I see [Jasiri] as a social gadfly who stings people to engage in social and critical analysis."
Yancy strongly agrees with the song's message, and he says it's not hard to guess what would happen if the Tea Party was black.
"It would not be tolerated," Yancy says. "It would be seen as a danger to white America."