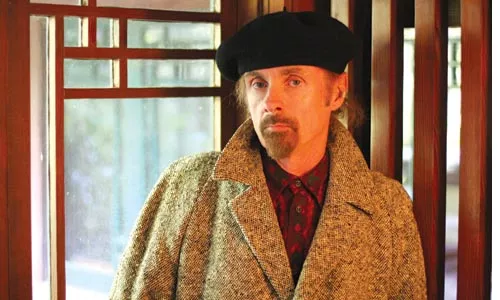 As a premier novelist for more than two decades, T.C. Boyle has frequently focused on single-minded men, often historical figures, from Scottish explorer Mungo Park (Water Music) and breakfast-cereal tycoon W.K. Kellogg (The Road to Wellville) to sex researcher Alfred Kinsey (The Inner Circle). Boyle's new novel, The Women (Viking) -- about Frank Lloyd Wright and his wives and lovers -- poses as a memoir/novel co-written by Tadashi Sato, an elderly former apprentice at Wright's famed Wisconsin farm and retreat, Taliesin, and Sato's own grandson-in-law.
Moreover, The Women is told backward: It begins with Wright's scandalous 1920s courtship of Montenegrin beauty Olgivanna Milanoff; continues with his scandalous, earlier affair with sculptor Miriam Noel; and concludes with his scandalous relationship with the writer and suffragist Mamah Cheney, for whom he left his first wife -- and who (with her children and four others) was murdered at Taliesin, in 1914. (The story concludes before Wright designs his big link to Western Pennsylvania, Fallingwater.)
Boyle makes a rare Pittsburgh appearance Feb. 13. He spoke with CP from his home, the Wright-designed George C. Stewart House, in Santa Barbara, Calif.
(Click these links to hear Boyle discuss the legacy of John Updike, and his fascination with utopian communities.)
Why organize the novel around Wright's women?
The Inner Circle, I wrote a first-person narrative of an acolyte of Kinsey, and he tells the story pretty-well straightforward. It'd be easy to to that again. But that would bore me and maybe bore my readers. So I was looking for a more complex structure, particularly since the metaphor, of course, is that writing a novel is very much like building a house. Except that [Wright] begins with a drawing; he's an artist. He draws a conception that he sees.
Why all the footnotes?
[It's fun] discovering that really, Tadashi's footnotes, when he's always commenting on the text -- did he really write this? How much did he write, and how much did his grandson-in-law, the supposed translator, the novelist, O'Flaherty-san, write? And that whole Nabokovian thing going on, [so] you're always questioning the text, that gives me a lot of fun.
Why tell it backward?
One, so I could end with the death of Mamah, of course, which is a dramatic moment. But also so I could reflect on what relationships are like. We've all had experiences where we're passionately in love with someone and they're the most wonderful person in the world -- and 10 years later, six weeks later, or a year later, maybe, that's not the case. This enabled me to show you for instance, Oglivanna, when Frank Lloyd Wright first meets her, and Miriam is then this horrible harpy in the background, this crazy woman, and then you go back in time and you see Miriam as this seductive and sweet thing.
Why dramatize this time period?
Here he was, becoming incredibly successful, working very hard in Oak Park [Ill.], marrying his childhood sweetheart, Kitty , and having six fine strapping children. But he seems to be a guy who needed tumult and trouble in his life in order to be fully alive and creative. Which is where he and I, by the way, diverge. I just want to be left alone, and I want peace and quiet, and I can't be worrying about anything, otherwise I can't work.
What was Wright looking for in women?
I think he kept questing for more. I think each of these women that he had successively, Mamah, Miriam and Olgivanna, were all rather exotic. Mamah was very free-thinking, forward-thinking, college-educated, which he was not -- nor was Kitty. And then you get Miriam, who was this Southern belle transformed in Paris into this glamorous Parisienne. And then finally Olgivanna, who was a Montenegrin beauty [and a ballerina]. He kept getting more and more exotic women as he went on, as if he were reaching out, to get away from his Midwestern background.
Does the novel answer Tadashi's introductory question about Wright: "Who was he, after all?"
There's an ethical question we ask about all art: Art exists independent of the artist at some point. It doesn't matter whether the artist was a baby rapist and cannibal. All that matters is the art itself. So Tadashi probably went into this memoir feeling that way. But maybe as the book goes on, and he reads it, in O'Flaherty-san's version, he begins to reassess all of that and to see the character as having moral valence as well as the art being independent of it.
T.C. Boyle talk and book-signing 7 p.m. Fri., Feb. 13. Oakmont Carnegie Library, 514 Allegheny River Blvd., Oakmont. $31 (includes book; $9 "companion tickets" do not include a book). 888-800-6078 or www.mysterylovers.com