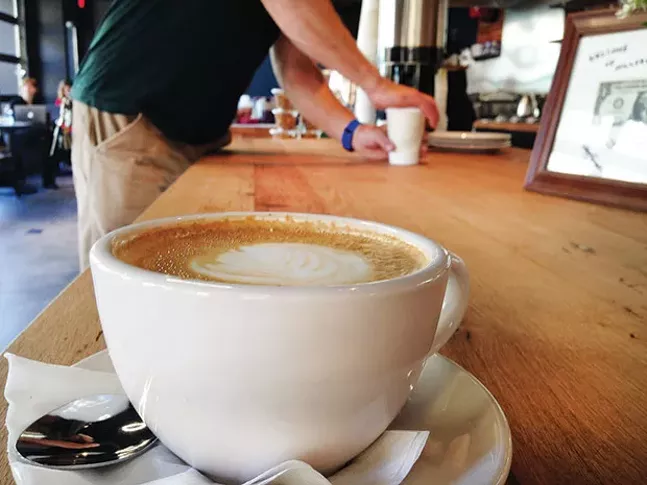 It took more than two years, but Millvale finally has its first coffee shop, and it's smack-dab on the busiest intersection in town. Tazza D'Oro, whose other locations are in Highland Park and at Carnegie Mellon University, opened its doors on the corner of Grant and North avenues in Millvale last week, and the community appeared just as giddy as the owners.
Pittsburgh City Paper stopped by on the morning of Tazza D'Oro's opening day, Sept. 7. Several passersby entered the new venue with enthusiasm. One man said he had been waiting for this for years. Manager Zachary Selekman said there was even a rush when the doors first opened, at 7 a.m. He was in awe of the excitement surrounding the opening. "I am really impressed by the energy in Millvale," said Selekman. "A lot of people want to see this town grow."
The 36-seat coffee shop is bright and airy, and has several garage-door-style glass windows that can be opened on warm days. Selekman says the new Millvale location will offer all of the usual specialty coffee drinks, such as cappuccinos, pour-over coffees and matcha lattes. Five Points Bakery provides the pastries, and Pigeon supplies the bagels. In the near future, Selekman says, the shop will install a cooler, which will let Tazza D'Oro offer fresh-made salads and sandwiches. And he said he expects the space to hold coffee tastings and artistic latte competitions.
Tazza D'Oro owner Amy Enrico used to live in Millvale, and says she always wanted to open a coffee shop in the small Allegheny River town. The Millvale Community Development Corp. reached out to Enrico a couple of years ago, and after a long remodel of a former furniture store, the coffee shop is now a reality.
"We want this to be a really awesome community gathering place centered around coffee," says Enrico. "And we are hoping to pull in all cyclists from the nearby trail, too."
Tazza D'oro is open seven days a week from 7 a.m. to 7 p.m. www.tazzadoro.net