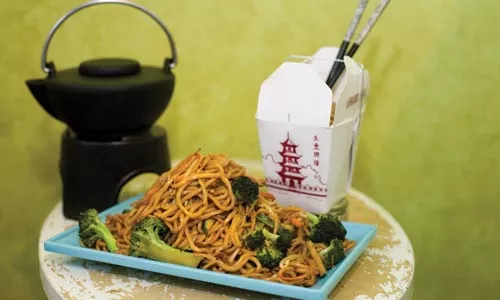 Location: 213 S. Highland Ave., Shadyside. 412-361-8888
Hours: Sun.-Sat. 11:30 a.m.-9:30 p.m.
Prices: $6.50-14
Fare: Traditional Hong Kong plus standard Chinese-American
Atmosphere: Minimal
Liquor: BYOB
When Jason was growing up, his parents taught him important life lessons: good manners, good sportsmanship, and how to pick the better Chinese restaurants. Their watchwords were Szechwan, or, better yet, Hunan. Decades later, good manners and good sportsmanship haven't changed much, but we teach our own children differently, as far as Chinese food is concerned. Today, we tend to find the menus of Szechwan and Hunan places as hoary and inauthentic as those of the chop suey joints they supplanted, and what catches our eyes are restaurants that specialize in less assimilated Chinese regional cuisines.
Thus it was that Jason returned home from an errand on Highland Avenue with an appetite: He'd noticed that Tasty, an unassuming storefront in a mini-stripmall, specializes in Hong Kong cuisine. Indeed, it offers two separate menus, each running to more than a hundred items. During our visit, we focused almost exclusively on the Hong Kong-style choices, which run heavily toward seafood (befitting a port city), greens and fat chow fun noodles.
There are no appetizers on the Hong Kong menu, but fried dumplings from the standard menu were a good portent of things to come. The wrappers were crisped, not doughy, and the dipping sauce was slightly sweet without being cloying. Next, we wanted to order Chinese broccoli in garlic sauce, Hong Kong style, but this intriguing vegetable wasn't available. Offered baby bok choy as a substitute, we agreed, and the dish was wonderful. Its aroma was heady, and the tiny, whole vegetables were tender while retaining some firmness in the stalks.
We weren't sure what to expect from stir-fried chicken with rice cake, and upon being served, we had misgivings about the glutinous disks that studded the dish. Our main complaint was that the rice cakes clung to one another: While one added distinctive texture to a bite, a sticky stack of them was a mouthful of starch. With a bit of careful separation, they held the light but flavorful sauce as nicely as noodles or individual grains of rice. The chicken was those tender morsels at which Chinese cooking excels, and crisp, vegetal bean sprouts rounded out the complex flavors and textures.
Ingredients were also an issue, in our spareribs chow fun in black-bean sauce. Setting aside the small bits of bone that made for some delicate eating, some of the morsels of meat were almost entirely gristle. Unfortunately, Angelique got several of these, putting her off a dish whose pliant noodles and sauce, studded with tangy fermented beans, she otherwise quite enjoyed.
She had no complaints as she dug into a hot pot of beef brisket with bean curd. Here were no bone shards or gristle, just meltingly tender beef in a hearty gravy which seemed to extend the savory flavor of the brisket while it coated the fluffy cubes of sautéed tofu. Angelique could see herself becoming a regular at Tasty based on this dish alone.
We can't recommend Tasty without reservations -- the kitchen delivers the shortcomings you would expect from an inexpensive restaurant that caters primarily to a takeout clientele. But its best dishes are very good, and nothing we tried was an utter disappointment. The best endorsement came from a Chinese-American friend Jason saw a few days later. Jason told her that he'd been to a Hong Kong restaurant, and when he said the name, she replied, "Tasty! That's totally like homemade food!"
JR:
AB: