It's 2003. Hilary Duff is still Lizzie McGuire, Finding Nemo is teaching a generation to "just keep swimming," and cargo pants are a fashion statement. But something's missing: pumpkin. And not just any pumpkin, but rather pumpkin spice, the blend of cinnamon, nutmeg, allspice, and hopeless dreams — a pumpkin imposter.
Starbucks released its Pumpkin Spice Latte in 2003. After that, fall was never the same.
Lives revolve around this beverage. Starbucks' 2018 release date was widely anticipated and celebrated across the United States. Customers raced to their local Starbucks for the first sip of fall. With the rise of the Pumpkin Spice Latte's popularity, other brands caught the fall fever.
Last year, this pumpkin obsession brought horrific combinations: pumpkin spice Pop Rocks, M&Ms, Pringles, and even pizza (thanks, Villa Italia Kitchen). The Pittsburgh Center for Complementary Health and Healing jumped on the spice train with pumpkin spice reflexology.
It's time for City Paper to take on the trend.
Sacrificing my pretentious culinary palate, I volunteered to taste the best (and mostly worst) pumpkin spice had to offer in all forms. Finding products wasn't difficult; the orange-saturated aisles at grocery stores laid a path to the pumpkin. With a bag full of goods, I subjected myself and coworkers to a smorgasbord of pumpkin spice and dove headfirst into fall. Here's a smattering of pumpkin flavored autumn fare.
Bonbons


"Is that a deviled egg?" Not a good sign. Sinful Sweets took a chance in 2018, and I'm not sure it paid off. The outside was solid white chocolate, artfully decorated with splatters of orange. But the inside — oh, the inside — was bright yellow and looked strikingly similar to a deviled egg. It was the "yanny" and "laurel" debate all over again, except this time, "egg" or "chocolate." Thankfully, it was not an egg, just poorly colored cupcake icing.
Milkshake

Whoever decided pie crust belongs in milkshakes deserves a trophy. The Milkshake Factory blew away the pumpkin spice field with this concoction. It was picturesque: whipped cream was perfectly stacked on top, lightly dusted with cinnamon and pie crust; the scent of cinnamon floated out of the lid, seducing me into an autumnal haze. I could taste the pumpkin, which surprisingly, cannot be said for all products. If this was a competition, this milkshake would easily take first place.
Pop-Tarts

These were like no Pop-Tart I remember. The pastry was bland. Pumpkin flavor could not be found, even after it was toasted. After tasting half a pastry, the rest of the pack was left untouched.
Frosted Flakes

At first sniff, these flakes smell like canned pumpkin pie. It's a smell, I might add, that always makes me gag. I went in apprehensive, but came out pleased — because they tasted like regular Frosted Flakes. Apart from the smell and slightly strange first taste, there was nothing exciting about this cereal. As suggested by colleague Jordan Snowden, I combined the Frosted Flakes and milkshake. The crunch added to the sweet shake and was an award-winning combination, earning a 10 out of 10.
Fudge Stripes

Let's face it: Fudge Stripes are classic. Keebler outdid itself with this cookie. Thankfully, the Pumpkin Spice flavor lives up to the legacy. Coated in white chocolate rather than dark, the spice cookies hint at pumpkin spice. They're delicious. I refrained from shoveling cookie after cookie into my mouth, dreaming of dipping them in hot coffee while leaves fall.
Jell-O

I'm a minimal-effort cook, and instant pudding was a stretch. I paced around my kitchen waiting for it to set (I'm also impatient). The first bite required a pep talk. By itself, the Jell-O was quite orange. I cautiously dipped my spoon into the pumpkin glob, straight into disappointment. The Jell-O factory was too heavy-handed with cinnamon this year; it overwhelmed any trace of pumpkin. My recommendation? Use the Jell-O as an ingredient, not a stand-alone dessert.
Block House Pumpkin Ale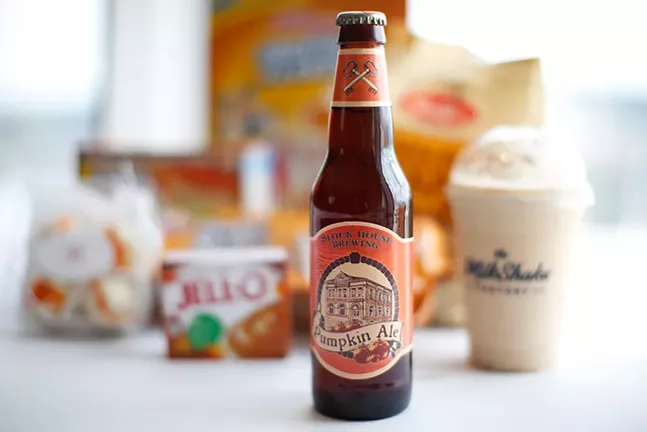 I hate pumpkin beer. I've tasted my fair share of the seasonal libations and can't get behind the trend. My heart wants hops. But Block House may have forgotten to add pumpkin this year. It was all cinnamon. The first sip tasted like a candle: too sweet and too herbal. Block House split City Paper's staffers: some loved the sugary ale, others took one sniff and said "nope."
Pumpkin Spice Ginger Snaps

"This is … just a ginger snap." Crestfallen comments floated amid loud crunching (the ginger snaps definitely "snapped") as these cookies were opened. Stauffer's makes a fantastic ginger cookie, but missed the mark on pumpkin.
Follow staff writer Maggie Weaver on Twitter @magweav.