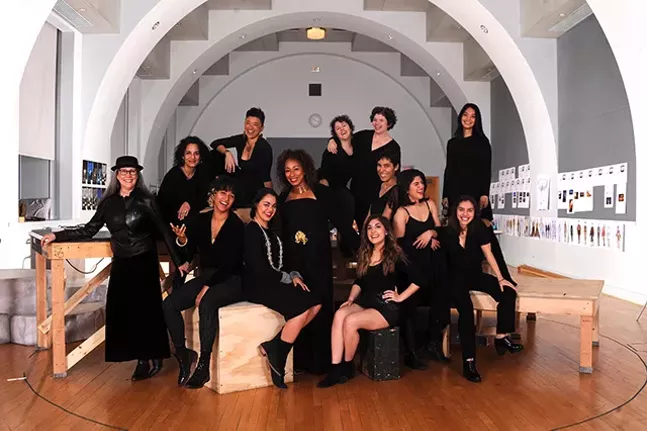 In William Shakespeare's original version of The Tempest, the protagonist, Prospero, is an embittered duke stranded on a magical island with his daughter, Miranda.
But the Pittsburgh Public Theater's all-female adaptation of the iconic play takes a different approach. Helmed by new PPT artistic director Marya Sea Kaminski, the production opens on the surgical oncology floor of a Pittsburgh hospital where we find Prospero (Tamara Tunie, film and television star, and Pittsburgh native) as a woman battling late-stage breast cancer.
"I wanted Tamara to play Prospero because she has an incredible stage presence and authority," says Kaminski, who chose the bard's tale as her PPT directorial debut. "This adaptation of The Tempest brings a depth of humanity and grace that is a trademark of all Tamara's work."
From there, it unfolds much like the original work, with Prospero's dreams transporting her to an enchanted island. There, she and her daughter, Miranda (Kerry Warren), live alongside the sprite Ariel (Janelle Velasquez), the enslaved creature Caliban (Shammen McCune), and nymphs Ceres and Iris (Julia de Avilez Rocha and Emma Mercier).
However, things become complicated when a shipwreck delivers Prospero's deceptive sister, Tonio (Rami Margron), Queen Alonso (Deena Aziz), her child Ferdinand (Rad Pereira), Alonso's sister Sebastian (Aryana Sedarati), and advisor Gonzalo (Laurie Klatscher), as well as jester Trinculo (Jamie Agnello) and the clownish cook Stefano (Bethany Caputo).
Members of the Pittsburgh Youth Chorus also sing and play island spirits.
The Tempest has been gender-flipped before, namely in Julie Taymor's 2010 film adaptation, which saw Helen Mirren playing the sorceress and mother, Prospera.
But Kaminiski believes the centuries-old mystical drama still has plenty of poignancy. In this case, the play serves as a vehicle for a woman's "spiritual journey" as she comes to terms with her possible fate. It also offers a chance to explore and raise awareness of the devastating impact of breast cancer, a disease the American Cancer Society estimates will affect one in eight U.S. women.
"Cancer is a subject that touches the lives of contemporary audiences – much more so than a Duke whose kingdom was stolen from him," says Kaminski. "In my adaptation, Prospero feels betrayed by her family – they have not been there for her during her illness – and betrayed by her body too. Over the course of the play, she must decide between vengeance and forgiveness."
Despite its grim storyline, however, Kaminski promises a surprising amount of humor and magic, as well as a number of creative design elements, including a towering basalt wall for the island setting and an "eye-popping parade of costumes" by Nephelie Andonyadis.
"In addition to Prospero's spiritual journey, the play has many other layers," says Kaminski, describing how lighting and sound create a magnificent storm unleashed by Prospero. "There is also abundant humor in the scenes with Trinculo, the drunken Stephano, and the creature Caliban – not just Shakespeare's words but the way the actors use their bodies is hilarious."