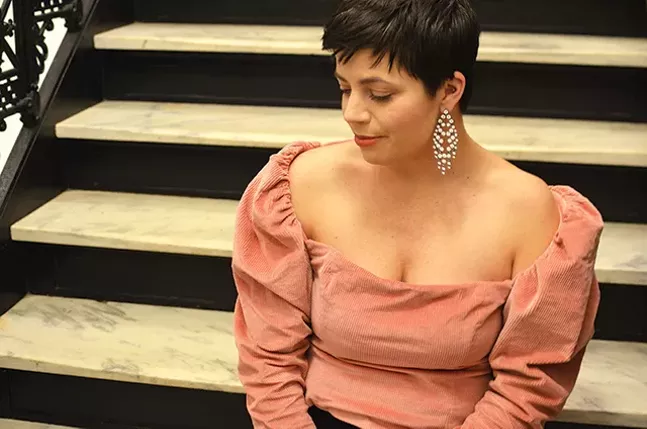 How would you describe yourself?

Social Media Strategist/Art Director/Corporate Loser.
What are you wearing today?

A pink corduroy shirt by LPA with ruffled off the shoulder sleeves. [LPA Designer Lara Pia Arrobio] is a "slow fashion" designer based in of California. Track pants from Zara from last year and Vans.
We talked about a fun and festive theme, something to wear to celebrate the holidays and New Year's parties. What brought these pieces together for you?

I bought this shirt to wear as my holidays going-out top for parties because I don't like the traditional red and green sparkles. I wanted something that speaks to me, that is unique, that is like "my brand." The sparkly earrings add a bit of a festive touch.
You mentioned the brand LPA and slow fashion, tell me more about why small brands and slow fashion are important to you?

It is more quality over quantity, on-trend pieces that translate over several different seasons. LPA is made here in America. It costs a little more, but I am glad to shell out more money for something that is well made and is going to last, not made by someone in an impoverishment environment.
Listen, I am as guilty as everyone shopping from Zara, but I like to find some nice pieces that will last a while, so I don't keep buying from [major fast fashion brands]. It's important. You should always support artists' dreams and ambitions. They are only successful if they're supported.
You mentioned some of the things you're wearing are from past seasons?

The pants are from last season, I have no reason to buy new ones—they work just fine. And they look just great.
Are you wearing something that is a gift from someone that has particular or special meaning to you?

I didn't wear it today, but my grandmother recently passed, and she left behind a Pandora bracelet that she made for me. It is not my style, but it means so much. She also left behind charm bracelets that she had her entire life, so I have been wearing those, the gifted jewelry that I like.
How would you describe your style?

I always try to stay a little on trend but also classic as well. Because I don't look good in some trends, I try to find things that work well on my body. I work all of the time so [I choose] things that work in an office. I am all over the place.
My style has to be mom-style so I can bend over to pick up a candy wrapper that my child dropped, driving in a messy car. So it would be a cool-mom style.
What trends are you looking forward to wearing next year?

The sheer trend. It is so light, delicate, [and] beautiful. It will be fun to find pieces that work with my aesthetic.
What are you excited about for 2019?

I am the art director for the first Style412 studio cohort. We are starting a project in January to showcase the trends of spring-summer 2019. They are always shown in NYC, Paris, but [people] don't expect to see these amazing things in Pittsburgh. People expect the bridges and Black and Gold.
There is an opportunity to be high fashion here. We have amazing designers here and they need support to grow.
Where can people find you?

LizSterrett.com, [or on Instagram] @LizfromPittsburgh.
Asked to pick a favorite place in Pittsburgh, Liz mentioned Ace Hotel Pittsburgh. Thank you to the staff of the Ace Hotel for allowing us to photograph our story there.