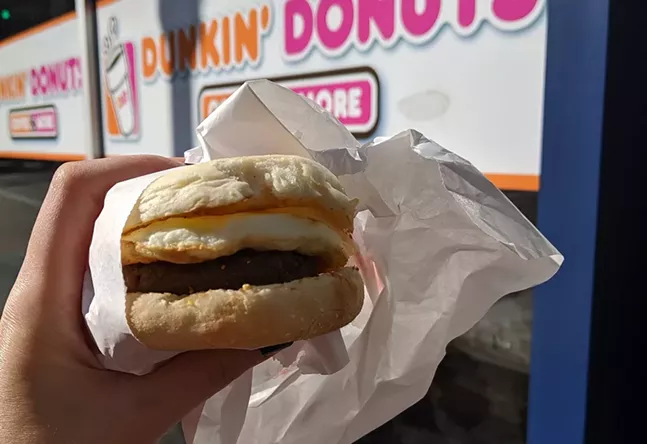 As of today, vegetarians have another fast-food breakfast option with the release of the Beyond Sausage Sandwich at Dunkin'.
The chain first released the menu item in test markets in July. After it "quickly became one of the top-selling sandwiches," Dunkin' decided to accelerate the planned national rollout to 9,000 stores throughout the U.S.
So as the
Pittsburgh City Paper
's de facto vegetarian fast-food critic (see my
review
of Burger King's Impossible Whopper), I headed to the Grant Street Dunkin' location to see what the fuss was all about.
The sandwich is comprised of four basic components — a savory Beyond-branded meatless patty advertised as being "derived solely from plants," egg, American cheese, and an English muffin. The patty is made of a combination of peas, mung beans, rice, and sunflower, as well as coconut oil to, as one press release puts it, "ensure juiciness." (If you want the full Beyond experience, Dunkin' claims the taste profile of the plant-based sandwich "pairs perfectly with the Dunkin' Cold Brew." Being that it was a chilly November morning, I decided to skip this recommendation.)
In terms of nutrition facts, the sandwich contains 470 calories, 24 grams of protein (10 grams from the patty alone), and 24 grams of total fat. Dunkin' also claims that it has 29 percent less total fat, 33 percent less saturated fat, and fewer calories, cholesterol, and sodium than a traditional Dunkin' Sausage sandwich.
But how does Beyond Sausage Sandwich taste? At first bite, I wondered if I received a real meat patty by mistake — it's that convincing. On its own, the warm Beyond patty was pleasantly spiced, with those hints of sage and pepper that often characterize breakfast sausage. The coconut oil was a brilliant touch because, unlike the disappointingly dry Impossible Whopper, this baby was moist.
Also impressive was the tightly bound composition of the "meat." Thankfully, the evolution of plant protein-based meat products over the last decade or so has taken what used to be dry, crumbly, and unsatisfying and made it chewy, firm, and soaked in those fatty juices.
If I were to nitpick, I would have liked the patty to match the size of the English muffin, as the ratio of meat to bread became more imbalanced with each bite. There's also the question of whether or not vegans can partake in this new on-the-go breakfast meat revolution. While Dunkin' claims that taking out the cheese and egg makes the sandwich vegan, I saw no mention of whether or not the Beyond patties were prepared on the same equipment as the chain's regular meat patties. As I pointed out in my Impossible Whopper review, this detail doesn't matter to trash vegetarians like myself but could be a deal-breaker for more strict vegans and vegetarians.
This simple little sandwich marks a major partnership for Beyond Meat, the company that has been producing plant-based protein food options since it was founded in 2009. Much like the Impossible meat taking the burger world by storm, Beyond has worked to create products that replicate the taste, texture, and other sensory attributes (for example, the sizzling sound and that off-the-grill smell) of their meat-based counterparts. Beyond claims that its products, including meatless sausages and "hamburger" patties, are sold at more than 30,000 retail and foodservice outlets worldwide.
The Beyond Sausage Sandwich is a delicious, deceptively meat-like addition to a growing list of items at places like Burger King and Qdoba making fast food more accessible to everyone. If the latest news is any indication, you can look forward to my future reviews on the Subway fake meatball sandwich and whatever McDonald's is doing to keep up with its burger foes.