Talkin' Snack is a new
Pittsburgh City Paper
column all about the delicious world of snacks, from salty to sweet, from crunchy to gummy, from weird Oreo flavor to another weird Oreo flavor.
A few months ago, I saw an ad on Instagram from Stacy's pita chips. This was back in March, Women's History Month, so these were no ordinary pita chips; they were women's empowerment pita chips. When I posted a screenshot of the ad on Instagram saying "lol," my boss Lisa ordered the $60 box set.
Stacy's is partnering with something called
Rise Project
, creating bags of pita chips with package art designed by female artists, to "celebrate six stages of a female entrepreneur's journey." The stages are inspiration, courage, grit, nourishment, success, and community. The project gives "micro-grants to female entrepreneurs," whoever that might be. Each bag comes with a matching print by the artist. So really, it's $60 for six art prints, that happen to come with a bag of pita chips.
Like I said, this was back in March. Yesterday, May 7, the Pita Chips for Women finally arrived. After months of buildup, I was full of anticipation. Would these pita chips bring me all the success I want and need? Would eating them cause me to leave my job and start a #womentrepeneur business selling bras made of hemp? Would they taste like girl power?
I opened the beautifully designed bag, coated in a thin layer of dust, and tasted a chip. I felt empowered already. Empowered to buy flavored pita chips, that is. All the pita chips are plain flavored, so now we have six bags of plain pita chips. If anyone wants to send some flavorful dips to the
City Paper
offices, we would certainly have a use for them.
I'm often harsh on companies that employ vague tones of women's empowerment in their ads for razors or yogurt or other products because I know that their goal is to ultimately make money and their company often acts in ways counter-intuitive to their ads. Dove, for example, has those silly "real beauty" campaigns, but are also owned by the same company that owns Axe, which, you know, is extremely dumb. Stacy's, however, is not owned by any larger corporation. It is indeed a woman-owned business (Stacy herself), so it's a little easier to get behind the message.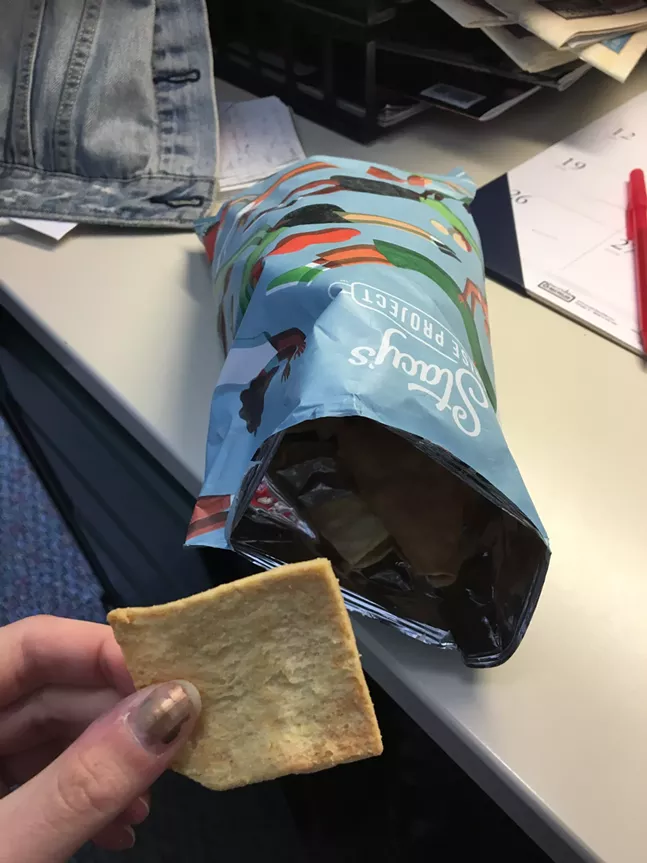 The art is pretty and pleasant, despite the corny buzzwords used to inspire them. All the women in the office got to take a print — mine is by the artist Jade Purple Brown, who used bold shapes and color-blocking to create a portrait of a confident looking woman in sunglasses. It's a nice addition to my desk art, which mostly features pictures of dachshunds from my dachshund page-a-day calendar.
Today, the office discussed ordering the complete variety pack of
Rap Snacks
, a line of chips and snacks with flavors dedicated to different rappers (unfortunately, they were sold out). Eating Cardi B Honey Drip Butter Popcorn would make me feel truly empowered.