Grumble all you want about Pittsburgh's weather, and this summer's spoiled picnics and arts festivals. But when this century's Water Crisis inevitably strikes, the 30 to 40 inches of rain we get each year will be yet another thing we hold over the folks in Phoenix.
Besides, summer time is water time: time for swimming, boating, fishing or simply admiring. And as you've probably noticed, Western Pennsylvania has lots of water: lakes, creeks, rivers, springs, waterfalls. If the natural world is not your scene, there are pools, water parks and ice rinks, and even ... uh ... a public sewage system you can visit.
On the following pages, we tip you off to some of the area's amusing, attractive, healthful and even educational water attractions. Dive in.
Downtown Fountains
If, on your lunch hour, you'd rather commune with a more intimate body of water than a full-sized river, check out one of these sculptural fountains:
* Louise Bourgeois fountain in Katz Plaza (a.k.a. "eyeball park"); Seventh and Penn avenues
* "Quartet," by Angela Connor, at Heinz Hall Plaza; also at this location, a wall waterfall. Sixth and Liberty avenues
* PPG Plaza water jets
* Mellon Square; Smithfield, between Sixth and Oliver streets
* Mellon Green; Seventh and Grant streets
* The courtyard of the old Courthouse
* Unfortunately, Downtown Pittsburgh's signature fountain, celebrating the confluence of the three rivers at Point State Park, remains dry this summer for repairs. You'll have to make do with a river.
Panther Hollow Lake
Panther Hollow Lake, once the glittery aquatic-recreation jewel in Oakland's Schenley Park, has suffered over the decades from neglect, pollution and erosion. But recent ecological restoration has once again made the lake a destination. Access is now via a new set of steps leading down to the lake from Anderson Playground. And pedestrians aren't the only ones welcomed back; keep an eye out for several species of fish, including crappie, bluegills and sunfish, as well as the odd goldfish. www.pittsburghparks.org/schenley

Deer Lakes Park
The Pennsylvania Fish and Boat Commission truck had pulled up at the upper lake in Deer Lakes Park to unload 400 trout. A couple dozen anglers dropped their rods and ran over, as excited as kids rushing an ice-cream van. The commission guys loaded buckets of fish, and everybody pitched in, tossing the contents into the lake. Kinda fun, but not as fun as watching a couple hundred fish get hosed out all at once. So, the buckets were shelved, the hose attached to the truck's tank and whoosh: Just like that, trout season was on. Deer Lakes Park has three stocked lakes, including one specifically designed for easy-access fishing for kids and the handicapped. 412-350-7275 or www.alleghenycounty.us/parks
Fishing
There are 10,000 great places to fish around here, and 9,999 of them are secret spots I can't divulge. However, there's no hiding the fishing at Tri-Anglers, Downtown's annual everybody-welcome lunch-time event run by Venture Outdoors. The fishing is free (PA license required), and $5 covers bait and rods for the whole season. (A bargain for those who don't want to keep nightcrawlers at the office.) As always, fishing expert Karen Gainey will be on hand to help newbies and pros alike. 11:30 a.m.-1:30 p.m. Wednesdays. Riverfront Park, North Shore. 412-255-0564 or www.ventureoutdoors.org
Keystone State Park
There's plenty of water-related recreation at Keystone State Park, located just off Route 22 an hour or so east of Pittsburgh. Boating, fishing, swimming ... and a self-guided tour of an acid-mine wetland treatment system.
It's a good bet you'll have this last attraction to yourself, but it's worth a visit. Kids will thrill to pools of bright orange water that nonetheless croak with toads. Eco-minded adults will applaud the ongoing efforts to clean up Western Pennsylvania's industrial past. And those who appreciate irony will add Keystone Park to their list of local hits.
The lake itself is a remnant of industry, as is the entire park, which was once owned and mined by the Keystone Coal and Coke Company. In order to cool the coke, the company dammed McCune Run, creating the lake. In 1945, the Pennsylvania Bureau of State Parks purchased the land. The coke bath was named "Keystone Lake," and today thousands of humans enjoy its cooling properties.
But trouble lingers, as acidic water seeps from the shuttered Salem #2 mine and into nearby waterways. Acid-mine drainage affects some 3,000 miles of streams in Pennsylvania.
Now, with the wetland-treatment system, orange run-off from the mine is directed through limestone-lined pipes and into a series of several staggered ponds, which remove the alkalinity, heavy metals and sediment. That cleaner water is then released into McCune Run.
With their orange-colored sludge, the ponds look alarming, but they're doing good work. Stop by and give 'em a nod.
The acid-mine wetland tour is located west of the lake near the large gravel parking lot. 888-PA-PARKS or www.visitpaparks.com
Raccoon Creek State Park
West of the city, in what is today Raccoon Creek State Park, the mineral-rich Frankfort Springs once supported a resort, hotel and health spa. There, away from the dirty city, the wealthy could revitalize by resting, socializing and ingesting the healthful spring water.
The popular Frankfort House Hotel and Resort, built in the 19th century, was destroyed by fire in the 1930s. Today, only a small "restored" outbuilding (now itself in disrepair) and the scattered remnants of steps, walls and foundations remain near the spring. The water, however, flows on, cascading over a small grotto, creating a pretty waterfall.
The spring is accessed via the short Mineral Springs Loop, from the trailhead parking lot on Route 18. (There are occasional free guided tours of the spring area, including one Sun., May 24, from 2-3:30 p.m. Call 724-899-3611 for more info.) Other water attractions at Raccoon Creek include a swimming beach; the rental of boats and water-cycles; and fishing. 888-PA-PARKS or www.visitpaparks.com
Ohiopyle State Park
Get up early and get on over to Ohiopyle, one of the prettiest (and most popular) water spots in Western Pennsylvania.
Most visitors head straight for the Big Show: Ohiopyle Falls, conveniently located near the parking lot and visitor center, off State Route 381. There, the Youghiogheny River tumbles across rocks into a 20-foot waterfall. While there are many fine observation decks on the eastern side of the falls that barely require one to leave the car, even the modest walker will be rewarded by crossing the river on the converted railroad bridge. From there, a short jaunt down a marked trail on the Ferncliff Peninsula deposits one along the flat, rocky banks of the Yough, tantalizingly close to the falls.
Other water attractions in the park include hiking or biking up -- or down -- the Yough on a white, flat trail (part of the Great Allegheny Passage Trail); fishing; and, for the experienced, boating. The Class III and IV rapids below the falls in the Lower Yough are well known, and for most us, simply fun to watch. Kayakers are permitted to run the falls once a year; this summer, the 11th annual American Whitewater Ohiopyle Over-the-Falls Festival is Aug. 22.
The Middle Yough, above the falls, offers less turbulent waters for canoes and kayaks. Newbies should consider signing on with one of the licensed commercial outfitters in town anyway.
Still, on a hot summer's day, all that water is just plain enticing, and most folks looking for a cool-down head to Meadow Run, a short distance from the main parking lot down Route 381. Through erosion, the fast-moving water has created a narrow path between the creek walls, turning one long portion into a natural, twisty water slide.
It makes any blue-plastic water-park slide look cheap, and beside its scenic qualities, the slider has the added frisson of danger -- from banging into rocks, getting turned around, traveling at high speeds and sucking up lots of cold water. Nonetheless, the slides are noted in the park's own pamphlet, so you're free to hit the white water here.
There are plenty of vistas along the creek's wide, flat rocks for simply watching sliders, as well as an ADA-accessible observation deck. Those who want to surf the creek should consider wearing long shorts and T-shirts (to cut down on scrapes) and water sandals or shoes for navigating up and down the creek's rocky sides. Non-daredevils will find ample places to cool off in the chilly water; the creek offers many quiet nooks for wading, soaking and general splashing around.
Still need more water? From Meadow Run, take a short hike up the hill to Cucumber Falls, a 30-foot veil-style fall. 888-PA-PARKS or www.visitpaparks.com
Kayaking
Taking a boat out is a great way to enjoy water without getting wet -- as well as racking up some exercise, if you chose a self-powered craft. The nearby state and county parks are obvious choices for boating, but there's a couple of options right here in the city to serve walkers and bus-riders. The Bait and Tackle Shop at Millvale's Riverfront Park rents canoes, kayaks and pontoon boats. 412-352-5358 or www.millvalepa.com/riverfront.aspx
Kayak Pittsburgh, with two city locations, rents boats hourly, both on a walk-up basis or in scheduled training sessions. Launching from near PNC Park, under the Roberto Clemente Bridge, takes paddlers out into the Allegheny. For those not ready to hit a full-sized river, starting this Saturday, kayaks can be rented at Lake Elizabeth, the supremely gentle body of water inside Allegheny Commons park, on the North Side. (Kayak Pittsburgh also rents at North Park, there offering canoes, too.) 412-969-9090 or www.kayakpittsburgh.org
Roll Out the Barrel
Pittsburgh averages almost 12 inches of rain during June, July and August. Installing a rain barrel to catch, store and redistribute water that runs off structures is not only thrifty, but the right thing to do ecologically. Collecting the water prevents potential damage to the landscape and the overburdening of storm drains, among other benefits. This could be the summer you set up yours; barrels are available at home-improvement retailers, garden-supply outlets and even some select grocery stores.
Buttermilk Falls
Western PA has lots of little waterfalls (along with plenty of seeps simply pouring water down the sides of our cliffs). And a little more than an hour from Pittsburgh, off Route 22, there is a good-sized waterfall -- one with a connection to a beloved celebrity.
The 45-foot-tall Buttermilk Falls, now part of Indiana County Parks, sits on land once owned by Fred McFeely, the grandfather of Mr. Rogers. Virtually nothing of his vacation home remains, but a very short hike to the top of the falls lets a visitor gaze at the remnants of what was a swimming area, where young Fred once splashed around.
724-463-8636 or www.indianacountyparks.org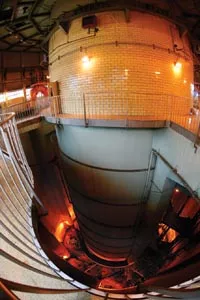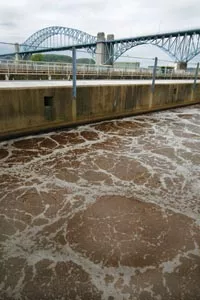 ALCOSAN
There's something miraculous about flushing the toilet: Whatever's in there just goes away. But, in fact, it does end up somewhere -- and you can go there, too. Mark your calendars for Sat., Sept. 19, when ALCOSAN (the Allegheny County Sanitary Authority) has its annual open house.
The ALCOSAN facility on the North Side, near the McKees Rocks Bridge, is where most of the county's dirty water ends up, whether it comes from toilets, factories or storm drains. And yes, it's also where anything that's in dirty water goes ... leaves, toilet paper, lost toys, food chunks -- and what folks in the sanitation business call "biosolids."
Go "ewww" all you want, but things would be a lot worse if ALCOSAN weren't taking in and cleaning this mucky stew. The facility filters and cleans more than 200 million gallons of wastewater a day, before depositing it, some 8 to 12 hours after its arrival, into the Ohio River. (The extra-sensitive can note that our drinking water comes from upstream, in the Allegheny.)
A visit to ALCOSAN is not nearly as gross as you'd think. New laws mean most facilities are enclosed or otherwise covered, reducing unpleasant odors. (The open pools you can spot from the bridge are where micro-organisms are chewing away at the last bits of yuck in the water, and the aroma there is pleasantly earthy.)
We all contribute to the need for sanitation, so why not take time to appreciate the solution firsthand? Clean and well-managed municipal water determines everything from public health to fish life to larger environmental issues such as flooding and erosion.
At the free open house, there are facility tours; games and educational activities. Kids can hang out with ALCOSAN's mascot, Frankie the Fish. And don't be afraid to ask questions: The folks at ALCOSAN have heard it all, and talking doo-doo is just another day on the job. For more info, call 412-734-8733 or www.alcosan.org
McConnells Mill State Park
Before motors, electricity and robots, water-powered wheels and turbines did our heavy lifting. One remnant of those days literally grinds on at McConnells Mill State Park, about an hour north of Pittsburgh in Lawrence County.
There, in the mid-19th century, a grist mill, powered by water from adjacent Slippery Rock Creek, processed grain; the facility was later upgraded to a rolling mill with water turbines, and ground out corn, oats, wheat and buckwheat. The mill closed in 1928, but much of the equipment remains. During summer months, the stone-and-wood building serves as educational center, and visitors can watch how a water-powered turbine grinds corn.
An admittedly more colorful water attraction can be spied from the mill's small parking area. From here, kayakers put in for a white-water ride down the creek, after portaging around the mill's spillway. (On a hot day, the spray from the spillway is the perfect refresher.)
Other water-related attractions here include fishing, and hikes can be taken along Slippery Rock Creek's spectacular gorge, with ample opportunities to see small waterfalls and the creek. Wading, swimming and casual boating is prohibited. Those looking for such activities should plan a quick jaunt by car to nearby Moraine State Park. Off I-79, near Portersville. 888-PA-PARKS or www.visitpaparks.com
Rivers
Rome may have seven hills, but Pittsburgh has seven rivers within an hour's drive:
Allegheny
Monongahela
Ohio
Beaver
Youghiogheny
Kiskiminetas
Conemaugh
Ice
Ice is twice as fun in the summer, when it's hot outside. These area rinks are your spot for the frozen H2O.

Ice Castle Arena
Castle Shannon. 412-561-9090 or www.icecastlearena.com
Mount Lebanon Ice Center
412-561-4363 or www.mtlebanon.org
Blade Runners Ice Complex
Harmarville, 412-826-0800; Bethel Park, 412-833-8500; and Warrendale, 724-772-0022. www.bladerunnersice.com
RMU Island Sports Center
Neville Island. 412-397-3335 or www.rmuislandsports.org
Airport Ice Arena
Moon Township. 412-264-2222 or www.airporticearena.com
Amusement Parks
Sandcastle water park is, of course, the city's one-stop shop for aquatic summer fun. It features a wave pool, the "Mon Tsunami," and a wading area for kiddies, all within sight of the Mon. But the park's most notable features are its water slides, which come in a variety of configurations and degrees of difficulty.
At one end of the spectrum are the gentler tube rides, in which you are shunted down chutes perched on a tub, maintaining a bit of dignity -- providing you don't topple out at the bottom. On the other end is "The Monster," a "body slide" which starts with a more-or-less free fall that accelerates you to speeds of up to 25 mph before the chute bottoms out. The effect can be harrowing. Afterward, you may wish to collect your thoughts on the "Lazy River," gently drifting along a winding channel in an inner tube, or at the Sandbar pool, which is only slightly more sedentary, and has waitresses to boot.
Returning to Sandcastle this year on select evenings are "Dive-In Movies," where you can scope out a family film while staying fully hydrated. Day tickets and season passes available. Opens June 13. 412-462-6666 or www.sandcastlewaterpark.com
There's no longer swimming available at Kennywood, Sandcastle's sister park just upstream. But the West Mifflin park still has a couple of cool-down tricks. The Pittsburg Plunge, as that missing "h" suggests, re-creates a century-old amusement-park ride: You pile into a car with other riders, get hauled up a circular track, then dropped down into a pool. Simple, but effective -- the car's blunt face is designed to send up as much spray as possible. (Bystanders nearby can get as wet as the people actually on board.)
Kennywood's other two water rides, in fact, merely elaborate on the theme. The Log Jammer gives the experience a roller-coaster vibe, while the Raging Rapids takes a white-water raft theme, where your degree of saturation often depends on where you end up sitting in the circular raft. Those who don't want to ruin their hairdos can rent a paddleboat on the park's lagoon. 412-461-0500 or www.kennywood.com
East of the city, your spot for hydrotherapy is the Soak Zone at Idlewild Park, in Ligonier. It's the perfect topper to a strenuous day in the adjacent Mr. Rogers' Neighborhood, offering water slides of all sizes and speeds, a pool and a gigantic tipping bucket for maximum soaking. Open weekends; daily on June 5. 724-238-3666 or www.idlewild.com
Pools
Beginning June 13, the City of Pittsburgh opens 18 neighborhood pools. Why not take a pool tour? Each facility is different -- want more trees? fewer people? better wading areas? Find your perfect soak spot. 412-323-7928 or www.citiparks.net
Folks fought to save the historic Dormont Pool, and what could be easier than showing your support by floating in it? Pool opens Sat., May 23, and May 25 is a free day. 412-561-8900 or www.boro.dormont.pa.us
Not content with paddling about in static water? Then, check out one of the region's wave pools. Three county parks -- Boyce Park, Settlers Cabin and South Park -- provide the ocean motion without the salt, sand and jellyfish. Not to be outdone, the waveless pool at North Park offers a waterslide. Pools open June 6. 412-350-7275 or www.alleghenycounty.us/parks/
Dog Plunge
Like humans, dogs get hot on the approximately 10 miles of trails in Frick Park. Here, they can cool down.