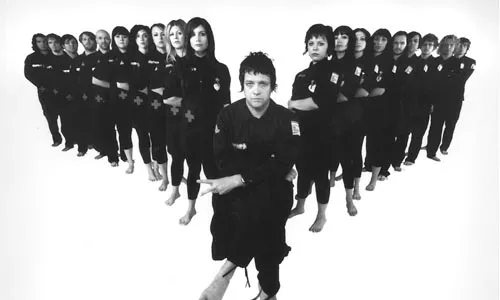 When the Polyphonic Spree entered mass consciousness, in 2003, the spectacle of a huge band in matching white robes projecting a sunny optimism made it seem vaguely cultish -- in other words, quite intriguing. That the Dallas-based group's sweeping orchestral themes proved perfect for film soundtracks -- such as Eternal Sunshine of the Spotless Mind -- certainly hasn't hurt. In fact, bandleader Tim DeLaughter has since scored the film Thumbsucker and recently completed the score to Visioneers, a black comedy starring Zach Galifianakis, currently in production. Earlier this year, the Spree released the critically polarizing album The Fragile Army, in which Brian Wilson orchestration collides with ELO bombast, and the group's trademark optimism is tempered by frustration with today's political climate.
When the Polyphonic Spree first hit, the idea seemed really novel. Have you seen other groups following your lead?
Well, yeah, I have. I started this band almost eight years ago, and I don't know anybody that had a group as large as this group going on. Now you're starting to hear them a lot more. Which I think is cool, because there was a time when it was all about big bands. The interesting part about it is holding it together, man! [Laughs.] Good luck to 'em, 'cause I know what it takes, and it's a nightmare!
Were there precursors to the Spree's sound?
I had a band prior to this called Tripping Daisy, which was kind of an experimental pop-rock-psychedelic band. And I was always like "God, I wish there was this here, I wish I had this there, and instead of me singing, I wish there were 10 people singing as one, and all these different instruments." And I thought, "One day I'll have a band that'll combine rock with symphonic, and I'll be able to have all those things." So that's where it all started from -- wishful thinking!
You have four children now -- does that affect the attitudes in your music?
My kids were definitely a life-saver for me, when they started coming into the world, 'cause I was coming from a pretty dark place. I mean, I think there's this kind of natural evolution once you start having kids -- life has a whole new perspective. But I think my lyrical content, even in my previous band, was always somewhat like moving-forward, and being optimistic, and holding on to hope and persevering. Almost like self-mantras to keep my head above water. And it really helps with this group, because there's such a grand landscape of sound.
What's changed for you since 2004's Together We're Heavy?
In that time period -- I mean, c'mon -- everything that was going on prior to that just kinda took its toll. As a songwriter, it's hard not to be singing or doing things that are somewhat affected by the political climate. And as a songwriter, it just came out; with the help of the State of the Union speech I saw too, that didn't help matters either.
How so?
Well, I blew a chip one night watching it. We were in the studio, and that's when I wrote that song, "The Fragile Army." I just had it with that guy [Bush]. It's the whole administration, it's not just him, but I'm just sick to death of what's been going on. I love this country, but it sucks that it's turned out like this. From that moment on, I wanted that guy gone.
And that inspired the switch from robes to military fatigues?
It's an evolution. We're almost 8 years into this, and it's a natural next step for us. It doesn't really feel like the robe time right now. So we're "streamlined for the future," as I like to call it. And, I guess, mocking the system and where we're at right now.
"Mocking the system"?
Yeah. We are a military beast right now. "Let's just go start another war!" But I'm representing the people, and I think the people are pretty much over this stuff right now. So it's somewhat gearing up for the revolution, hopefully. [Laughs.] We need get back to the life, and basics, and people. I kinda feel there's some change coming around the corner.
And going to see an enormous rock band play on a stage is going to help with that?
Are you joking? Good god -- don't ask me a stupid question like that! Don't make more out of what I'm talking about, Jesus! At the end of the day, I'm just out to entertain people. And the music hopefully plays a part and gives people a break from their everyday life and lifts 'em up.
The Polyphonic Spree with Rooney and The Redwalls. 7:30 p.m. Thu., Nov. 15. Rex Theatre, 1602 E. Carson St., South Side. $15. All ages. 412-381-6811 or www.rextheatre.com