Did you ever hear of Charles Busch? A New York playwright and performer, he made his name writing plays parodying/saluting the "bitch goddess" divas of Hollywood and, in drag, always played the leading lady. Some of his titles include Psycho Beach Party, Die, Mommie, Die! and Vampire Lesbians of Sodom.
So it was surprising to see that South Park Theatre, the quintessential summer theater, was staging a Busch show. Having directed out there myself and knowing the audience, I felt sure they'd end up as surprised as me. As it turns out, Busch tricked us both. Swingtime Canteen (co-written with Linda Thorsen Bond and William Repicci) is the least Busch-like of any Busch play I've seen.
We're in the middle of World War II, in London, for a USO tour featuring five American dames, led by fading movie star Marian Ames. It's a big night because their usual stage show is going to finish with the gals joining in on international radio broadcast to our boys overseas.
The plot is hardly important as Swingtime Canteen is, in truth, a revue of music from the '40s: "How High the Moon," "I Don't Want to Walk Without You," "You'll Never Know," "Sing, Sing, Sing" and many more, including an Andrew Sisters medley comprising 12 songs. In between the numbers there's some sniping and one-upping, but it's really about the music. The only tell-tale Busch element is the character of Ames (a role Busch himself stepped into during the show's premiere Off-Broadway run, in 1995). It could be played straightforwardly and sincere, as South Park's Margi Swellie has done. But it's also a part ripe for camp ... especially Busch's trademark elegant yet lowbrow hamming.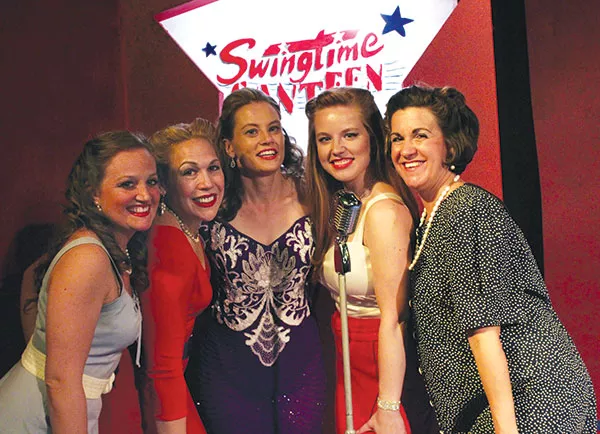 I salute South Park Theatre's use of a live five-piece band led by musical director Melody Sharp. I've sat through too many shows where the "orchestra" is one person on a Casio keyboard. So hearing some brass, bass, reed and drums — from the rotating pit band of Kirk Howe, John Chaisonn, Brandon Kandrack, Marino Galluzzo, Dakota Kaylor and CJ Young — is an unexpected pleasure.
Director Joe Warik resists the temptation of Busch's camp possibilities and leads his company to play "sincere" whenever they get the chance. It's a perfectly respectable choice and, if I think about it, I'm not sure the South Park audience is particularly interested in seeing a parody of World War II patriotism. I do wish, however, that Warik had driven the show with more urgency. Far too often, the low energy and slow pace makes it feel as if his enjoyable performers — Swellie, Krista Strosnider, Betsy Marinucci, Lori Comber and Leighann Calamera — are visiting the show rather than inhabiting it. But I happily mention Comber's rollicking rendition of "His Rocking Horse Ran Away." And when the five women join forces for a lovely medley of songs dedicated to their sweethearts, the effect couldn't have been more enchanting.