Antney's Ice Cream
1316 Poplar St., Westwood.
412-920-1300 / facebook.com/antneys
This family-owned business offers homemade ice cream, sorbet and frozen yogurt. Bring your dog to enjoy a pup cup, a homemade frozen pet treat made with peanut butter and bananas.
Bartram House Bakery and Café
Multiple Locations.
bartramhousebakery.com
There is something for everyone at Bartram House Bakery and Café. Enjoy varieties of pastries, cookies, specialty cupcakes and desserts like the chocolate raspberry tart, French macaron or New York cheesecake.
Bethel Bakery
5200 Brightwood Road, Bethel Park.
412-835-6658 / bethelbakery.com
This South Hills bakery offers signature pastries, coffecakes, cookies and more. Try the carrot cake, gourmet brownie or blueberry pie.
The Butterwood Bake Consortium
5222 Butler St., Lawrenceville.
412-781-0218 / thebutterwoodbakeconsortium.com
This dessert spot located in Lawrenceville, offers cake and pie by the slice as well as espresso and other tasty options. Stop by or grab a sugary bite to go.
Everyday's A Sundae & Café
6014 Centre Ave., East Liberty.
412-363-2233 / everydaysasundaecafe.com
This café located in the heart of East Liberty offers a variety of freshly made cupcakes, pastries, ice cream, milkshakes, floats and ice-cream cake. Try a lemon-lavender or maple-bacon cupcake for a sweet treat.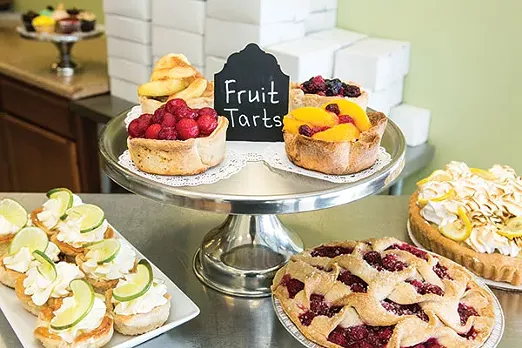 Gaby et Jules Patisseries et Macarons
Multiple Locations.http://klavonsicecream.com
gabyetjules.com
Gaby et Jules offers many tasty treats. Stop by and try the authentic French macarons with signature flavors like rose, sea salt, white chocolate basil and Le Pittsburgh.

Gluuteny Bakery
1923 Murray Ave., Squirrel Hill.
412-521-4890 / gluuteny.com
Gluuteny Bakery makes gluten-free and dairy-free tasty treats daily. Try the vanilla glazed donut or the toasted-almond cupcake.

Klavons Ice Cream Parlor
2801 Penn Ave., Strip District.
412-434-0451 / klavonsicecream.com
Enjoy sundaes, homemade ice cream, floats, sodas and banana splits at Klavons Ice Cream Parlor. Try the peanut-butter-and-jelly sundae or the cherry limeade float.
La Gourmandine Bakery
Multiple Locations.
lagourmandinebakery.com
Looking for a little taste of France in Pittsburgh? Stop by La Gourmandine Bakery and try the brioche aux agrumes, sweet bread with lemon and orange zest, or the clafoutis, a dessert made of cherries covered with a flan-like batter.

Leona's Ice Cream Sandwiches
Multiple Locations.
leonaspgh.com
Leona's makes small-batch ice-cream sandwiches that can be found at various locations around Pittsburgh. Leona's ice cream is made with local dairy and ingredients when possible.
Mercurio's Artisan Gelato and Neapolitan Pizza
5523 Walnut St., Shadyside.
412-621-6220 / mercuriosgelatopizza.com
Mercurio's makes delicious homemade gelato daily. With over 200 flavors, the menu is constantly rotating. Thirty daily flavors are available anytime. Try flavors like butter pecan, coconut cream pie, pistachio or strawberry cheesecake.
The Milk Shake Factory
1705 E. Carson St., South Side.
412-488-1808 / facebook.com/themilkshakefactory
The Milk Shake Factory offers over 50 flavors of milkshakes to choose from, egg creams, ice cream sodas, sundaes, ice cream floats, spritzers and more.
My Favorite Sweet Shoppe
1597 Washington Pike, Bridgeville.
412-564-5416 / myfavoritesweetshoppe.com
My Favorite Sweet Shoppe specializes in custom creations for any occasion. It also offers gourmet caramel apples, homemade fudge, hand-dipped and specialty chocolates, nostalgia candy, truffles and more.

The Oakland Bakery & Market
3925 Fifth Ave., Oakland.
412-383-7072 / oaklandbakeryandmarket.com
Stop by Oakland's neighborhood bakery and try sweet treats like doughnuts, scones, croissants, gourmet cupcakes and the chocolate-chip-cookie sandwich.

Oakmont Bakery
531 Allegheny Ave., Oakmont.
412-826-1606 / oakmontbakery.com
Create a delicious memory at Oakmont Bakery where there is so much to experience, savor and enjoy. Try the gourmet cinnamon roll, cream puffs, coffee cakes or apple dumplings.
Paddy Cake Bakery
4763 Liberty Ave., Bloomfield.
412-621-4477 / paddycakebakery.org
Paddy Cake Bakery creates custom cakes for any occasion. It also offers danishes, brownies, tiramisu, eclairs and more baked fresh daily.

Page Dairy Mart
4600 E. Carson St., South Side.
412-431-0600 / pagedairymart.net
Have a sweet tooth? Stop by Page Dairy Mart for soft-serve ice cream, specialty sundaes, malts and milkshakes, Hawaiian shave ice and much more.
Party Cake Shop
Multiple Locations.
partycakeshop.com
Party Cake Shop specializes in donuts, bread, pastries and specialty cakes for all occasions. Try the cinnamon-crumb cake, the toasted-almond-tort cupcakes or coconut macaroons.

Piccadilly Artisan Yogurt
695 Washington Road, Mount Lebanon.
412-207-9654 / piccadillypittsburgh.com
This self-serve yogurt shop serves organic dairy and organic vegan
frozen yogurt that is made fresh at its partner farm.
The Pie Place
1775 N. Highland Road, Mount Lebanon.
412-835-4410 / thepieplace.net
The Pie Place offers delicious pies, cakes, tarts, cookies, muffins and more! Try the gourmet coffee and one of the many flavors of Betsy's Homemade Ice Cream.
Potomac Bakery
Multiple Locations.
potomacbakery.weebly.com
This bakery has been family-owned and operated since 1927. It offers a wide array of sweet treats. Try the turtle cheesecake with vanilla cheesecake, graham-cracker crust, topped with caramel, pecans and milk chocolate.
Priory Fine Pastries
528 E. Ohio St., North Side.
412-321-7270 / prioryfinepastries.com
Priory Fine Pastries offers cupcakes, wedding cakes, pies and more delicious sweet treats. Try the colossal cupcake to crave your sweet tooth.
Scoops Ice Cream
Multiple Locations.
scoopspittsburgh.com
Scoops Ice Cream offers ice cream in cones or cups, milkshakes, sundaes and more. Try one of its specialty sundaes like the "mocha madness," made with two scoops of coffee ice cream, chocolate syrup and chocolate sprinkles.
Vanilla Pastry Studio
1130 S. Braddock Ave., Regent Square.
412-242-9820 / vanillapastry.com
This boutique bakery specializes in cupcakes, lollys, custom cakes and wedding cakes. It also offers goodies like cookies, muffins, brownies, bread and more all made from scratch.

Waffallonia
Multiple Locations.
waffallonia.com
Waffallonia brings authentic Liège waffles to Pittsburgh. Top this sugary treat off with fresh strawberries and whipped cream, or fresh bananas and creamy Nutella.