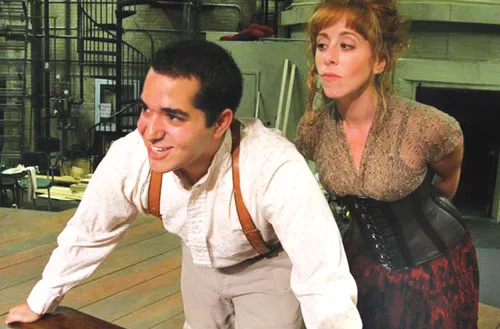 I'm torn.
On one hand, I'm thrilled that, thanks to the University of Pittsburgh's production of the Stephen Sondheim/Hugh Wheeler musical Sweeney Todd, a new group of students gets to experience a work that, I believe, might be the crowning achievement of Western Civilization. This glorious "dark operetta" about a murderous barber and his neighbor who sells the corpses as meat pies deserves a very long life.
So I'm happy to say that the Pitt production features a remarkable performance by the University Symphony orchestra under the direction of Roger Zahab. Sondheim wrote Sweeney because he wanted to put a movie on stage supplied with constant underscoring, a la Bernard Herrmann, and Zahab and his orchestra provide that great color and mood. Also on the musical side we have Richard Teaster singing the role of Sweeney with a rich baritone. And contributing both expressive voices and dramatic flair are Rocky Paterra, as Toby, and Tara Velan, as the Beggar Woman.
But I'm torn because, overall, this is a muddied and flat production. Director Lisa Jackson-Schebetta is so busy "bringing something new" to this flawless work that simple things like pace, focus and blocking go right out the window.
At the end of the first act there's a song called "A Little Priest" that is a gift from the theater gods: All you do is stage what's written and you can levitate the theater.
But Jackson-Schebetta doesn't think perfect is good enough and piles on so much textually unsupported nonsense that the number is both painful and infuriating to watch. "A Little Priest" as a striptease?!?
She does the same thing at the second-act climax, obliterating the show's defining moment by having the chorus wave shredded red gloves in the air. (Don't ask.)
It's an evening of arbitrary, maddening choices made with either theatrical ignorance or arrogance. (Does Jackson-Schebetta really think she understands Sweeney Todd better -- or even half as well -- as Stephen Sondheim?) If you wanna screw around with other people's work, stick with Shakespeare. That hack deserves it.
Sweeney Todd continues through Sun., Nov. 13. Charity Randall Theatre, Forbes Avenue at Bigelow, Oakland. 412-624-PLAY or http://www.play.pitt.edu/