As the holiday season approaches, there is bound to be endless talk about Christmas gifts. However, it's important to remember that Christmas isn't the only show in town and that non-Christmas celebrants are also on the lookout for that perfect gift or decoration and those things can often be hard to find.
Here's a list of just a few of the places to shop and purchase gifts and items for the other non-Christmas winter holidays.
Dhanurmas
The Pittsburgh region is home to more than 16,000 residents of Indian descent, as well as thousands more of Nepalese and Bhutanese descent. The majority of these South Asian Pittsburghers practice the Hindu religion, and Pittsburgh Mayor Bill Peduto and Allegheny County Executive Rich Fitzgerald hold a Diwali celebration for the Hindu community each fall. But Diwali isn't the only major holiday that Hindus celebrate. On Dec. 15, the month-long celebration called Dhanurmas, or Dhanur Masam, begins.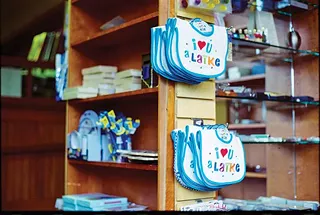 The Hindu holiday is all about worshiping, and other celebratory activities, like weddings, are typically prohibited during this time. Hindus believe that worshiping and being generally good during Dhanurmas can bring good fortune throughout the rest of the year.
One of the main traditions associated with Dhanurmas is the giving and sharing of Indian sweets. Treats like milk cake, and kaju katli, a dense sweet made of ground cashews are consumed. Chomchoms, milk-based pastries covered with shaved coconut, are also very popular during Dhanurmas.
Jay Yarli, a cashier at Manpasand Spice Corner, in Green Tree, says these sweets are sold all year long, but grocers like Manpasand have to increase their supply during Dhanurmas. "During the festival, we sell more sweets," says Yarli. "A lot more people come in during the holiday."
Many revelers will visit Indian stores like Manpasand, which has locations in Green Tree and Wexford, and then will travel to Hindu temples like Sri Venkateswara, in Penn Hills, to observe Dhanurmas and share sweets.
"It is about sharing and goodness; we offer sweets to God," says Yarli. "We do things for God, and we offer him and we share that pleasure. A sweet thing is a sweet thing."
Some other Indian grocery stores in the area to purchase sweets are Bombay Food Market and Kohli's Indian Import, in Oakland, Nepali Bazaar, in Whitehall, and Desi Bazaar Indian Groceries, in Banksville.
Hanukkah
The Jewish holiday spanning eight nights in December is already one of the more popular winter holidays in the U.S., thanks to the country's sizable Jewish population. In fact, Hanukkah decorations and gifts can be purchased at major big-box stores and party-supply chains. But Pittsburgh is also home to a vibrant Jewish community in Squirrel Hill and beyond, including stores that cater to those looking to boost their Hanukkah celebration.

One of those stores is Pinsker's Judaica. The store has been part of Squirrel Hill's business district since 1954 and specializes in Jewish gifts, games and even kosher wines (Pinsker's is the primary distributor of kosher wines in all of Western Pennsylvania, according to the Pittsburgh Post-Gazette). Pinsker's offers a large variety of Jewish ritual items, like menorahs for Hanukkah and mezuzahs to place in doorways. The store also has great Hanukkah gifts, especially ones for reminding recipients that the holidays aren't just about presents. Jewish books, kosher cookbooks, CDs and yarmulkes are all sold in wide variety.
Pinsker's owner Brad Pearlman is so committed to his store being a place for all types of Jewish celebrations, that he even opened a kosher café last year next door, called Eighteen.
Another great shop for traditional Jewish gifts is the gift shop inside Rodef Shalom Temple, in Shadyside. The Sisterhood Gift Corner offers challah boards for your New Year's challah bread, and tzedakah boxes, which are decorative boxes for collecting money to give to charity. Proceeds from Sisterhood Gift Corner sales directly benefit Rodef Shalom.
The shop even offers specialty knit items that are created by Rodef Shalom's sisterhood sewing group. The gift corner even has specialty covers to keep your challah and matza warm. L'chaim.
Kwanzaa
Not all African Americans celebrate Kwanzaa, but for those that do, the holiday is all about connecting to African roots and celebrating a self-made community. In fact, the fourth principle of Kwanzaa is "to build and maintain our own stores, shops and other businesses and profit from them together." Basically, Kwanzaa is largely about African-American small businesses.

And the Ujamaa Collective is all about the fourth principle of Kwanzaa; the Hill District-based nonprofit is even named for that principle, Ujamaa.
"Kwanzaa is needed to show the principles of the African holiday," says Frankie Harris, boutique merchandiser of Ujamaa. "It is about strengthening family and community."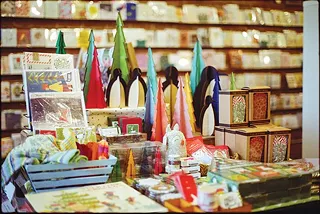 Ujamaa was founded by Celeta Hickman in 2008. In 2013, Lakeisha Wolf became the collective's executive director. According to Ujamaa's website, Wolf has experience in social justice, arts, culture and entrepreneurship, and at Ujamaa, she "focuses on the business affairs and cooperative development of emerging Africana women-owned craft industries." Ujamaa supports programs to help black women start businesses.
And Ujamaa is not just about following the principles of Kwanzaa. The nonprofit also sells traditional Kwanzaa items and garb so people can participate in the winter holiday. Harris says the complete Kwanzaa display is sold at Ujamaa, including the Kinara (candle holder) and the Mishumaa Saba (seven candles). Kwanzaa revelers can purchase the items on Ujamaa's website or at its Hill District storefront, which is open Monday through Saturday.
Another part of Kwanzaa is wearing traditional African clothes. Harris says Ujamaa offers many shirts emblazoned with African colors and patterns, as well as jewelry of African design.
"We are women who have organized and operated the store," says Harris. "We have a collective goal, and we can work together, create and sell through this experience."

Other Pittsburgh businesses that sell traditional African items that can be used to celebrate Kwanzaa include threeafrica.org, a fair-trade organization that offers many items that were hand-made by Malawian sewing collective, and IdiaDega, a collaboration project between local artist Tereneh Mosley and a Maasai collective in Kenya.