Chefs Kevin Sousa (Superior Motors) and Sam Mason (Oddfellows Ice Cream NYC) elevated a humble dessert on Sunday for a six-course ice cream dinner, the first in a series dreamt up by Superior Motors general manager, Christopher Clark.
The evening was divided by taste: four savory courses and two sweet. It was boldly presented, the menu announcing flavors like foie gras, burnt toast, and edamame ice cream. There was little else written about each dish, the minimalist descriptions just vague enough to limit expectations and pique interest.
Sousa and Mason started off with a green apple bonito sorbet, the icy, pale green scoop paired with tuna, uni (sea urchin), and
sudachi
( a Japanese citrus). The emphasis on savory was taken to heart, uni a rich, briny pair for the mild tuna. Slowly, the sorbet melted into the dish, adding a tart lightness to the heavy savory elements.
For the second course, chefs took burnt toast ice cream and crumbled it on a beet, celery, and blue cheese dish. It was a beautiful illusion. The cheese was hidden between two vanilla wafer-
esque
crackers, the eye taking ice cream crumbles for blue cheese.
Edamame ice cream transformed into high-class Dippin' Dots decorated the third course. It was sprinkled across a venison tartare with green peppercorn sauce and a pizzelle-like crisp. Venison was a fatty, gamey match for the spicy sauce and mild ice cream. The elements leaned on each other to form a complete flavor.
For the last savory course, Sousa and Mason paired a foie gras ice cream with squab, tom
kha
salad, and matsutake mushrooms. The dish was absurdly good. Tender, dark squab brought a homey flavor to the lush, buttery ice cream, rounded out with sharp Asian spices from the salad.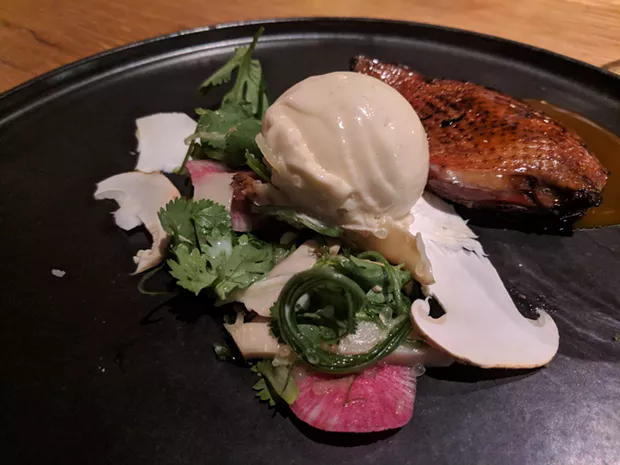 The first sweet dish was a smoked raisin ice cream with a steamed black walnut cake, topped with crushed nuts. Somehow Sousa and Mason managed to trap the taste of smoke and puree it, concocting a sauce which tasted like a campfire. Smoky flavors echoed through the chewy walnut cake and sugary ice cream.
Dinner concluded with a classically delightful combination: chocolate and peanut butter. Maitake malt ice cream was paired with a milk chocolate ganache and crushed peanuts. I was transported back to my own sticky-fingered, childhood cone days, the nostalgic flavors a perfect end to a superb menu.
Superior Motors marketed the ice cream dinner as "more than just a dessert," a motto that Sousa and Mason skillfully delivered. It wasn't just a dinner. It was an experience, six courses of stunning, mind-boggling artistry.