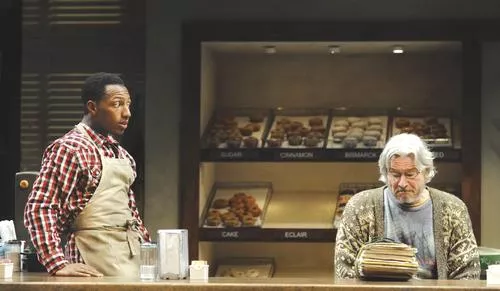 Following the qualified success of his earlier plays Killer Joe and Bug, in 2008 playwright Tracy Letts flattened the theatrical world with August: Osage County, winning the Tony, Pulitzer and universal acclaim. Despite its huge cast, twisted storyline and three-hour running time, the unlikely popularity of August: Osage County suggested the arrival of a new, singular voice in the American Theater.
And then his next play opened ... and closed.
Was it a case of unrealistic expectations? You can decide for yourself, because the play in question, Superior Donuts, is now on stage at Pittsburgh Public Theater. It's set in a small doughnut shop in Chicago owned by a worn-out ex-hippie named Arthur Przybyszewski. The store was started by his own father and he keeps it open more out of numbed habit than anything else.
Bursting into the shop and his life is Franco Wicks, a young African-American man of boundless energy and ideas, with plans to revamp the business and reawaken Arthur from his gray existence.
Many heartwarming scenes ensue.
It's important to say that while Superior Donuts may not be a very good play, it is a very solid one, crafted with a sure hand and informed by more than a little intelligence. What I think surprised New York audiences, and certainly surprised me, is how unabashedly sentimental and dated it is. I don't know how many readers will remember this reference, but Letts has come up with a very well-written episode of 1970s sitcom Chico and the Man: Curmudgeonly old coot takes in urban youth ... and many heartwarming scenes ensue.
And yet sometimes, hearts do need warming, which is maybe why I found the evening as entertaining as I did. I grew up addicted to television, so I am not immune to -- and would never dream of condemning -- its charms. There's something about the very predictability of Superior Donuts that only adds to its enjoyment.
And on the subject of adding enjoyment, Brandon Gill gets the showy role of Franco in the Public's production and takes advantage of all Letts has to offer. He prowls the stage with restless energy, too big for the small life he's currently living and impatient for his dreams to become a reality.
Playing Arthur, Anderson Matthews has by far the most difficult role in the play. Indeed, it's the type of role that's a son of bitch in any play: How do you act passive and emotionally anesthetized and still make it theatrically compelling? Matthews just lowers his head and plows through the work with honest determination. And there's lots of good work in the supporting roles, especially Donald Tarasov as a Russian émigré and Daryll Heysham, playing a vile loan shark.
The direction by Ted Pappas is as straightforward and efficient as Letts' writing; to the credit of both men, neither tries to turn this unexpectedly lightweight story into anything other than the pleasant bit of feel-good fluff that it is.
Superior Donuts continues through May 15. Pittsburgh Public Theater, 621 Penn Ave., Downtown. 412-316-1600 or www.ppt.org