Dominique Morisseau is a playwright in love with the English language. Her Sunset Baby, making its Pittsburgh debut at City Theatre, is an aural feast of words.
We open in a very sketchy apartment somewhere in Brooklyn where Nina, a young African-American woman, is getting ready to leave for work (which includes getting a gun from a kitchen drawer). Then the doorbell rings and in walks her father, Kenyatta.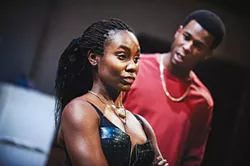 Once a towering figure in the Black Nationalist movement, Kenyatta spent most of Nina's childhood in prison for armed robbery. Nina's mom, an activist named Ashanti X, has recently died from crack addiction, and several universities and authors want to purchase letters Ashanti wrote (but never mailed) to Kenyatta while he was in prison. A rage-fueled Nina (and that's a gross understatement) is not about to give the letters to her estranged father … or to her boyfriend, Damon. They, too, have been robbing people and selling drugs for the last few years in hopes of making enough cash to leave the country.
You'd never guess that from such a bleak, gritty story Morisseau draws a poetic celebration of language. Beautiful phrases and haunting images spill across the stage; Morisseau is breathtaking in her ability to create such beauty.
It is true, however, that such linguistic brilliance comes at a price: You're never not aware that these characters are, in fact, characters in a play, all speaking with the same (albeit incredible) voice. All three possess a self-awareness that belies their bad choices; most of the dramatic action, in fact, strains credulity.
Director Jade King Carroll never misses a chance to highlight the dramatic tension, putting Morisseau's drama front and center. Joniece Abbott-Pratt is a whirlwind as Nina — a powerful and fascinating actress to watch at work, especially when coupled with J. Alphonse Nicholson's lyrical and menacing Damon. Keith Randolph Smith seems curiously tentative as Kenyatta, but plays the guilt and love for his daughter with palpable regret.
I can't say that Morisseau's created a perfect script, but I do know that Sunset Baby is absorbing from beginning to end.