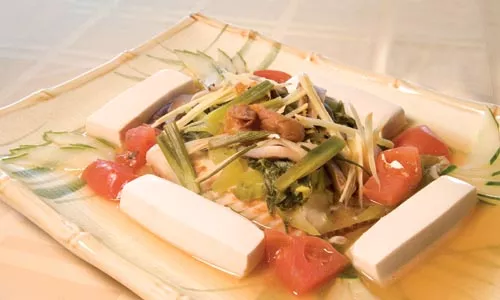 Location:
5829 Forbes Ave., Squirrel Hill. 412-421-7600
Hours:
Sun.-Thu. 11 a.m.-10 p.m.; Fri.-Sat. 11 a.m.-11 p.m.
Prices:
Appetizers $3-8; entrées $6-11
Fare:
Southeast Asian
Atmosphere:
Less is more
Liquor:
BYOB
Smoking:
None Permitted
Angeligue:

Jason:
When a pizza place cedes prime restaurant real estate to an Asian restaurant, does the chemistry of the neighborhood change? What might put a whole new spin on some districts is, in others, more of a refinement. In Squirrel Hill, which already enjoys a panoply of international dining options, the arrival of Sun Penang broadened the spectrum to include Malaysian and other Southeast Asian cuisine in an atmosphere of casual elegance.
Sun Penang's interior is simple, but not austere. Instead of being hung with pictures and geegaws evoking Southeast Asia, the walls are Asian in their very aesthetic: undulating panels of patinated gold that subtly reflect the light from glass-shaded pendant lamps. Like a beautiful plate, the decor seems conceived as a background for the food.
The menu brings together the related cuisines of neighboring countries, including Thailand, Singapore and Malaysia. Malaysia, in its turn, is home to the cultures and cuisines of Chinese and Indian immigrants as well as native Malaysian people, further stirring the melting pot.
We began with roti canai, described on the menu as a traditional Indian pancake filled with egg, onion and green chilis, but having more of the character of a tender-crisp crepe. It was served with a mild chicken-potato curry sauce, and the effect of dipping the roti in it was like eating a samosa: savory, seasoned and hearty.
Another appetizer, shrimp puffs, consisted of thick, moist clumps of minced shrimp wrapped in bacon and deep-fried. The result was deliciously sweet, juicy, and rich in succulent, smoky, salty flavors.
When Angelique spent time in Malaysia, she relished kway teow, a ubiquitous dish of stir-fried noodles that is practically the national food. Sun Penang's version is the best she has ever had without a tourist visa. Flat rice noodles are tossed with shrimp, squid, bean sprouts and scrambled eggs for a variety of soft, chewy and crunchy textures in a sauce made spicy, just this side of fiery, with chili paste.
An entrée of ginger scallion beef was very gingery indeed. Chinese in style (and, we might note, exceptional compared to other Chinese fare we've sampled), the beef was plentiful, melt-in-your-mouth tender, and accompanied by scallions almost as big and flavorful as leeks.
Angelique enjoyed a dalliance with one of with her favorite southeast Asian dishes, green curry with chicken. The poultry was so tender that it had almost the flaky texture of fish. Carrots, green beans, snow peas, onions and straw mushrooms rounded out the ingredients in a green curry sauce that tasted fresh, herbal and spicy. In all, it was a dream of green-curry goodness.
Jason never misses an opportunity to partake of a steamed whole fish, brought to the table as the embodiment of a celebratory meal. Pangan ikan, a Sun Penang house specialty, coats a fresh fish-of-the-day in barbecue sauce and then wraps it in a banana leaf. The firm white flesh flaked effortlessly away from the bones, and the chili-based sauce was vibrant but not punishingly hot, allowing the meat's succulence to come through.
Sun Penang spices up the mix of Asian restaurants in one of Pittsburgh's most diverse dining neighborhoods. To peruse its menu is to explore the related but distinctive cuisines of Thailand, Malaysia and Singapore in their authentic guises. The atmosphere is conducive to enjoyment, and, for all this, the prices extremely reasonable. We could hardly ask for more.