NOW ON STAGE
Two Tales of Horror. Adaptations of Poe's "The Tell-Tale Heart" and "The Fall of the House of Usher," through Fri., May 20 (PICT Classic Theatre).
Jeeves Intervenes. Margaret Raether's adaptation of the P.G. Wodehouse stories, about a faithful valet rescuing his playboy boss from an unwanted wedding, through May 21 (Little Lake Theatre Co.).
The Musical of Musicals. The cult-favorite spoof of famous Broadway composers, through May 21 (Off the Wall).
Assassins. Sondheim's revue-style 1990 take on John Wilkes Booth, Lee Harvey Oswald and other presidential assassins (or would-be assassins), through May 22 (Stage 62).
The Best Little Whorehouse in Texas. The 1978 musical comedy, through May 22 (McKeesport Little Theater).
The Giver. It's the world premiere of this adaptation of Lois Lowery's Newberry-winning young-adult novel about a boy coming of age in a dystopian society, through May 22 (Prime Stage Theatre Co.).
Tru. One-man show depicting Truman Capote in 1975, through May 22 (Pittsburgh Public Theater).
Cock. Local favorites Sam Tsoutsouvas and Erika Strasburg star in British playwright Mike Bartlett's award-winning 2010 comedy about a love triangle, through May 29 (Kinetic Theatre Co.).
The Lion. Benjamin Scheuer wrote and stars in this one-man musical memoir, through June 5 (City Theatre).
MAY
The 13th of Paris. Romantic comedy about a guy who goes to Paris with his late grandparents' love letters, Thu., May 19-June 4 (South Park Theatre).
Serpentine. Interactive theater — a "film-noir style alternate-reality game that examines a true Pittsburgh cold case," Thu., May 19-June 11 (Uncumber Theatrics).
The 39 Steps. Four actors play 150 roles in this madcap comedic take on Hitchcock's classic wrong-man thriller, May 20-Aug. 14 (CLO Cabaret).
The Foreigner. Larry Shue's farce about a pathologically shy Brit in rural Georgia posing as someone who speaks no English, May 20-June 4 (Apple Hill Playhouse).
Enchanted April. Proper British ladies find themselves in a Mediterranean adventure, May 26-June 11 (Little Lake).
From My Hometown. Classic R&B tunes provide the score for this play about three newcomers to New York ambitious to sing at the Apollo, May 27-June 5 (New Horizon Theater).
Spitfire Grill. James Valcq and Fred Alley's popular 2001 musical about a young woman just out of prison trying to start her life over, May 27-June 5 (Front Porch Theatricals).
Matilda. Award-winning Broadway musical based on Roald Dahl's popular children's book about a young girl and her imagination, May 31-June 12 (CLO Cabaret).
JUNE
Mother Lode. Linda Haston stars in Virginia Wall Gruenert's new one-woman show about a mother-daughter relationship and end-of-life decisions, June 2-5 and Aug. 11-14 (Off the Wall).
The Consorts. A condemned British archbishop and his otherworldly visitors are the main characters in Timohty Ruppert's dark comedy set in 16th-century England, June 2-12 (The Summer Company).
Squabbles. Marshall Karp's romantic comedy about a mismatched pair of in-laws living with their married kids, June 9-25 (South Park).
Venus in Fur. David Ives (All in the Timing) had a hit with this play about a theatrical audition that takes an unexpected turn, June 2-26 (Public).
Theatre Festival in Black and White. The long-running festival of new one-acts that pairs white playwrights with black directors and vice versa, free this year as part of the Three Rivers Arts Festival, June 4-11 (Pittsburgh Playwrights Theatre Co.).
Judgment at Nuremburg. Abby Mann's 1961 drama about Nazis on trial, June 10-18 (Throughline Theatre Co.).
Sin, Sex & the CIA. Michael and Susan Parker's farce about the CIA, foreign dignitaries, a fundamentalist preacher and a sexy neighbor, all in the Virginia mountains, June 16-25 (Apple Hill).
Light Up the Sky. Moss Hart's 1949 backstage farce about the premiere of an overly earnest play, June 16-July 2 (Little Lake).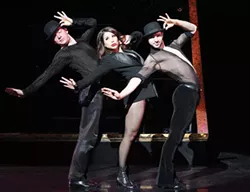 Chicago. John O'Hurley (Dancing With the Stars) stars in Kander & Ebb's perennial favorite about crime and corruption in the big city, June 17-26 (CLO).
Carmen the Gypsy. Bizet's opera is re-imagined for the Opera Theater of Pittsburgh's annual Summerfest, at various venues, June 22-July 9 (Summerfest).
Bloody Hell. Company specializes in dark phantasmagoria takes on Prince Vlad and his vampire consorts, June 24-July 9 (Rage of the Stage).
Church Basement Ladies. Musical comedy about the volunteers in a church kitchen in rural Minnesota in 1965, June 30-July 16 (South Park).
JULY
Damn Yankees. Classic Adler & Ross musical about ambition, baseball, selling your soul and Lola getting what Lola wants, July 5-10 (CLO Cabaret).
The Gin Game. D.L. Coburn's Pulitzer-winning two-hander about nursing-home residents who bond over cards, July 7-16 (Apple Hill).
Anna in the Tropics. Nilo Cruz's drama about life in a cigar factory in 1920s Florida, won the Pulitzer in 2003, July 7-23 (Little Lake).
Kiss Me, Kate. Cole Porter's backstage musical riffing on The Taming of the Shrew, at Falk Auditorium, July 8-23 (Summerfest).
Anything Goes. Classic Cole Porter musical featuring tunes like the title number, "I Get a Kick Out of You" and "You're the Top," July 8-24 (Theatre Factory).
Little Red Riding Hood. Opera Theater of Pittsburgh production of the world's most-performed children's opera, July 9, 16 and 23 (Summerfest).
Come Back, Little Sheba. William Inge's 1950 drama about a trouble Midwestern married couple and their young female boarder, July 14-24 (Summer Company).
Julius Caesar. Handel's opera about Caesar and Cleopatra, July 15, 17 and 23 (SummerFest).
Shrek The Musical. Adaptation of the hit film about an ogre and a donkey on a mission to rescue a princess, July 15-24 (CLO).
Jesus Christ Superstar. Andrew Lloyd Weber and Tim Rice's 1970 rock musical, July 21-31 (Stage 62).
The Tin Woman. Drama about a woman who tracks down the family of the young man who supplied her new heart, July 21-Aug. 6 (South Park).
Julius Caesar. Et tu, Brute? Shakespeare's classic tragedy set in ancient Rome, July 22-July 30 (Throughline).
The Silent Woman. Strauss' comic opera about a man who thinks he's marrying a shy young woman, July 22 and 24 (SummerFest).
The Hound of the Baskervilles. Local favorite David Whalen plays Sherlock Holmes in this adaptation of the famous story, July 23-Aug. 7 (Kinetic).
Elton John & Tim Rice's Aida. The musical about forbidden love in ancient Egypt, July 26-31 (CLO Cabaret).
The Spitfire Grill. James Valcq and Fred Alley's popular 2001 musical about a young woman just out of prison trying to start her life over, July 28-Aug. 6 (Apple Hill).
The Prime of Miss Jean Brodie. Jay Presson Allen's drama about an eccentric girls'-school teacher in 1930s England, July 28-Aug. 13 (Little Lake).
AUGUST
The Birds. Contemporary playwright Conor McPherson's adaptation of the Daphne du Maurier story about marauding birds in small town, Aug. 4-21 (Twelve Peers).
South Pacific. Rodgers & Hammerstein, a tropical island, World War II, washing that man right out of your hair, etc., Aug. 5-14 (CLO).
Peribañez. Tanya Ronder's contemporary adaptation of the 1614 Lope de Vega tragicomedy about an aristocrat who meddles in a peasant wedding, Aug. 5-28 (Quantum Theatre).
Weekend Comedy. Middle-aged marrieds and a carefree young couple find themselves in the same remote rental cabin for the weekend, Aug. 11-27 (South Park).
This Is Why We Can't Have Nice Things. Heidi Nagle's one-woman show about growing up in Amish country, Aug. 18-20 (Off The Wall).
The Cemetery Club. Three Jewish widows disagree about how to move forward in life in Ivan Menchell's comedy, Aug. 18-27 (Apple Hill).
A History of the American Film. Hollywood archetypes — the good girl, the tough guy, the wisecracking friend — get a going-over in Christopher Durang's madcap 1978 comedy, Aug. 18-28 (Summer Company).
Loot. Joe Orton's classic satirical farce about bumbling bank-robbers, Aug. 18-Sept. 3 (Little Lake).
Floyd Collins. In 1925, a man trapped in a Kentucky cave became America's first media circus; the incident inspired Adam Guettel and Tina Landau's acclaimed 1996 musical, Aug. 26-Sept. 4 (Front Porch).
SEPTEMBER
Better Late. M*A*S*H* TV-series creator Larry Gelbart's 2008 comedy finds a man forced by illness to cohabitate with his ex-wife and her husband, Sept. 1-17 (South Park).
Shirley Valentine. Willy Russell's 1989 Tony-winner is a one-character play about a middle-aged British housewife, before and after an adventure abroad, Sept. 1-17 (PICT).
Children's Theatre
ONGOING
Stone Soup. Musical adaptation of the classic folk tale, through Sun., May 22 (Playhouse Jr.).
Tales of a Fourth Grade Nothing. Bruce Mason's adaptation of the classic Judy Blume book about a boy and his irritating brother, through Sun., May 22 (Playhouse Jr.).
JUNE
The White Cat. Fairy-tale adaptation, June 20-29 (South Park Children's Theatre).
The Tiger Who Came to Tea. Musical based on Judith Kerr's book, about an unusually large feline guest, June 29-July 16 (Looking Glass Theatre).
Oh, Jack. A musical-comedy twist on Jack and the Beanstalk, June 14-24 (Johnny Appleseed)
JULY
The Frog Prince. Adaptation of the popular fable, July 5-13 (South Park).
The Enchanted Sleeping Beauty. The classic fairy tale, July 5-15 (Johnny Appleseed).
Beauty and the Beast. David Pierini's recent (nonmusical) adaptation of the popular fable, July 20-Aug. 6 (Looking Glass).
The Magical Land of Oz. Wizard of Oz adaptation, July 18-27 (South Park).
Looking Glass Land. An adaptation of Alice in Wonderland, July 26-Aug. 5 (Johnny Appleseed).
AUGUST
Snow White and the Seven Fairy Godmothers. A twist on the classic fable, Aug. 1-10 (South Park).
A Surprise for Lydia. A little girl debates whether to open a large, mysterious box in this new play by Sunny Disney Fitchett, Aug. 10-27 (Looking Glass).
DANCE
Artcity: Reed Dance Intensive. Showcase for students ages 8-12, July 18-23 (Byham Theater). Also Aug. 16 (Kelly-Strayhorn Theater).
Bodiography Center for Movement. Spring Concert (Bodiography dance students), June 4 (Byham Theater). The Frick Art Museum Presents Bodiography (site-specific work), July 29.
Carnegie Performing Arts Center. Annual student recital, June 4 and 5. Carnegie, 412-279-8887
fireWALL dance theater. EFF.UL.GENTS (premiere of Elisa-Marie Alaio's work set to music by Monteverde), July 7-9 and 14-16 (Off the Wall Productions).
The Pillow Project. Thought Pockets (day-long, immersive public performance-art installation on Strawberry Way), June 3. Downtown. www.pillowproject.org
Pittsburgh Ballet Theatre. The troupe's annual Ballet Under the Stars performance at Hartwood Acres, Aug. 21. www.pbt.org
Pittsburgh Ballet Theatre School. The spring dance performance including classical and contemporary works performed by students from both student and pre-professional divisions, May 20 and 21 (Byham).
Texture Contemporary Ballet. Song of the Earth, with dance accompanying chamber orchestra Resonance Works of Pittsburgh's performance of Mahler's classic, Fri., May 20, and Sun., May 22 (Charity Randall Theatre, Oakland). www.textureballet.org
COMEDY
Arcade Comedy Theater. Bonus Stage, Sun., May 22- July 31. Beta Stage, Sat., May 21- June 25. Dinner with the Nolens, June 4, July 2, Aug. 6 and Sept. 3. Knights of the Arcade: Epic D&D Comedy, Sat., May 21. Improv Pop-Up Night, Thu., May 19. Mixed Doubles, Fri., May 20. The Playlist: Music-Inspired Improv, Thu., May 19. Comedy Royale, Fri., May 20. The Justin & Jerome Experience, Fri., May 20. Comic Wars, Sat., May 21. Sketchville, May 26-28. Gab Bonesso, July 16. Downtown, 412-339-0608
Club Café. The Loaded Show (featuring Aaron Kleiber and others), Sat., May 21. Alex Stypula Live Album Recording, June 11. South Side, 412-431-4950
DVE Comedy Festival. Featuring Chris D'Elia, Roy Wood Jr., Bret Ernst and Jimmy Shubert, June 24 (Byham).
Comedy Sauce Showcase. Hosted by Aaron Kleiber every Monday. Pleasure Bar, Bloomfield. 412-682-9603
Billy Gardell. Standup show by the sitcom star and Pittsburgh native, May 19-21 (Monroeville Convention Center). www.latshawproductions.com
Chris Hardwick. The TV host and comic, June 10 (Carnegie of Homestead Music Hall, Munhall).
Bill Maher. The TV host returns July 8 (Heinz Hall).
Krish Mohan. The former Pittsburgher performs An Indian Comedian: How Not to Fit In (also live album recording), May 28 (Hambone's Restaurant, Lawrenceville).
Nick Offerman and Megan Mullaly. The comedians and marrieds bring their tour Summer of 69: No Apostrophe, Aug. 21 (Benedum Center).
Off the Wall Productions. Luck It We'll Do It Five (new show by Off the Wall's resident sketch-comedy troupe, The Harvey WALLbangers), June 17-19.
Pittsburgh Comedy Showcase. For pros and amateurs, hosted by Tom Kupiec. Corner Café, South Side, 412-488-2995
Pittsburgh Improv. Joey Diaz, Thu., May 19-Sat., May 21. Gary Owen, May 26-29. Adam Ferrara, June 2-5. Josh Tryhane & Brennen Taylor, June 4. Marauders Baseball Fundraiser, June 8. Craig Shoemaker, June 10-12. Jay Mohr, June 15. Bruce Bruce, June 17-19. Danny Palumbo, June 22. Big Jay Oakerson, June 23-26. John Henton, June 30-July 3. Guy Torry, July 7-10. Rocky Laporte, July 14-17. Brent Morin, July 28-30. Candidates Comedy, Aug. 10. Terry Jones, Aug. 11. Jon Lovitz, Aug. 12-14. Tony Rock, Aug. 18-21. West Homestead, 412-462-5233
Pittsburgh Improv Jam. Thursdays at Cabaret at Theater Square, Downtown, 412-281-3973
Pittsburgh Public Theater. Famed Chicago-based sketch and improv troupe The Second City visits for three performances of Free Speech! (While Supplies Last), including new and classic material satirizing politics, Aug. 26 and 27.
Jerry Seinfeld. The standup legend does two shows Sat., May 21 (Benedum).
Slapsticks Comedy Club. Steve Sabo and Derrick Knopsnyder, May 21 (Rose Bar & Grille, White Oak). Lamp Theatre (Irwin) shows: John Evans, Mike Wysocki and Mike Sasson, June 4; Derrick Knopsnyder, Terry Jones and Matt Light, July 9; Shaun Blackham, T-Robe and David Kaye, Aug. 6. www.slapsticksproductions.com
OTHER PERFORMANCE
The Long Song. Local artist Jennifer Nagle Myers' "collaborative composition," a two-hour performance artwork featuring 21 performers — one on each block of Penn Avenue between Main Street and Highland Avenue, May 22. www.jennefire.com
An Evening with Broadway's Michael Cerveris & Seth Rudetsky. One-night Pittsburgh CLO fundraiser with Tony-winning actor and musician Michael Cerveris and radio host Seth Rudetsky, May 23 (CLO Cabaret).
RuPaul's Drag Race. Touring revue based on the hit TV series, June 1. Carnegie Music Hall, Homestead.
The Smokin' Hot Summer Show. Local troupe Smokin' Betties Burlesque presents its tribute to the season, at Club Café (June 10).
Cirque du Soleil. Toruk: The First Flight (new internationally touring circus show based on the film Avatar), June 22-26. Consol Energy Center, Uptown. www.cirquedusoleil.com

LITERARY and TALK
3 Rivers Comicon. Inaugural comics convention hosted by New Dimension Comics, May 21 and 22, Century III Mall, West Mifflin. www.3riverscomicon.com
Barnes & Noble South Hills Village. Children's-book author Anastasia Higginbotham (Death Is Stupid), June 4. 412-835-0379
Carnegie Library of Pittsburgh. Summer Reading Extravaganza (free family activities and entertainment), June 5, Oakland. 412-622-3151
City of Asylum/Pittsburgh. Cave Canem Poets (annual reading by the collective for African-American poets, with Lyrae Van Clief-Stefanon, Evie Shockley, Kevin Young and Major Jackson), June 16. Women Writers of Northview Heights (local collective), June 21. Evening of Kool Poetry (readings by Umbra/Pittsburgh writers accompanied by drummers in celebration of Black Arts Movement poets), July 19. North Side. www.cityofasylum.org
Classic Lines Bookstore. Six Gallery Press Book Launch for Elijah Benedict Brown and John Thomas Menesini, May 26. Bonnie Friedman (Hospital Warrior), June 23. Squirrel Hill. 412-422-2220
Creative Nonfiction. Writing Away the Stigma readings (for Mental Health Awareness Month), Sat., May 21 (Carnegie Library — Lawrenceville) and Sun., May 22 (East Liberty Presbyterian Church). Creative Nonfiction Writers Conference (workshops and discussions), May 27-29. www.creativenonfiction.org
Dormont Public Library. Nurse and author Theresa Brown (The Shift), Wed., May 25. www.dormontlibrary.org
An Evening of Oakland Storytelling (hosted by Rick Sebak and curated by Caliban Book Shop and The Moth in Pittsburgh). June 10. Western Pennsylvania School for Blind Children, Oakland. www.opdc.org
Free Jesus Poems About Jesus. Latest in a series of poetry events with different themes, June 18 (Most Wanted Fine Art, Garfield). freepoemsaboutpoems.wordpress.com
Hemingway's Summer Poetry Series. Squirrel Hill Poetry Workshop readers (M. Soledad Caballero, Erin Garstka, Nancy Esther James, Joseph Karasek, Pam O'Brien, Rosaly DeMaios Roffman and Arlene Weiner), May 24. David Blair, Jeff Oaks, Ellen McGrath Smith, Judith Vollmer and Bob Walicki, May 31. Toi Derricotte, Richard St. John, Philip Terman and Patricia Jabbeh Wesley, June 7. Bottom Dog Press Tribute Reading (Jeanne Byrne, Jim Daniels, Liane Ellison Norman, publisher Larry Smith and Jimmy Cvetic), June 14. Joan E. Bauer, Daniela Buccilli, Joseph Fasano, Rina Ferrarelli, Rachel Mennies and Adriana Ramirez, June 21. Craig Czury, Roberta Hatcher, Nancy Krygowski, Walt Peterson and Michael Wurster, July 5. Sundress Poets (Kelly Andrews, Margaret Bashaar, Jennifer Jackson Berry, Jill Khoury and Erin Elizabeth Smith), July 12. Charlie Brice, Jay Carson, Ann Curran, Timons Esaias, Mary Soon Lee, Judith Robinson and John Stupp, July 19. Grand Finale: Kristofer Collins, Angele Ellis, Celeste Gainey, Richard Gegick, John Grochalski, John Korn, Jason Mendez and Don Wentworth, July 26. Hemingway's Café, Oakland, jbauer103w@aol.com
The Moth StorySLAM. Themed storytelling nights: "Fathers," June 7. Rex Theater, South Side, www.themoth.org
Mystery Lovers Bookshop. Coffee & Crime: Mary Kay Andrews, Sat., May 21. Book launch for Joshua Bellin's Scavenger of Souls, Aug. 20. Oakmont.
Steel City Slam. Spoken-word poetry competition, every Tuesday through Aug. 16. Championship, July 15. Capri Pizza, East Liberty. www.pghpoetry.org
Penguin Bookshop. Melanie Potock (Raising a Happy, Healthy Eater), Thu., May 19. Memoirist Paul Hertneky (Rust Belt Boy), Sat., May 21. Novelist Jennifer Haigh (Heat and Light), Mon., May 23. An evening with Stephen King (rare appearance by the author, at an off-site location), June 8. Sewickley. www.penguinbookshop.com
Pittsburgh Arts & Lectures. Museum director and author Nancy Moses (Stolen, Smuggled, Sold), June 9. Nurse and author Theresa Brown (The Shift), June 21. Famed author Judy Blume, July 12. Young Adult and Middle Grade Authors in Conversation (Siobhan Vivian, Jonathan Auxier, Nick Courage), July 26. Fiction writer Sherrie Flick (Whiskey, Etc.), Aug. All at Carnegie Library of Pittsburgh, Oakland. 412-622-8866
Pittsburgh Park Summer Reading Series. Organized by Autumn House Press. Judith Vollmer, Kevin González and Israel Centeno, June 12 (Allegheny Commons Park, North Side); Ed Ochester, Adrianna Ramirez and Sherrie Flick, July 16 (Reservoir Drive Walk, Highland Park); and Patricia Jabbeh Wesley, Gerry LaFemina and Craig Bernier, Aug. 14 (Elliot Overlook, Elliot). www.autumnhouse.org
Sewickley Library. Memoirist Paul Hertneky, Mon., May 23. 412-741-6920
Tales Under the Trees. An afternoon of all-ages storytelling featuring nationally known Jim May, plus storytelling contests, June 4 (Tall Trees Amphitheater, Monroeville). www.facebook.com (search "Storyworks").
TEDx Pittsburgh. Thirteen local speakers discuss the "ideas worth spreading in the Steel City," Sat., May 22 (Soldiers & Sailors Memorial Hall, Oakland). www.tedxpittsburgh.org
Versify. Monthly poetry reading series at East End Book Exchange, Sat., May 21. Bloomfield. www.eastendbookexchange.com
WordPlay. Quarterly series blending true stories with live DJ, hosted by comic Alan Olifson, Aug. 27 and 28 (Bricolage).

Theater Companies and Venues Index
Apple Hill Playhouse. Delmont, 724-468-5050
Arcade Comedy Theater. Downtown, 412-339-0608
Benedum Center. Downtown, 412-456-6666
Bricolage Theatre. Downtown, 412-394-3353
Byham Theater. Downtown, 412-456-6666
Carnegie of Homestead Music Hall. Munhall, 412-462-3444
City of Asylum/Pittsburgh. North Side, 412-323-0278
City Theatre. South Side, 412-431-2489
Club Café. South Side, 412-431-4950
CLO Cabaret. Downtown, 412-281-3973
Front Porch Theatricals. North Side, www.frontporchpgh.com
Heinz Hall. Downtown, www.pittsburghsympony.org
Johnny Appleseed Children's Theater. Delmont, 724-468-5050
Kelly-Strayhorn Theater. East Liberty, www.kelly-strayhorn.org
Kinetic Theatre Co. North Side, www.kinetictheatre.org
Little Lake Theatre. Canonsburg, 724-745-6300
Looking Glass Theatre. Canonsburg, 412-561-4402
McKeesport Little Theater. McKeesport, 412-673-1100
New Horizon Theater. Homewood, www.newhorizontheater.org
New Hazlett Theater. North Side, 412-320-4610
Off the Wall Productions. Carnegie, 724-873-3576
SummerFest (Opera Theater of Pittsburgh). 412-621-1499
PICT Classic. Oakland, 412-561-6000
Pittsburgh CLO. Downtown, 412-325-1582
Pittsburgh Playwrights Theater Co. Downtown, www.pghplaywrights.com
Pittsburgh Public Theater. Downtown, 412-316-1600
Playhouse Jr. Oakland, 412-621-4445
Prime Stage Theatre. North Side, www.primestage.com
Rage of the Stage Players. McKeesport, www.rageofthestage.com
South Park Theatre. South Park, 412-831-8552
Stage 62. Carnegie, 412-429-6262
The Summer Company. Uptown, www.thesummercompany.com
The Theatre Factory. Trafford, 412-374-9200
Throughline Theatre Company. Lawrenceville, www.throughlinetheatre.org
Trust Arts Education Center. Downtown, 412-456-6666
Twelve Peers. Lawrenceville, www.12peerstheater.org
Uncumber Theatrics. www.uncumbertheatrics.com