NOW ON STAGE
Two Tales of Horror. Adaptations of Poe's "The Tell-Tale Heart" and "The Fall of the House of Usher," through Fri., May 20 (PICT Classic Theatre).
Jeeves Intervenes. Margaret Raether's adaptation of the P.G. Wodehouse stories, about a faithful valet rescuing his playboy boss from an unwanted wedding, through May 21 (Little Lake Theatre Co.).
The Musical of Musicals. The cult-favorite spoof of famous Broadway composers, through May 21 (Off the Wall).
Assassins. Sondheim's revue-style 1990 take on John Wilkes Booth, Lee Harvey Oswald and other presidential assassins (or would-be assassins), through May 22 (Stage 62).
The Best Little Whorehouse in Texas. The 1978 musical comedy, through May 22 (McKeesport Little Theater).
The Giver. It's the world premiere of this adaptation of Lois Lowery's Newberry-winning young-adult novel about a boy coming of age in a dystopian society, through May 22 (Prime Stage Theatre Co.).
Tru. One-man show depicting Truman Capote in 1975, through May 22 (Pittsburgh Public Theater).
Cock. Local favorites Sam Tsoutsouvas and Erika Strasburg star in British playwright Mike Bartlett's award-winning 2010 comedy about a love triangle, through May 29 (Kinetic Theatre Co.).
The Lion. Benjamin Scheuer wrote and stars in this one-man musical memoir, through June 5 (City Theatre).
MAY
The 13th of Paris. Romantic comedy about a guy who goes to Paris with his late grandparents' love letters, Thu., May 19-June 4 (South Park Theatre).
Serpentine. Interactive theater — a "film-noir style alternate-reality game that examines a true Pittsburgh cold case," Thu., May 19-June 11 (Uncumber Theatrics).
The 39 Steps. Four actors play 150 roles in this madcap comedic take on Hitchcock's classic wrong-man thriller, May 20-Aug. 14 (CLO Cabaret).
The Foreigner. Larry Shue's farce about a pathologically shy Brit in rural Georgia posing as someone who speaks no English, May 20-June 4 (Apple Hill Playhouse).
Enchanted April. Proper British ladies find themselves in a Mediterranean adventure, May 26-June 11 (Little Lake).
From My Hometown. Classic R&B tunes provide the score for this play about three newcomers to New York ambitious to sing at the Apollo, May 27-June 5 (New Horizon Theater).
Spitfire Grill. James Valcq and Fred Alley's popular 2001 musical about a young woman just out of prison trying to start her life over, May 27-June 5 (Front Porch Theatricals).
Matilda. Award-winning Broadway musical based on Roald Dahl's popular children's book about a young girl and her imagination, May 31-June 12 (CLO Cabaret).
JUNE
Mother Lode. Linda Haston stars in Virginia Wall Gruenert's new one-woman show about a mother-daughter relationship and end-of-life decisions, June 2-5 and Aug. 11-14 (Off the Wall).
The Consorts. A condemned British archbishop and his otherworldly visitors are the main characters in Timohty Ruppert's dark comedy set in 16th-century England, June 2-12 (The Summer Company).
Squabbles. Marshall Karp's romantic comedy about a mismatched pair of in-laws living with their married kids, June 9-25 (South Park).
Venus in Fur. David Ives (All in the Timing) had a hit with this play about a theatrical audition that takes an unexpected turn, June 2-26 (Public).
Theatre Festival in Black and White. The long-running festival of new one-acts that pairs white playwrights with black directors and vice versa, free this year as part of the Three Rivers Arts Festival, June 4-11 (Pittsburgh Playwrights Theatre Co.).
Judgment at Nuremburg. Abby Mann's 1961 drama about Nazis on trial, June 10-18 (Throughline Theatre Co.).
Sin, Sex & the CIA. Michael and Susan Parker's farce about the CIA, foreign dignitaries, a fundamentalist preacher and a sexy neighbor, all in the Virginia mountains, June 16-25 (Apple Hill).
Light Up the Sky. Moss Hart's 1949 backstage farce about the premiere of an overly earnest play, June 16-July 2 (Little Lake).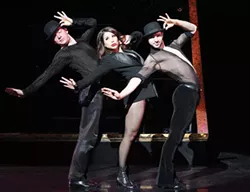 Chicago. John O'Hurley (Dancing With the Stars) stars in Kander & Ebb's perennial favorite about crime and corruption in the big city, June 17-26 (CLO).
Carmen the Gypsy. Bizet's opera is re-imagined for the Opera Theater of Pittsburgh's annual Summerfest, at various venues, June 22-July 9 (Summerfest).
Bloody Hell. Company specializes in dark phantasmagoria takes on Prince Vlad and his vampire consorts, June 24-July 9 (Rage of the Stage).
Church Basement Ladies. Musical comedy about the volunteers in a church kitchen in rural Minnesota in 1965, June 30-July 16 (South Park).
JULY
Damn Yankees. Classic Adler & Ross musical about ambition, baseball, selling your soul and Lola getting what Lola wants, July 5-10 (CLO Cabaret).
The Gin Game. D.L. Coburn's Pulitzer-winning two-hander about nursing-home residents who bond over cards, July 7-16 (Apple Hill).
Anna in the Tropics. Nilo Cruz's drama about life in a cigar factory in 1920s Florida, won the Pulitzer in 2003, July 7-23 (Little Lake).
Kiss Me, Kate. Cole Porter's backstage musical riffing on The Taming of the Shrew, at Falk Auditorium, July 8-23 (Summerfest).
Anything Goes. Classic Cole Porter musical featuring tunes like the title number, "I Get a Kick Out of You" and "You're the Top," July 8-24 (Theatre Factory).
Little Red Riding Hood. Opera Theater of Pittsburgh production of the world's most-performed children's opera, July 9, 16 and 23 (Summerfest).
Come Back, Little Sheba. William Inge's 1950 drama about a trouble Midwestern married couple and their young female boarder, July 14-24 (Summer Company).
Julius Caesar. Handel's opera about Caesar and Cleopatra, July 15, 17 and 23 (SummerFest).
Shrek The Musical. Adaptation of the hit film about an ogre and a donkey on a mission to rescue a princess, July 15-24 (CLO).
Jesus Christ Superstar. Andrew Lloyd Weber and Tim Rice's 1970 rock musical, July 21-31 (Stage 62).
The Tin Woman. Drama about a woman who tracks down the family of the young man who supplied her new heart, July 21-Aug. 6 (South Park).
Julius Caesar. Et tu, Brute? Shakespeare's classic tragedy set in ancient Rome, July 22-July 30 (Throughline).
The Silent Woman. Strauss' comic opera about a man who thinks he's marrying a shy young woman, July 22 and 24 (SummerFest).
The Hound of the Baskervilles. Local favorite David Whalen plays Sherlock Holmes in this adaptation of the famous story, July 23-Aug. 7 (Kinetic).
Elton John & Tim Rice's Aida. The musical about forbidden love in ancient Egypt, July 26-31 (CLO Cabaret).
The Spitfire Grill. James Valcq and Fred Alley's popular 2001 musical about a young woman just out of prison trying to start her life over, July 28-Aug. 6 (Apple Hill).
The Prime of Miss Jean Brodie. Jay Presson Allen's drama about an eccentric girls'-school teacher in 1930s England, July 28-Aug. 13 (Little Lake).
AUGUST
The Birds. Contemporary playwright Conor McPherson's adaptation of the Daphne du Maurier story about marauding birds in small town, Aug. 4-21 (Twelve Peers).
South Pacific. Rodgers & Hammerstein, a tropical island, World War II, washing that man right out of your hair, etc., Aug. 5-14 (CLO).
Peribañez. Tanya Ronder's contemporary adaptation of the 1614 Lope de Vega tragicomedy about an aristocrat who meddles in a peasant wedding, Aug. 5-28 (Quantum Theatre).
Weekend Comedy. Middle-aged marrieds and a carefree young couple find themselves in the same remote rental cabin for the weekend, Aug. 11-27 (South Park).
This Is Why We Can't Have Nice Things. Heidi Nagle's one-woman show about growing up in Amish country, Aug. 18-20 (Off The Wall).
The Cemetery Club. Three Jewish widows disagree about how to move forward in life in Ivan Menchell's comedy, Aug. 18-27 (Apple Hill).
A History of the American Film. Hollywood archetypes — the good girl, the tough guy, the wisecracking friend — get a going-over in Christopher Durang's madcap 1978 comedy, Aug. 18-28 (Summer Company).
Loot. Joe Orton's classic satirical farce about bumbling bank-robbers, Aug. 18-Sept. 3 (Little Lake).
Floyd Collins. In 1925, a man trapped in a Kentucky cave became America's first media circus; the incident inspired Adam Guettel and Tina Landau's acclaimed 1996 musical, Aug. 26-Sept. 4 (Front Porch).