Current
First Voice Festival. A showcase for local African-American performing artists, through May 29 (August Wilson Center).
The Blonde, The Brunette and the Vengeful Redhead. Tony-winner Michele Pawk, a Butler native, plays seven roles in Robert Hewett's one-performer comedy, through May 30 (City Theatre).
I Gotcha! The Story of Joe Tex and the Soul Clan. A soul singer wrestles with his devotion to Islam in this based-on-fact play, by Joseph H. Plummer and David Barr III, through May 30 (New Horizon Theater).
Jitney. August Wilson's drama about life in a Hill District gypsy-cab outfit, through May 30 (Pittsburgh Playwrights Theatre Co.).
A Bench in the Sun. Ron Clark's comedy about oldsters trying to save their retirement home, through June 5 (Apple Hill Playhouse).
The Dixie Swim Club. The college-reunion comedy, by Jessie Jones, Nicholas Hope and Jamie Wooten, through June 5 (South Park Theatre).
Nunsense. The musical comedy about nuns, through June 6 (Pittsburgh CLO).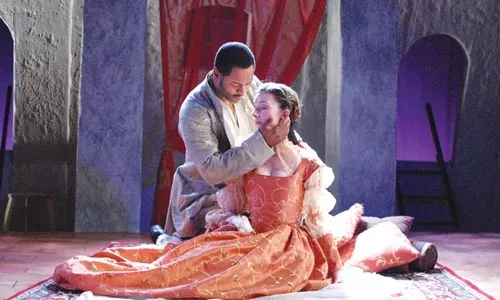 Othello. Javon Johnson and Allison McLemore star in Shakespeare's tragedy, through June 12 (Pittsburgh Irish & Classical).
May
Art. Yasmina Reza's 1994 Tony-winner about male friendships revolves around a dermatologist's purchase of a blank white canvas. May 27-June 27 (Pittsburgh Public Theater).
Moonlight and Magnolias. Ron Hutchinson's 1930s-set comedy about movie producer David O. Selznick and the mayhem behind the scenes of Gone With the Wind. May 27-June 12 (Little Lake Theatre).
Radio Golf. In terms of its time period, this drama about politics in the 1990s Hill District is the final piece of August Wilson's famed "Pittsburgh Cycle." May 27-June 12 (Kuntu Repertory Theatre).
Take A Letter. A new two-character work by artist and performer Alexi Morrissey combines installation art, robotics and poetry. May 27-29 (Ellis Armory School, Shadyside; www.newhazletttheater.org).
Twisted Monologues. The title is self-explanatory in the latest from the local troupe specializing in all that's shadowy, perverse and macabre. May 28-June 12 (Rage of the Stage Players).
A Confluence of Dreaming. The latest from esteemed local playwright Tammy Ryan finds a bored suburban housewife turned on by the romantic possibilities of cyberspace. May 28-June 13 (Playhouse REP).
June
Oliver! Everyone's favorite musical about homeless children, featuring Lionel Bart's book, music and lyrics, and inspired by Dickens' Oliver Twist. June 1-6 (Pittsburgh CLO).
Midnight Radio. A raucous monthly series for original radio serials, performed live. June 3-5; series continues through October (Bricolage Production Co.).
Up the Down Staircase. The comedy about an idealistic young teacher at an inner-city school, adapted from Bel Kaufman's 1965 book. June 3-12 (Summer Company).
Let's Talk About Sex, Baby. A revue performed by eight singers from the Renaissance City Choirs featuring songs including selections from Avenue Q.June 4-6 (at Grey Box Theatre, Lawrenceville).
Miss Saigon. Broadway's most famous helicopter features in this hit musical about an American G.I. and a Vietnamese girl he falls in love with during the war. June 8-20 (Pittsburgh CLO).
Everybody Loves Opal. John Patrick's farce about three con men and a middle-aged recluse. June 10-12 (Apple Hill).
Mid-life! The Crisis Musical. Bob and Jim Walton's singing comedy about our inexorable march toward the tomb. June 10-26 (South Park).
Lion in the Streets. A child ghost searches for her killer in Judith Thompson's drama. June 12-27 (Phase 3).
The 25th Annual Putnam County Spelling Bee. Six adolescents battle it out over words and letters in this hit Broadway musical, with music and lyrics by William Finn. June 17-July 3 (Little Lake).
'S Wonderful: The New Gershwin Musical. A world-premiere suite of five "mini-musicals" features dancing and singing to the music and lyrics of George and Ira Gershwin, from "Shall We Dance" to "Rhapsody in Blue." June 17-Sept. 5 (Pittsburgh CLO).
Curtains. Sally Struthers and Malcolm Gets star in the touring version of the hit Broadway revival of Kander & Ebb's backstage musical-comedy whodunit. June 22-27 (Pittsburgh CLO).
Mad Honey. Classical mythology and fantasy alike inform the latest from local playwright Amy Hartman, about a 1950s kid on an outrageous odyssey. June 23-July 4 (Unseam'd Shakespeare Co.).
Killer Joe. A Texas trailer-trash family hires a meticulous hit man in this dark comedy, the first play by Tracy Letts (who later wrote Bug and August: Osage County). June 24-July 11 (barebones productions).
"Pinteresque" Storyteller Series. Readings of contemporary plays inspired by Harold Pinter. June 28 and July 12 (PICT).
July
Proof. David Auburn's hit play about a young woman's fear of inheriting her late father's madness. July 1-17 (South Park).
The Producers. John Treacy Egan, Jim Stanek and former 'N Sync star Joey Fatone star in the hit musical-comedy adaptation of the Mel Brooks film. July 6-18 (Pittsburgh CLO).
Working. Famous names -- Stephen Schwartz, James Taylor and more -- collaborated on this musical adaptation of Studs Terkel's classic oral history about the working life. July 8-24 (Apple Hill).
Years Ago. Actress Ruth Gordon's autobiographical comedy, set in 1913 Massachusetts, centers on a girl and her father, a gruff sea captain. July 8-24 (Little Lake).
Journey to the Center of the Moral Abyss! New Olde Bank's annual festival of one-act plays. July 9-17 (New Olde Bank Theater).
A Thurber Carnival. Famed writer and humorist James Thurber adapted this revue from his own writings and cartoons. July 15-24 (Summer Company).
The Light in the Piazza. The multiple-Tony-winning musical about young love and secrets, with music and lyrics by Adam Guettel. July 16-Aug. 1 (Theatre Factory).
Hairspray. The Broadway musical based on the John Waters comedy about a TV dance show in early-'60s Baltimore. July 20-Aug. 1 (Pittsburgh CLO).
City of Angels. Larry Gelbart's Tony-winning 1989 musical comedy blends the worlds of a screenwriter and the detective noir film script he's writing. July 22-Aug. 1 (Stage 62).
The Hothouse. PICT begins its season-long celebration of Harold Pinter with this early dark comedy (written in 1958) about life in an old-age home. July 22-Aug. 22 (PICT).
The Mousetrap. Based on the famous Agatha Christie murder mystery. July 22-Aug. 7 (South Park).
The Farnsworth Invention. West Wing creator Aaron Sorkin wrote this play set in 1929, about inventor Philo Farnsworth and RCA executive David Sarnoff racing to pioneer our only true friend, television. July 29-Aug. 14 (Little Lake).
No Man's Land. Harold Pinter's 1975 comedy centers on a wealthy recluse and a penniless poet. July 30-Aug. 21 (PICT).
August
The Student Prince. A prince falls for a commoner in the Dorothy Donnelly operetta. Aug. 3-8 (Pittsburgh CLO).
Cash on Delivery. Michael Cooney's Britfarce about a welfare scammer. Aug. 5-21 (Apple Hill).
Harold Pinter One-Act Plays. The first installment of the series features "The Dumb Waiter" and "Betrayal" (Aug. 5-21); part two features both Pinter's first play, "The Room," and his last, "Celebration" (Aug. 14-20, PICT).
Harps and Harmonicas. A recently widowed woman takes a road trip with a younger woman in this comedy. Aug. 12-28 (South Park).
Fairest: The Black Tale of Snow White. A jealous queen descends into madness in this play based on the earliest version of the fairy tale. Aug. 13-28 (Rage of the Stage).
Lost in Yonkers. Neil Simon's Pulitzer-winning comedy about two young brothers sent to live with their aunt and grandma in the summer of 1942. Aug. 19-Sept. 4 (Little Lake).
Pinter Celebration Finale. The talent who staged PICT's summer-long Pinter celebration presents a special evening of Pinter's poetry and prose. Aug. 22.
September
Almost, Maine. A romantic comedy set in a state that is not quite Canada. Sept. 2-18 (South Park).
The Kitchen Witches. Carolyn Smith's comedy about two feuding cable-access cooking hosts. Sept. 2-18 (Apple Hill).
KIDS' THEATER
JUNE
Remus Tales. Adaptation of the "Uncle Remus" Southern fables. June 15-25 (Johnny Appleseed).
Cinderella. William Glennon's adaption of the fairy tale. June 23-July 10 (Looking Glass Theatre).

JULY
Charlotte's Web. Adaptation of the E.B. White classic. July 2-30 (Johnny Appleseed).
Oh, Jack! Pittsburgh native Richard Kintner's comic adaptation of "Jack and the Beanstalk." July 6-16 (Johnny Appleseed).
Giggle, Giggle, Quack. A troublesome barnyard duck is the instigator in this musical from the folks who brought you Click, Clack, Moo: Cows That Type. July 14-31 (Looking Glass).
AUGUST
The Tale of the Frog Prince. A musical adaptation of the classic fairy tale. Aug. 3-13 (Johnny Appleseed).
Two Dumb Dogs. A pair of canines embark on an adventure in this play by Edith Weiss. Aug. 4-21 (Looking Glass).
Dance
Pittsburgh Ballet Theatre School Spring Performance. Student and pre-professional divisions perform new and classic works. May 28 (Byham Theater).
The Pillow Project. Second Saturdays (multimedia performance in a casual atmosphere): Micrography, June 12; Hot Box, July 10; and the latest The Swank Easy, Aug. 14 (The Space Upstairs, Point Breeze).
Visionary Performing Arts Academy. The academy's 11th-anniversary show, Heal the World, features dance performances by children ages 2-18. June 19 (Byham Theater).

Comedy
The Amish Monkeys. Improv comedy. June 12, July 10 and Aug. 14 (Gemini Theater). www.amishmonkeys.com
Byham Theater. Carlos Mencia, June 20. 412-456-6666
Brillobox. Gab Bonesso Alternative Comedy Show, June 8, July 14, Aug. 10. 412-621-4900
The Funny Bone. John Evans, May 28-29; Tom Anzalone, June 4-5; Matt Davis, June 11-12; Tom Briscoe, June 18-19 (Green Tree). The Funny Bone North (Cranberry):
Chuck Kreiger, May 28-29. 412-420-HAHA
The Improv. Tommy Johnigan, May 27-30; Juston McKinney, June 3-6; Craig Shoemaker, June 11-13; Robert Schimmel, June 17-20; Godfrey, June 24-27; Kevin Brennan, July 1-3; John Pinette, July 8-10; Jay Mohr, July 16-18; Michael Winslow, July 22-25; Sommore, July 30-Aug. 1; Jim Breuer, Aug. 5-7; Jamie Kennedy, Aug. 13-15; Eddie Griffin, Aug. 27-28. The Waterfront, West Homestead. 412-462-5233
Irony City Improv. ModernFormations Gallery, July 17 (Garfield). www.ironycity.com
Cabaret at Theatre Square. Pittsburgh Improv Jam (weekly Thursday-night showcase for local improv comedians). The Serious Comedy Show (improv and sketch comedy), May 29 and June 5. Hustlebot: The Sketch Show, June 5. John McIntire Dangerously Live Comedy Talk Show (topical discussion), June 19, July 24, Aug. 21. 412-325-6769
Readings
American Shorts Reading Series. "What It Takes to Make It as an Artist in Pittsburgh" (with Joy Ike and CM Burroughs), June 29. "The Immigration Stakes," July 22. WYEP Community Broadcasting Center, South Side. 412-622-8866
Gist Street Reading Series. Scott McClanahan (fiction) and Jeffrey Thomson (poetry) June 4. 10th Annual Cookout Extravaganza (with Dawn Raffel, Jeff Parker and Zoe Zolbrod), July 17.
Hemingway's Summer Poetry Series. Michael Simms, Susan Sailer, Patricia Jabbeh Wesley and Lori Wilson, June 1; Deborah Bogen, Lynn Emanuel and Jeff Oaks, June 8; Renee Alberts, Kristofer Collins, Justin Vicari and Stacey Waite, June 15; Michelle Battiste, Arlan Hess, Leslie McIlroy and Mike Schneider, June 22; Ziggy Edwards, Joseph Karasek, Romella Kitchens and Ellen McGrath Smith, June 29; Timons Esaias, Roberta Hatcher, Marc Jampole and Christina Springer, July 6; Kevin Finn, Robert Gibb and Michael Wurster, July 13; Judith Robinson, Rosaly DeMaios Roffman, Richard St. John and Walt Peterson, July 20; Lisa Alexander, Ed Carvahlo, Jason Irwin, Jill Khoury, Sophie Klahr, Kayla Sargeson, Joan E. Bauer and Jim Cvetic, July 27. Hemingway's Café, Oakland. jbauer103w@aol.com
The New Yinzer Presents. July 18 (at the Polish Hill Arts Festival); and Taylor Grieshober, Michelle Stoner, Lisa Alexander and Caitlin Crawford (with music by Kayla Slicker and Emily Laycheck), Aug. 18 (at ModernFormations Gallery, Garfield). www.tnypresents.blogspot.com
Open Reading. The 14th annual edition of this summertime open-mic event, with no featured readers or sign-up lists. Garfield Artworks, Garfield. June 5. 412-231-1581
Pittsburgh Poetry Series: Collective Voices. Rosaly DeMaios Roffman, June 13; Jim Daniels, Sept. 12. Father Ryan Art Center, McKees Rocks. 412-298-7373
Summer Shorts: Literature with Legs. Readings by Karen Lillis, Savannah Guz and more. June 19 (ModernFormations Gallery, Garfield).
Theater Companies and Venues
Amish Monkeys. Point Breeze. www.amishmonkeys.com
Apple Hill Playhouse. Delmont. 724-468-5050
August Wilson Center. Downtown. 412-258-2700
barebones productions. Downtown. barebonesproductions@yahoo.com
Bricolage Production Co. Downtown. 412-381-6999.
Byham Theater. Downtown. 412-456-6666
City Theatre. South Side. 412-431-2489
Johnny Appleseed Children's Theater. Delmont. 724-468-5050
Kuntu Repertory Theater. Oakland. 412-624-7298
Little Lake Theatre. Canonsburg. 724-745-6300
Looking Glass Theatre. Canonsburg. 412-561-4402
New Horizon Theater. East Liberty. 412-431-0773
New Olde Bank Players. Verona. 412-251-7904
Phase 3 Productions. Downtown. www.phase3productions.org
The Pillow Project. Point Breeze. www.pillowproject.org
Pittsburgh CLO. Downtown. 412-325-1582
Pittsburgh Irish & Classical Theatre Co. Oakland. 412-561-6000
Pittsburgh Playwrights Theater Co. Downtown. www.pghplaywrights.com
Pittsburgh Public Theater. Downtown. 412-316-1600
Playhouse REP. Oakland. 412-621-4445
The Rage of the Stage Players. South Side. 412-851-0922
Renaissance City Choirs. Lawrenceville. 412-362-9484
South Park Theatre. South Park. 412-831-8552
Stage 62. Carnegie. 412-429-6262
The Summer Company. Duquesne University, Uptown. 412-396-6429
The Theatre Factory. Trafford. 412-374-9200
Unseam'd Shakespeare. Oakland. 412-621-0244