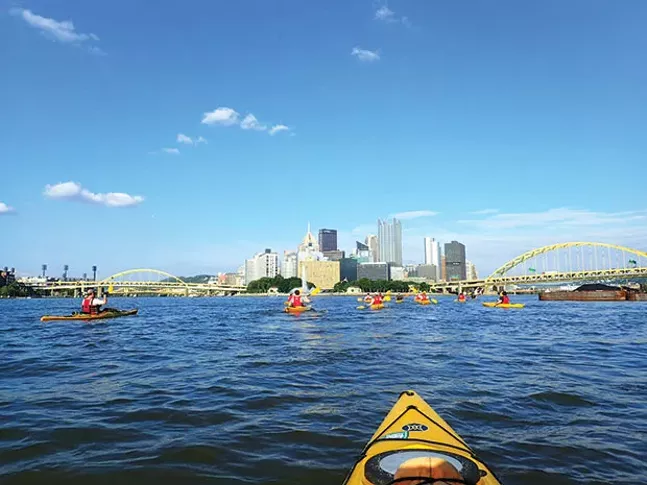 ONGOING
City Pools
.
Citiparks pools are open June 11 through Labor Day. Programs include swimming lessons and swim teams. Purchase seasonal pool tags or pay a daily entrance fee.
pittsburghpa.gov/citiparks/parks.html
Spray Parks
.
From May 26 until early fall, enjoy cooling off without having to swim. Parks in Hazelwood, East Hills, Shadyside, Troy Hill, Beltzhoover and Beechview.
pittsburghpa.gov/citiparks/parks.html
Disc Golf
. An 18-hole disc golf course meanders through open and wooded sections of Schenley Park. There's also a nine-hole course in Carrick.
pfds.org
Tennis
.
Courts are open in Allegheny Commons, Arsenal, Frick, Highland, Moore, Schenley and Washington's Landing parks. Summer programs include camps and lessons, or you can join a Community Tennis Association.
pittsburghpa.gov/citiparks/tennis
Lawn Bowling
.
The state's only public bowling green is located at Frick Park. Open-lawn bowling and league play, plus free lessons.
lawnbowlingpittsburgh.org
Skateboarding
.
Go skating at city-run skate parks in Beltzhoover, Polish Hill and Sheraden. 412-255-2539
Kayak Pittsburgh
. The city is known for its three rivers; Kayak Pittsburgh lets you play on them. Rentals and launch points in North Park, Aspinwall and the North Side. Other rentals include stand-up paddleboards, rowboats, pedal boats and canoes.
kayakpittsburgh.org
Pittsburgh Sports League
.
Year-round adult co-ed sports, including basketball, kickball, volleyball, softball. Various city locations.
pump.org
Venture Outdoors
.
Venture Outdoors sponsors hundreds of outdoor events at area parks, including family-fun walks, plus beginner-to-advanced sessions in hiking, backpacking, mountain-biking, rock-climbing, horseback-riding, canoeing, kayaking, yoga and much more.
ventureoutdoors.org
Dek Hockey
.
Available at outdoor rinks in Banksville Park; Marmaduke Playground, Brighton Heights;
Lewis Playground, Hazelwood;
Ormsby Playground, South Side; Bloomfield Park; and Brookline Memorial Park.
pittsburghpa.gov/citiparks/parks.html
City of Play
.
Try a smorgasbord of games from cards to Circle Rules Football, a team sport using a fitness ball and a circular field. Various locations around the city. Full schedule at
cityofplay.org
Cycling
. Bud Harris Cycling Track is a banked track that provides fun for expert cyclists or novices. Track sits along Washington Boulevard in Highland Park. 412-255-2539
Inline Skating
.
Weekly through September. Offers beginner, intermediate and advanced skates throughout the week around the city and on the Eliza Furnace Trail.
skatepittsburgh.com
MAY 27
Open Streets.
The city will close down selected streets in Downtown, Uptown and South Side for a day of walking, biking and other activities.
openstreetspgh.org
JUNE 2
Autism Speaks Walk Pittsburgh
.
Schenley Park.
autismspeaks.org
JUNE 3
Kenny's Koaster Race
.
10K race or 5K run/walk at Kennywood Park.
kennywood.com
Greenfield Glide
. 5K run and walk through a cross-country course. Schenley Park Overlook.
greenfieldglide.com