ONGOING
Carnegie Library of Pittsburgh
. Library branches throughout the city offer daily kids' and teens' programs — like story time, singalongs, STEM workshops and literature discussions — all summer. Multiple locations.
carnegielibrary.org
Carnegie Science Center
. Most of the ongoing science exhibits are kid-centric, including SpacePlace, roboworld and the Highmark SportsWorks. The Exploration Station teaches youth about lasers, electricity and solar power. The Rangos Giant Cinema also offers educational movies. North Side.
carnegiesciencecenter.org
Children's Museum of Pittsburgh
. This season's exhibit,
Thomas & Friends: Explore the Rails,
running through Sept. 9, lets kids learn about the workings of an engine, organize a train schedule and explore the world of Thomas and his friends. North Side.
pittsburghkids.org
Citiparks Dek Hockey.
Dek hockey is basically ice hockey without the ice or skates. Full-size rinks are open at Banksville Park, Bloomfield Park, Brookline Memorial Park, Hazelwood's Lewis Playground, Marmaduke Playground in Brighton Heights, and South Side's Ormsby Playground.
citiparks.net
Citiparks Recreation Centers
. City rec centers offer sports and outdoor activities for all ages. Archery, table tennis, volleyball, dance and karate are just some of the options available. Most centers are open 9 a.m.-7 p.m. weekdays. Saturday hours vary by location.
citiparks.net
Citiparks Swimming Pools and Spray Parks
. From June 11 through Labor Day, the city offers a chance to cool off at 18 outdoor swimming pools; swim lessons (free from June 18 to July 27) are available at each. Spray parks, a beautiful combination of sprinklers and playground, open May 26 in Arlington, Beechview, East Hills, Shadyside, Troy Hill, Beltzhoover and Hazelwood.
citiparks.net
Heinz History Center
. Youth-friendly exhibits include Mister Rogers Neighborhood, the Kidsburgh playplace, and the interactive Discovery Place
learning space. The museum also hosts "Living History" events at Point State Park, including a family fishing day on May 27. Strip District.
heinzhistorycenter.org
Pittsburgh Toy Lending Library
. Children up to age 6 can improve their social and motor skills in this indoor art-and-play space, which also features a library full of parenting books for members. Free access for kids with a Pennsylvania Access/EBT card. Hours vary, so call or check online. Shadyside.
pghtoys.org
Pittsburgh Pirates Kids Days
. It's all about kids on Sundays at PNC Park. Special ticket and concessions prices are offered, as well as special events for children, like a chance to run the bases. Before the game, check out the Family Fun Zone on Federal Street. North Side.
pittsburghpirates.com
Pittsburgh Zoo and PPG Aquarium
. The hands-on Kids Kingdom area is rated one of the top children's zoos in the country. The zoo also hosts themed programs called "Wild Wednesdays" from June 13 to Aug. 8, where kids can meet the zookeepers and make crafts. Highland Park.
pittsburghzoo.org
Tyke Hikes
.
Once a week,
Venture Outdoors offers weekday-morning nature hikes in area parks. Hikes are geared toward children younger than 6, and center on themes like waterways and birds. Begins June 13. Stroller-friendly.
ventureoutdoors.org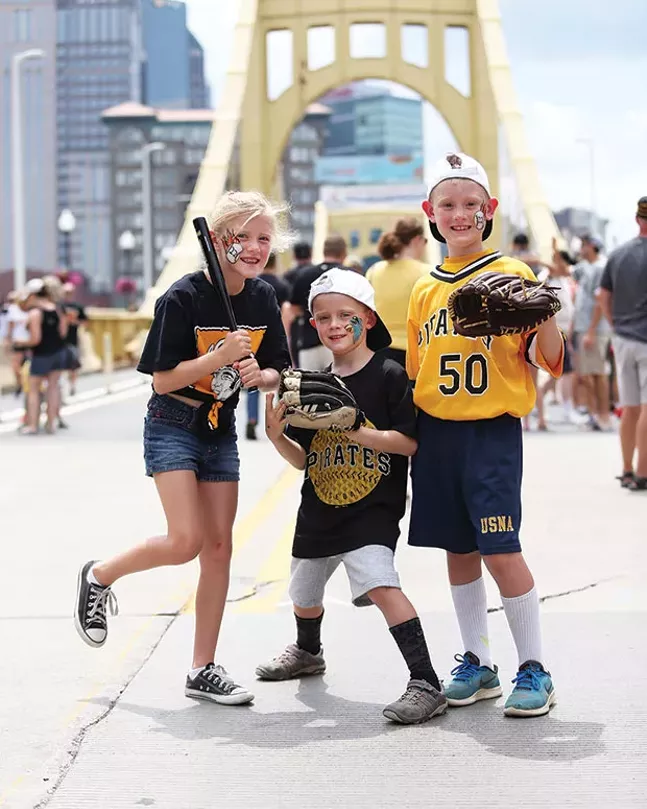 SUMMER CAMPS
Assemble
. The community space in Garfield offers weekday camps from June 18 to Aug. 17. Themes this year include the future of science, coding, and music making.
assemblepgh.org
Carnegie Museums
. From June 11 through Aug. 24, ages 4-13 can participate in camps with activities including art classes, survival skills, and interactive history experiences. For kids in Westmoreland County, full-day sessions are available at Carnegie's Powdermill Nature Reserve in Rector, Pa. Oakland.
artandnaturalhistory.org/camps
Carnegie Science Center
. A variety of science-themed camps are available for children ages 4-18. Kids can learn about programming, engineering, insects and the human body. Camps run June 4 to Aug.17. North Side.
carnegiesciencecenter.org/programs/summer-camps
Citiparks Citicamp
.
Pittsburgh Citiparks recreation centers host day camps for children 7-12. The program explores STEAM topics like nature, technology, media, history and more. Programs run from June 11 to Aug. 10. See individual rec centers for details.
citiparks.net
Citiparks Tot Camp
. From June 11 to July 27, half-day camps with morning and afternoon sessions are held for ages 4-6. A few of the themes are "all around the world," "at the zoo," and "little builders." Each theme lasts one week.
citiparks.net
Frick Art & Historical Center
. Starting July 30, the Frick offers a week-long day camp for kids starting grades 2 to 7, delving into creative art and exploring the museum. Each session accommodates a different age group.
thefrickpittsburgh.org
Irma Freeman Center for Imagination
. Half-day classes run for
four consecutive weeks beginning June 18. Classes include bookmaking, aerial silks fiber arts, magic and more. Camps are for ages 6-12. Bloomfield.
irmafreeman.org
Little Farmer's Day Camp
. Kids ages 4-13 can experience life on a 124-acre farm. Kids will learn about feeding animals, take nature walks and play games. Six three-day sessions starting June 19 until Aug. 9. Aliquippa.
blueribbonfarmsinc.com
Phipps Conservatory
. A series of camps exploring ecology, botany and conservation are available from June 11 to Aug. 24. For kids ages 2-13. Oakland.
phipps.conservatory.org
Pittsburgh Center for the Arts
. Full-day and half-day camps are available from June 11 to Aug. 24 in a range of disciplines for kids ages 4-13. High school immersion camps (ages 14-18) are also offered that teach a wide array of subjects, from stained glass and metalsmithing to digital photography and video game production. Shadyside.
center.pfpca.org
Pittsburgh Zoo and PPG Aquarium
. From June 11 to Aug. 17, kids ages 4-13 can attend half-day and full-day summer zoo camps that offer story time for little ones, animal study and interaction for older kids, and even the opportunity to learn what it takes to be a veterinarian. Highland Park.
pittsburghzoo.org
Saltworks Theatre Company
. The Young Actors Studio camp teaches kids ages 8-16 about movement, role-playing, improv and other stage techniques at day camps held in Sewickley and Oakland. Camps run from July 9 to Aug. 10.
saltworks.org
Steel City Rowing Club Camp
. Summer camps for experienced and novice rowers and other river activities are offered to kids ages 8-18 in half- and full-day sessions from July 17 to Aug. 13. Verona.
steelcityrowing.org
OTHER EVENTS
May 31-June 2
Allegheny County Marbles Tournament
. Allegheny County is home to 10 National Marbles Champions, so the county's tourney offers the crème de la crème. Watch at the County Courthouse Courtyard, and see which winners head to the national competition, June 18-22 in New Jersey. Downtown.
alleghenycounty.us/parks
June 9
Penny Arcade: Kid's Comedy Show
. An improv comedy show designed for kids 5-12. Kids can draw, craft and write and then watch those ideas be brought to life on stage.
arcadecomedytheater.com
June 12-Aug. 3
Citiparks Roving Art Cart
. Now in its 45th season of providing free multi-media art projects for kids, the Roving Art Cart travels around and sets up shop in 35 city parks in almost every neighborhood. The cart can be visited Tuesday through Friday, from 10 a.m. to 1 p.m., for eight weeks throughout the summer. Best for children ages 5-12.
citiparks.net
June 18-20
Frick Park Red Clay Junior Open
. Three divisions — 16 and under, 14 and under and 12 and under — can compete in this annual tennis tournament. Both Pittsburgh and non-city residents are welcome. Regent Square.
clayfricktennis.org
Sept. 8
Alphabet Trails and Tales
. Now in its 18th year, this walk through Frick Park teaches hikers 26 awesome things to do on its Alphabet Trail. The free event promotes early-elementary literacy through a day of nature, reading and hand-painted sets.
citiparks.net