Ahh, summer ... when tradition demands we kick back in an air-conditioned movie theater and watch something we've already seen before. Well, not exactly -- but 'tis the season for sequels and remakes.
Compared to last year's dizzying array of numbers appended to movie titles, 2008 is light on sequels. Cracking the whip for the fourth time is Indiana Jones and the Kingdom of the Crystal Skull (May 22), with youngster Shia LaBouef alongside the 66-year-old Harrison Ford. The big angry red guy is back in Hellboy II: The Golden Army (July 11); Guillermo del Toro is back in the director's chair. On July 18, Christopher Nolan's broody Batman sequel The Dark Knight matches the caped hero (Christain Bale) with a twisted villain The Joker (the late Heath Ledger, in a much-buzzed-about performance). The X-Files: I Want to Believe, starring David Duchovny and Gillian Anderson, hits the big screen July 25, and Brendan Fraser is on the run from more linen-wrapped dead guys in The Mummy: Tomb of the Dragon Emperor (Aug. 1).
Over in TV-to-Movie Land, look for Sex and the City on May 30; wear your best shoes. Meanwhile, our fingers are crossed, but the previews suggest that Steve Carrell brings the perfect comic deadpan to this remake of Get Smart (June 20).
Other oh-so-familiar offerings include Edward Norton going green in The Incredible Hulk (June 13), and, on July 11, Brendan Fraser taking a Journey to the Center of the Earth in 3-D. Evelyn Waugh's broody work about disaffected Brits, Brideshead Revisited, is revisited in July; Emma Thompson stars.
The must-read bio-history of 1985, Savage Grace, finally hits the big screen; Julianne Moore heads this very dysfunctional family of plastics heirs (June). The ABBA-based musical Mamma Mia! (July 18) is now the turf of noted thespian Meryl Streep. And Aug. 15 will reveal what Star Wars: The Clone Wars -- an animated spin-off of the space epic -- is all about (besides more toys).
The studios are rolling out plenty of laughs. You Don't Mess With the Zohan, or Adam Sandler: The comic actor stars as an Israeli hitman and hairstylist (June 6). Remember Mike Myers? He's back and headlining as The Love Guru (June 20), a comedy about a saffron-clothed spiritual leader. Norbit director Brian Robbins and star Eddie Murphy reunite for another multiple-Murphy-role comedy in Meet Dave (July 11), and Sir Ben Kingsley stars in a comedy about drugs, The Wackness (July).
From the R-rated House of Apatow: Funnymen Will Ferrell and John C. Reilly are Step Brothers (July 25); and Seth Rogen and James Franco star as stoners caught up in a murder in Pineapple Express (Aug. 8).
The Office's Rainn Wilson lets his mullet fly in The Rocker (Aug. 1), a comedy about a hair-metaler looking for a new band. Also on Aug. 1, the vote of one doofus (Kevin Costner) decides the presidential election in Swing Vote (please, don't be a documentary!). Ben Stiller directs and stars in the making-a-movie-about-Vietnam comedy Tropic Thunder (Aug. 15).
Whew -- the laughs just don't stop: In The House Bunny (Aug. 22), a Playboy bimbette (Anna Faris) becomes housemother at a sorority. What the #@!* Is Hamlet 2? Well, for starters, it's a twisted comedy about a high school drama teacher (Steve Coogan) who stages a musical sequel to Shakespeare's classic (Aug. 22). And the globe-trotting Woody Allen sets his latest comedy-for-adults -- Vicky Christina Barcelona -- in Spain, where Javier Bardem juggles three women (Aug 29).
On the action front, Angeline Jolie takes a break from wrapping all the children in her pretty arms: She locks and loads as a tip-top hired assassin in Wanted (June 27). Hancock (July 2) is billed as various parts action-comedy and drama, but Peter Berg's film about a busted-up superhero can likely be saved by three words: Starring Will Smith. For more cerebral thrills, here's hoping M. Night Shyamalan returns to his strengths with The Happening (June 13), a nail-biter about a mysterious environmental catastrophe, starring Mark Wahlberg.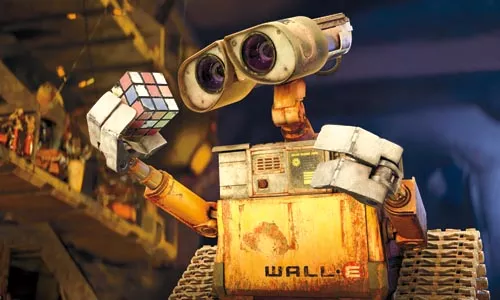 The kids will likely tumble for the wisecracking, animated black-and-white bear with paws of fury (and the voice of Jack Black) in Kung Fu Panda (June 6). Pixar continues to forge new paths for animated entertainment: WALL*E, opening June 27, is a photorealistic, largely dialogue-free film about a trash compactor that falls in love. And for you and your doll: Abigail Breslin stars in Kit Kittredge: An American Girl, a film based on the popular doll line (July 2).
Fact beats fiction in these documentary features, all opening in July. The late journalist is the subject of Gonzo: The Life and Work of Dr. Hunter S. Thompson, from Award-winning director Alex Gibney (Enron, Taxi to the Dark Side). Cringe through real-life adolescence in American Teen, Nanette Burstein's film that follows four Indiana high school students. And comedian/political commentator Bill Maher takes jabs at organized religion in Religulous.
In June, Pittsburgh Filmmakers brings in Alexandra, a new Russian drama from Aleksandr Sokurov, and Errol Morris' latest essay, Standard Operating Procedure, about Abu Ghraib. July finds Werner Herzog dusting off his documentary cap with Encounters at the End of the World, set in Antarctica. Also screening that month: the Israeli drama Jellyfish, and the British male melodrama, When Did You Last See Your Father?, starring Jim Broadbent and Colin Firth. On deck for August is My Winnipeg, offbeat filmmaker Guy Maddin's look at his hometown.
The warmer weather means area drive-ins are open, and Pittsburghers can also walk into several city parks for outdoor films: The Citiparks Cinema in the Park series (412-937-3039) returns on June 10, with family faves including The Water Horse, Arctic Tale and The Pirates Who Don't Do Anything.
The Oaks Theater in Oakmont kicks off its annual Moonlit Matinees series of cult favorites with The Rocky Horror Picture Show, on May 30. Other highlights include the 1980 roller-disco classic Xanadu (July 12); Hard Candy, starring the avenging pre-Juno Ellen Page, on Aug. 9; and the Pittsburgh premiere of Gregg Araki's Smiley Face, on Aug. 17.