If you're fed up with the endless cycle of movie sequels, universe building and rebootery, this summer is, well ... kind of a mixed bag. There's the predictable lot of hotly anticipated sequels and franchise add-ons, but also a cache of promising low(er) budget indies, riskier festival fare, experimental local programming and, of course, new shows to stream when you're in no mood for sunshine and fresh air.
Let's start with the heavy-hitters. Fresh off an unforgettable Celine Dion collab, Ryan Reynolds' quick-quipping superhero returns with Deadpool 2 on May 18. Solo: A Star Wars Story (May 25) submits another chapter to the intergalactic saga, flashing back to the origins of Han and Chewbacca, as well as Lando Calrissian and his killer facial hair. Ocean's 8 flips the heist franchise to an all-female crew on June 8 and on June 22, treat yourself to a long overdue family reunion with The Incredibles 2. Despite hundreds of deaths and millions of dollars lost in previous attempts, they're giving the dinosaur theme-park idea another go with Jurassic Park: Fallen Kingdom on June 22. And finally, the unkillable Ethan Hunt is back on July 27 in Mission: Impossible — Fallout. Tom Cruise (Valkyrie, The Mummy) stars.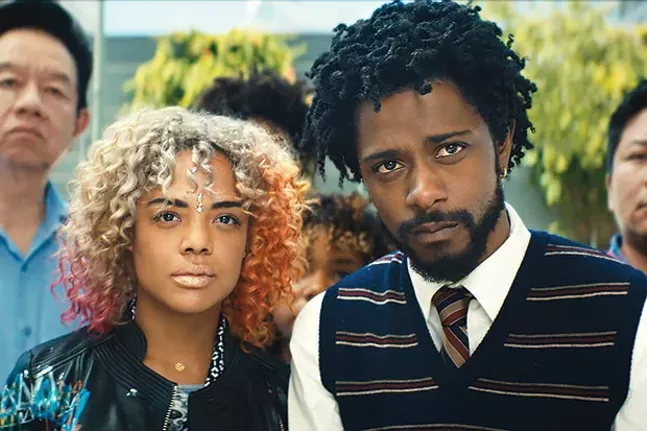 Fans of sci-fi and punk rock can look forward to How to Talk to Girls at Parties from writer Neil Gaiman and director John Cameron Mitchell (Hedwig and the Angry Inch); the alien-love story lands on May 11. The Sundance sweetheart Sorry to Bother You (July 6) is a surreal comedy in which a black telemarketer (Lakeith Stanfield, of Get Out) adopts a white-guy speaking voice (provided by comedian David Cross) to make sales — and it works. Bo Burnham's Eighth Grade transports audiences back to the awkward horrors of pubescence on July 13. The romantic comedy Crazy Rich Asians (Aug. 17) tackles class and Eastern/Western cultural barriers as a New York woman meets her boyfriend's super-wealthy family during a trip to Singapore.
Horror fans won't have to wait for Halloween for 2018's most anticipated spookers, chief among them A24's Hereditary — out on June 8 — which involves grief, family and a decapitated pigeon. From director David Robert Mitchell (It Follows), Under the Silver Lake looks to be a sardonic, trippy, can't-trust-the-floor-under-your-feet thriller starring Andrew Garfield and arrives June 22. On Aug. 24, the disturbing true story of teens turning memes to murder arrives in Slender Man, and on Sept. 7, we finally get the backstory behind The Conjuring's spooky-ass MVP in The Nun. If that all sounds too heavy, check out a more mainstream entry with the Jason Statham monster flick The Meg (Aug. 10).
On Netflix, spend a night with your two favorite amigos in Steve Martin and Martin Short: An Evening You Will Forget for the Rest of Your Life, starting May 25; on May 27, liberal, elitist bully Michelle Wolf debuts her new show The Break. Plus, two fan-favorite originals, Marvel's Luke Cage and the women's wrestling series Glow, return for sophomore seasons on June 22 and 29, respectively.
Locally, you can check out the new documentary Won't You Be My Neighbor? on June 8, which — do I really need to explain? — celebrates the life, work and enduring influence of Latrobe-born Pittsburgh icon Fred Rogers. Mid-June kicks off a number of well-worth-it local film programs, including a live Mystery Science Theater 3000 event at Regent Square Theater on June 15 and 16; a "sweded" film festival (brazenly amateurish recreations of popular films) at Row House Cinema June 15-21; and the highly-anticipated Japanese-American film Oh Lucy! playing at Harris and Regent Square from June 15 to July 5. If you've been missing Josh Hartnett from the big screen, Oh Lucy! offers a chance for a tearful reunion (just like Pearl Harbor!).