Here comes the summer season, and with it, at least one reason to hit the movie theater: air conditioning. But let's stay hopeful that the usual schedule of action films, silly comedies and oddball movies of August will prove worth the trip.
Summer is a great time for catching up with old friends, and some sequels will let you do just that. On May 26, judge if the scallywags of Pirates of the Caribbean: Dead Men Tell No Tales have worn out their welcome on their fifth visit. Apparently, these mechanical things never stop running: Cars 3 returns on June 16, and on June 23, it's Transformers: The Last Knight. Check back with your minion pals in Despicable Me 3, on June 30, and your angry simian relatives in War for the Planet of the Apes (July 14). Another alarming check-up arrives courtesy of Al Gore on July 28: An Inconvenient Sequel: Truth to Power.
A couple of old favorites also get a re-work this summer. It's the battle of the bare-chested in Baywatch, hitting the beach on May 25. Tom Cruise confronts an ancient Egyptian spooky chick in The Mummy (June 9), and Tom Holland webs up as the crime-fighter in Spider-Man: Homecoming (July 7).
There is plenty of action in the warmer months. A lady kicks it off with Wonder Woman, on June 2. It's candy-colored space adventure in Luc Besson's Valerian and the City of a Thousand Planets (July 21). Charlize Theron is a kick-ass Cold War spy in Atomic Blonde (July 28). From the Stephen King novels, The Dark Tower, starring Idris Elba and Matthew McConaughey, drops Aug. 4.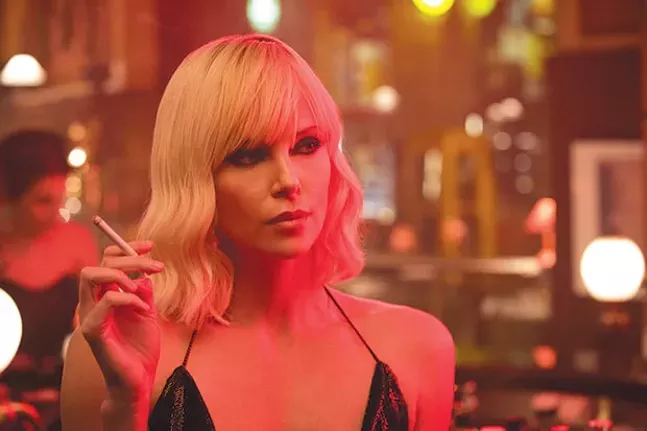 Amuse yourself with a slate of (hopefully) funny films. Rough Night (June 16) finds a bachelorette party going off the rails; on July 21, similar problems befall a group of women on a New Orleans trip in Girls Trip. The Big Sick (June 23) adapts the real-life rom-com of Kumail Nanjiani, the Muslim American comedian who has conflicts with his in-laws when his wife gets sick. Amy Poehler and Will Ferrell star in The House (June 30), about a desperate couple who open their own casino. Two sets of laughs on Aug. 18: The Hitman's Bodyguard, with Ryan Reynolds and Samuel L. Jackson, and Steven Soderbergh's Logan Lucky, about a heist at a NASCAR race.
For more dramatic fare, looks for All Eyez on Me (June 16), a Tupac Shakur bio-pic; Sofia Coppola's Southern-gothic thriller The Beguiled (June 23); Christopher Nolan's World War II film Dunkirk (July 21); and Detroit (Aug. 4), Kathryn Bigelow's drama about the 1967 riots that shook that city. Thrills come courtesy of the pandemic horror film It Comes at Night (June 9) and the underwater freak-out 47 Meters Down (June 16). Then there are the films that resist classification, such as A Ghost Story (July 7), starring an old-fashioned sheet-with-eyes-cut-out ghost, and animated The Emoji Movie (July 28), featuring Patrick Stewart as the voice of the poop emoji.
The local art and rep houses will offer fare beyond explosions. During the Three Rivers Arts Festival, the Harris Theater will present the International Animated Shorts Program and Workshop (June 2-5). On June 5-6, in conjunction with the festival and Pride Week, the Harris will screen the 2016 documentary The Freedom to Marry, about the legal fight for marriage equality. And check the Pittsburgh Filmmakers website for other indie, off-beat and classic films this summer.
The Hollywood, in Dormont, will present Exhibition on Screen, a mini-series about artists, featuring I, Claude Monet (May 20), The Artist's Garden: American Impressionism (June 3) and Michelangelo: Love and Death (June 17). On May 26, look for two new documentaries about jazz, Chasing Trane and I Called Him Morgan.
The warmer weather means area drive-ins are open, and Pittsburghers can also walk to several city parks for outdoor films: The Dollar Bank Cinema in the Park series returns on June 4, with recent films including Moana and Queen of Katwe, plus Spark!, three films designed to encourage discussion; this year, see films at a new added location at Oakland's Schenley Plaza.