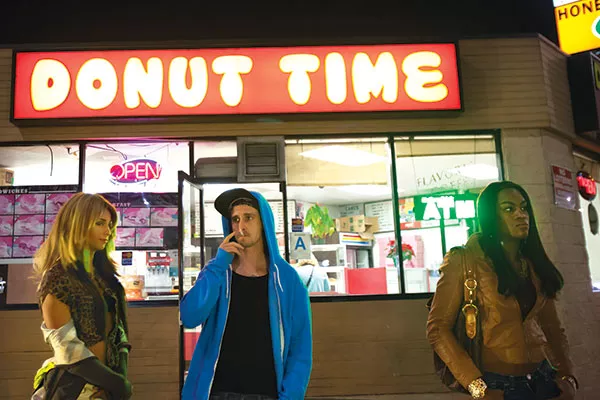 This summer is going to seem very familiar, with more than a dozen sequels and remakes packed into three months. And maybe you are pumped for Insidious: Chapter 3 (June 5), but take heart: There are some fresh films, too.
Here's the round-up of repeat offenders, sequels and sequel-like features. The Human Centipede III (May 29), now longer and made of prisoners; Entourage (June 3), a big-screen debut for the HBO show; dinos redux in Jurassic World (June 12); and the potty-mouth toy is back in Ted 2 (June 26). The male strippers return in Magic Mike XXL, and so do those bad metal guys in Terminator Genisys, both on July 1. On July 31, Tom Cruise gets busy in Mission: Impossible — Rogue Nation, and the grown-up kids from the 1980s Vacation movies take their own Vacation. Sinster 2 goes "Boo!" on Aug. 21. Getting remakes or reboots are: the Victorian sleuth Mr. Holmes, on July 17; the comic-book heroes Fantastic Four (Aug. 7); and the '60s spy franchise The Man From U.N.C.L.E. (Aug. 14).
For fresher action: Dwayne "The Rock" Johnson tries to fix an earthquake in San Andreas (May 29). In a change of pace from muscle-bound he-men, Paul Rudd is the shrinky-dinky Marvel hero in Ant-Man (July 17). And one for the grown-up kids, Pixels (July 24), finds Earth under attack from '80s arcade-game characters.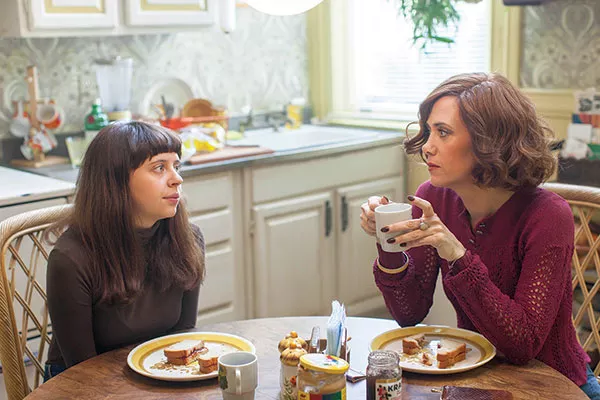 The ladies are making a strong run for summer comedies this season. Melissa McCarthy stars as an unleashed CIA agent in Spy (June 5). Then, Amy Schumer headlines (and writes) Trainwreck (July 17), about a men's-magazine writer. Kristen Wiig is half of a 1970s armored-car-heist crew in Masterminds, opening Aug. 7.
Various entertaining types get their biographical due. The troubles of Beach Boy Brian Wilson are re-told in Love and Mercy (June 5). Also in June, the documentary Live From New York! looks at the early days of Saturday Night Live. Straight Outta Compton (Aug. 14) recounts the birth and rise of Los Angeles gangsta rappers N.W.A. And in August, Jason Segel suits up as writer David Foster Wallace in The End of the Tour.
For the younger set, there's a new animated film from Pixar, Inside Out (June 19), in which a little girl's emotions come to life. And here's a shameless cash-grab, Despicable Me spin-off the kids will insist on seeing: Minions starts July 10. On July 24, it's the kiddie action adventure Pan, a backstory of sorts to Peter Pan.
Other films to keep an eye out for: Ricki and the Flash, a rock 'n' roll story starring Meryl Streep and her daughter Mamie Gummer, and Dark Places (Aug. 7), more twisted domestic drama adapted from a Gillian Flynn (Gone Girl) novel; both Aug. 7. Paper Towns (July 24), from the pen of John Green (The Fault in Our Stars), and Self/Less (July 10), a drama about a rich, dying man shifting his consciousness into a young man. Adolescence in 1976 gets a look in Diary of a Teenage Girl (Aug. 21), adapted from Phoebe Gloeckner's novel. And finally, two films shot locally: the weepie Me and Earl and the Dying Girl (June 12) and Southpaw (July 24), a boxing drama starring Jake Gyllenhaal.
In early June, Pittsburgh Filmmakers host UNSEEN/UNHEARD, a series of five free locally produced films, including Homemakers, Progression and Tracing Outlines. Also booked for Filmmakers, in June: The Wolfpack, a documentary about locked-up kids who re-create the world at home, and the Studio Ghibli anime, When Marnie Was There. In July, look for the Los Angeles indie dramedy Tangerine, shot on an iPhone.
The Hollywood in Dormont is bringing the doc Dark Star: H.R. Giger's World (June 5), A Poem Is a Naked Person (July 10) and two new adaptations: Mike Leigh's Pirates of Penzance (June 14) and Julie Taymor's Midsummer Night's Dream. Lawrenceville's Row House Cinema celebrates its first birthday in June; weekly themed series that month include: School Graduation, Arnold Schwarzenegger, Forbidden Love and Westerns. The Silk Screen Film Festival returns, now relocated to mid-summer (July 10-19), with films focusing on Asian and Asian-American experiences.
The warmer weather means area drive-ins are open, and Pittsburghers can even walk to several city parks for outdoor films: The Cinema in the Park series returns on June 7, with recent films including Interstellar and The Boxtrolls; concerts at Wednesday-night Schenley Park screenings; and the Pittsburgh premieres of Cantinflas and Cesar Chavez.