CURRENT
707 and 709 Penn Galleries
.
You Will Arrive
(work by Kara Skylling), through June 17.
937 Gallery
. Terracotta CoLab (explores the intersection of historical architectural terracotta and digital fabrication), through May 26.
The Andy Warhol Museum
.
Adman: Warhol Before Pop
(300 objects on display — from rare drawings and photographs to vintage advertisements, artist books and recreated department store window displays), through Sept. 2. Also: permanent exhibits.
August Wilson Center
.
Abstract Minded
(works by six contemporary African artists)
BNY Mellon Gallery.
Lest We Forget: Black Americana and Cultural Memory in the Age of the Hyperreal

1839 Gallery
.
Naomi Chambers: Communal Future
;
Darkness Giving Life
(various works from the Art Lending Collection at the Braddock Carnegie Library)
Claude Worthington Benedum Gallery
. All exhibits continue through July 22.

be Galleries
.
Mhuntary M. Mazziotti: All the
Paintings
, through June 30.
Carnegie Museum of Art
.
Visions of Order and Chaos: The Enlightened Eye
(combines new acquisitions and longtime gallery favorites from CMOA's 1750-1850 collection), through June 24. Teenie Harris Photographs: Service and Sacrifice, through May 28.
Hiroshige's Tōkaidō Road
(55 prints from the first [Hōeidō] edition of Hiroshige's
Fifty-Three Stations of the Tōkaidō
.), through July 22. Deana Lawson (a combination of photographs and appropriated-image installations by the Brooklyn-based artist), through July 22.
Contemporary Craft
.
Quadrennial: Four Years of Spectacular Buckles from the U.S. and Abroad
(a selection of work from the past four World Champion Belt Buckle competitions), through August 25, Studio Gallery.
Visual Voices: Truth Narratives
(work from 35 selected ceramic artists), through Aug. 18, Main Gallery.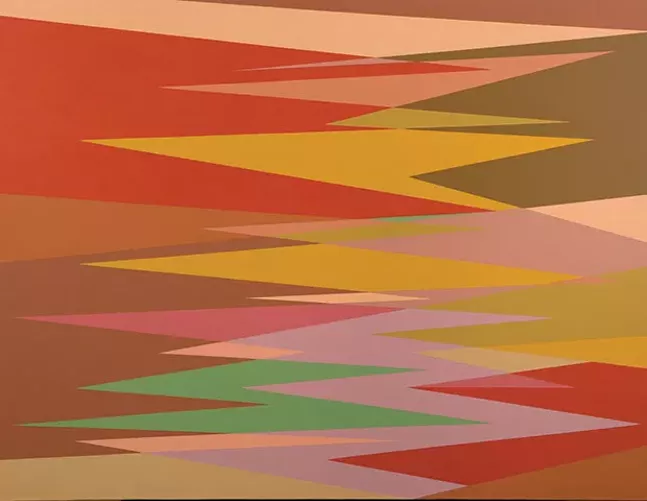 Frick Art & Historical Center
.
Revive, Remix, Respond: Contemporary Ceramic Artists and The Frick Pittsburgh
, through May 27.
Van Gogh, Monet, Degas: The Mellon Collection of French Art from the Virginia Museum of Fine Arts
,
through July 8.
Gallery on 43rd Street
.
Bright Blessed Day/Dark Sacred Night
(pastels by Diane Grguras), through June 30.
Hoyt Center for the Arts
.
I Am. We Are.
(photographic journal of Lawrence County's Diamond Girl program), through June 12.
Hunt Institute for Botanical Documentation
.
Dr. Charles Dorat and His Unrealized Central American Medicinal Flora
, through June 29.
Lawrence Hall
.
Paintings by Lisa Bergant Koi
, an Associated Artists of Pittsburgh show, through June 3.
Mattress Factory
.
Rhizome: Intrastructure
(Alex Hibbitt);
Stations
(Ezra Masch), through June 3.
Solar Grow Room
(Meg Webster);
Sculpting Gravity
(Allan Wexler), through July 29.
A Selection from the Greer Lankton Archive
, ongoing.
Morgan Contemporary Glass Gallery
.
Teapots!
(12
th
annual invitational), through May 26.
North Hills Art Center
. Regional show, through June 8.
Panza Gallery
. "Human Plus" (drawings and sculpture by Richard Claraval), through May 31.
Pittsburgh Center for the Arts
.
Under the Blankets - Printmakers Together
;
Imin Yeh & Paul Mullins:
Here is Something You Might Like to Have
;
Family Meeting
,
through July 8.
Southern Alleghenies Museum of American Art at Johnstown
.
Pictures: A Student Art Exhibition,
through June 1.
Southern Alleghenies Museum of American Art at Ligonier
.
Ritual Abstractions: Australian Aboriginal Art from the Collection of Anne M. MacDougall
, through Aug. 5.
SPACE Gallery
.
Marx@200
(marking Karl Marx's 200th birthday with more than 25 works by artists from around the world.), through June 10.
Sweetwater Center for the Arts
.
site/sight
(photographic works from artists who are concerned with humanity's complex relationship to place), through June 8.
UnSmoke Artspace
.
Unfolding
(Sarika Goulatia and Mia Tarducci), through May 27.
Westmoreland Museum of American Art
.
Tell Us Your Immigration Story
(highlighting stories through writing, audio and photographs), through June 3.
The Art of Giving: Selections from the Richard M. Scaife Bequest
, through Aug. 5.
Wood Street Galleries
.
Macular - Cycles
(four room-sized kinetic light installations, including three world premieres), through June 17.