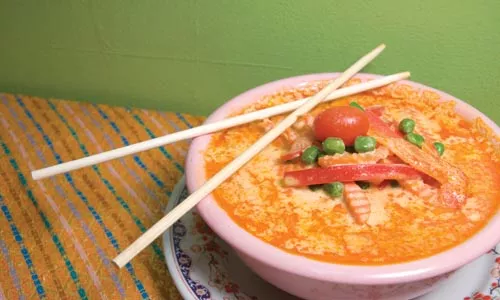 Location: 410 First Ave., Downtown. 412-261-4166
Hours: Mon.-Fri. 11 a.m-3 p.m., 5-9 p.m.
Prices: Lunch $7, starters $3-6, entrées $9-12
Fare: Thai
Atmosphere: Budget Asian
Liquor: BYOB
Smoking: None permitted
Without moving an inch, a small storefront in downtown Pittsburgh has toured Southeast Asia. For years, it bore the banner of Phnom Penh, whose Cambodian cuisine was one of Pittsburgh's early non-Chinese Asian options. Phnom Penh eventually closed, and an outpost of Edgewood's Green Mango moved in. Like its Cambodian predecessor, this Thai restaurant was always packed at lunchtime, but it didn't stick around. Preferring to concentrate its operations in the East End, Green Mango shuttered its First Avenue storefront last year, leaving Downtown workers once again with nowhere to go to get a good curry.
Then, signs of life appeared again, and the storefront re-opened as Sukhothai, named in honor of Thailand's first capital and the historic home of Thai culture. The hand-me-down space, walls still painted mango green, suits Sukhothai, which has added multicolored Thai silk tablecloths under glass tabletops. Sukhothai is open for dinner as well as lunch, and its menu includes helpful descriptions for the uninitiated, who will find simple stir-fried noodle and rice dishes alongside an array of curries and spicier concoctions for bolder Thai aficionados.
But first things first: fresh spring rolls. A taste of summer in the deepening autumn, these had tender translucent wrappers, a bundle of rice vermicelli inside, and shrimp or tofu to focus the flavor. While we've had spring rolls that were a veritable festival of herbs, the couple of mint and Thai basil leaves in each Sukhothai roll went a long way.
The kitchen was out of shrimp cake, so we tried an order of steamed dumplings, little shumai-style pouches of meat. The wrappers were thin and delicate, and the pork filling zingy with fresh ginger. We liked that the dipping sauce tasted of sesame oil, not just the usual soy.
Next came one of our favorite Thai salads, larb. Minced chicken was gently cooked, tossed with a spicy-tangy lime dressing, and served over lettuce, red onion and tomato. An authentic touch, but unusual in local establishments, was the roasted rice, which was ground up and sprinkled on top. Its gritty, grainy crunch complemented the lettuce's wet, vegetal one.
Pad Thai is like the fingerprint of a Thai restaurant; every establishment has its own. While ground peanuts were scarcely evident in Sukhothai's, the dish was otherwise exemplary. The noodles were infused with a blend of sweet, savory and tangy flavors from the tamarind-based sauce, and the big red shrimp were beautifully cooked.
While standard fried rice is rarely more than a pallid cure for leftovers, here the vivid flavors of Thai seasonings transformed it into something special. The individual grains of Sukhothai's fried rice were flecked with chili and mingled with thin, tender pieces of beef and strips of refreshing green pepper. Despite the chilis, and as with all the dishes we tried at Sukhothai, the heat wasn't overwhelming, and Thai basil brightened the flavor.
Angelique ordered a dish she has not noticed on other local Thai menus, choo chee pla, fish slow-cooked in red curry sauce with onion, bell pepper and kefir-lime leaf. A flaky tilapia filet was fried to a crisp on the outside to stand up to one of the more delectable sauces ever to grace a fish, a rosy, velvety curry comprised of rich coconut milk as a base for a subtle yet pervasive blend of spices. On the mild fish, this sauce was the flavor equivalent of a knock-out evening gown.
With its unassuming ambience of Southeast-Asia-on-shoestring, Sukhothai may not be as flashy as some of the bigger Thai restaurants in town. But its name is no hyperbole. We would not be surprised to see Sukhothai become the capital of Thai culture in Pittsburgh.
JR:
AB: