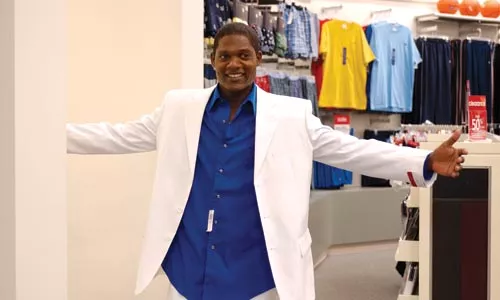 The San Pedro area in the Dominican Republic is to professional baseball what the Ohio Valley is to the NFL: the birthplace of many great athletes. One of them may be Miguel "Sugar" Santos, an 18-year-old from a poor family who, having exhibited early promise, has spent his adolescence at a training camp. There, young men work on skills and hope to catch the eye of scouts from the affiliated major-league Kansas City Knights in the faraway paradise of Estados Unidos. (Among the drills, learning key phrases such as "home run" and "I got it.")
Sugar, a pitcher with a nifty knuckleball, makes the cut, traveling first to Phoenix before graduating to a single-A team, the Quad City Swing, in Bridgetown, Iowa. There, he boards with the Higgins, a well-meaning elderly farm couple who love their Swing, but are as clueless about Hispanic culture as Sugar is befuddled by the Midwest. But that's the least of Sugar's problems: Playing on a real team -- and competing with other picks for that rare chance to move up the ladder -- also proves frustrating.
Sugar is from the director-writer team of Anna Boden and Ryan Fleck. Just as their previous film, Half-Nelson wasn't the stereotypical inspirational account of the dedicated white teacher befriending a poor, black student, neither is Sugar the sort of feel-good, triumph-of-the-underdog sports film that Hollywood reliably trots out. (Though, in an odd twist, Algenis Perez Soto, who portrays Sugar, is not an actor, but an aspiring ball player plucked from a field in the San Pedro area.)
It's fair to say that Sugar is less a baseball movie than a low-key, bittersweet coming-of-age film. In retrospect, the hints are dropped early that Sugar's journey may not conform to our romantic ideas about the plucky kid plucked from obscurity, whose burning dream will nonetheless propel him through all adversities.
Does Sugar play baseball simply because he has the aptitude and it's a ticket out? That it's what is expected of him in a land with few opportunities? He seems more alive joking around with his family than on the ball field. Before he leaves for the U.S., a neighbor who once played in the States warns him: "In life, you get many chances. In baseball, you only get one."
When Sugar gets to Iowa, the challenges are myriad: the language barrier; the cultural disconnect; the pressure of playing well; and surviving the brutal paring away of talent. (When players are cut, they're essentially tossed back to their homeland.) It takes far more than just athletic skills to succeed, and Sugar is only a kid. He has no support systems, and even his team buddies are ultimately rivals.
This odyssey, which we see through Sugar's eyes, is filled with experiences that are perplexing or unfulfilled. The Higgins' teen-age granddaughter seems warm and sympathetic, but the active Christian may just be recruiting exotic souls. At the mall, Sugar tries on new clothes; he can't afford them, so it's just a trial run. He orders "eggs" at a local diner only to be thwarted by the incomprehensible follow-up: "Scrambled, over easy, sunny-side up?" Later, at an amusement center, he navigates a bizarre, lengthy tunnel of flashing, pinging video games trying unsuccessfully to locate a friendly face.
Like Sugar caught in his new unfamiliar, fast-moving life, the film takes a while before you see where it's going. Its real payoff is in its final third, where circumstances cast many of the film's earlier scenes into new, sharp relief. And don't reach for your cheering horn: Ultimately, Sugar's fate is unclear. That's real life, not some rah-rah sports flick. In English, and Spanish, with subtitles.
Starts Fri., May 22. Regent Square