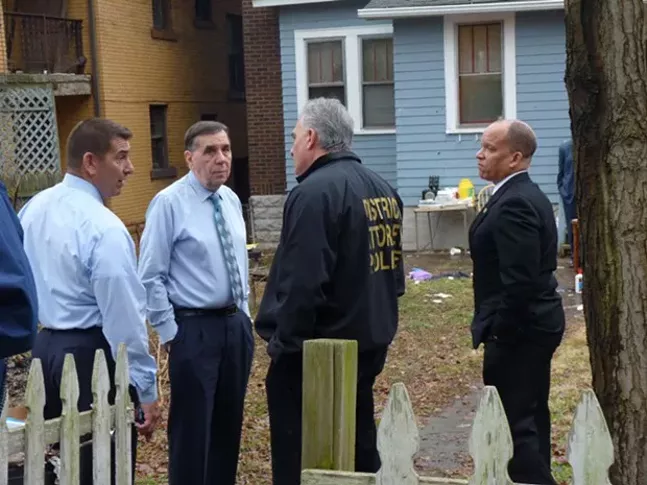 In the aftermath of the
mass shooting this week
that killed five adults and an unborn child, those in public office and those seeking it have been forced to face not only the tragedy, but the continued pattern of gun violence. This mass shooting adds to the the tragedy of recent deadly attacks in Pennsylvania. On March 8, six people were killed across Philadelphia, in five separate shootings and a stabbing.
Pennsylvania Governor Tom Wolf, who happened to be in town the day after the killings, expressed his "sincere sadness" over the shootings and talked about how gun violence in the state is unfortunately tied to poverty and "40 percent of Wilkinsburg is in poverty." He said his administration is working to restore funding for mental health initiatives and improve background check laws, but did not provide specifics. "I am a strong supporter of the 2nd amendment, but we need to make sure that that right does not extend to criminals ... We need more legislation on background checks and mental health. We need to step up in Harrisburg and do our jobs."<!—EndFragment—>
On March 9, five adults and an unborn child were
shot and killed in a Wilkinsburg neighborhood
, three others were injured with two in critical, but stable condition. Police officials say neighbors were having a barbecue at a home on Franklin Avenue on one the of warmest days of the year, when a shooter entered from the alley and apparently opened fire on the large gathering, according to police. A second shooter was waiting on the other side of the yard, and opened fire on the crowd as they ran away from the first shooter.
Allegheny County District Attorney Stephen Zappala said "the murders were planned, they were calculated, brutal."
Allegheny County executive Rich Fitzgerald was shocked when he found out about the shootings.
"It is tragic that on the first spring day, a family decided to have a backyard barbecue to enjoy the weather, and this happened," said Fitzgerald. "It shatters what we think of community."
Whether these gun-related killings signify a more dangerous country has been debated heavily between advocates, politicians and their ilk for years. But, one thing does come out of these shootings and the growing media coverage that follows them: gun control is on the mind of many Americans.
With that in mind,
City Paper
reached out to local and statewide politicians to get their thoughts on the Wilkinsburg shootings and what steps that could be taken to curb gun violence.
Braddock Mayor and Democratic U.S. Senate candidate John Fetterman said he was stunned by the "sheer enormity of the tragedy." He pointed to how majority of the victims killed were women and mourned "all these children without their mothers."
"The cowardness and barbarous of shooting a group in a fenced in backyard is unconscionable," said Fetterman.
When asked about his thoughts on gun-control legislation, Fetterman said he refused to politicize the shooting. "I am low to politicize this, all I want to do is express my deepest regrets… I want to afford [the families] the space to grieve."
Former Pennsylvania environmental secretary and Dem U.S. Senate candidate Katie McGinty said in a statement: "My deepest sympathies and thoughts are with the families who lost loved ones in the Wilkinsburg mass shooting last night. … We cannot simply grieve for this tragedy, wring our hands, and move on. These acts of violence occur far too often in our society. Pennsylvanians demand more of our leaders to fight the scourge of gun violence."
McGinty also happened to be in Pittsburgh Thursday morning for the United Steelworkers
Women of Steel conference
and
CP
caught up with her to ask her specifics of what action should be taken. She said she was want to "close the loopholes in terms of background checks," to insure only the lawful owner can have access to a gun.
McGinty also opposes Pa. legislation that allows organizations like the National Rifle Association to sue local municipalities over gun-related ordinances. She also believes that investing in schools will have a positive effect on communities and could lead to decreased gun violence.
Retired Navy Admiral and former U.S. Congressmen is also running for the Democratic nomination for U.S. Senate. He sent a statement to
CP
that began with "my thoughts and prayers are with all of those who were affected by the senseless shooting."
"I know there are real steps we can take to mitigate such tragedies in the future. These steps include approaches from making mental health and education reform a priority, to passing more direct gun violence prevention measures," Sestak wrote. Sestak supports President Obama's recent executive action on gun violence prevention. He says when he served in congress he supported an assault weapons ban, closing the gun show loophole and initiating instant background checks, and would continue to support these measures if elected Senator.
Incumbent Republican Senator Pat Toomey tweeted "My thoughts and prayers are with all those affected by the tragic shooting in Wilkinsburg last night" the day following the shootings. When asked for a comment on gun-control, Steve Kelly, spokesperson for Toomey, sent this: "Senator Toomey is dedicated to keeping firearms out of the hands of criminals and the dangerously mentally ill, which is why he continues to lead the bipartisan push to require criminal background checks for firearms purchased at gun shows and on the internet."
Toomey's bill, which was co-sponsored by West Virginia Democratic Senator Joe Manchin, received 54 yes votes, but fell shy of the 60 needed to pass in 2013. The bill would have required background checks for gun show and online purchased, but not transfers and sale between friends and family.