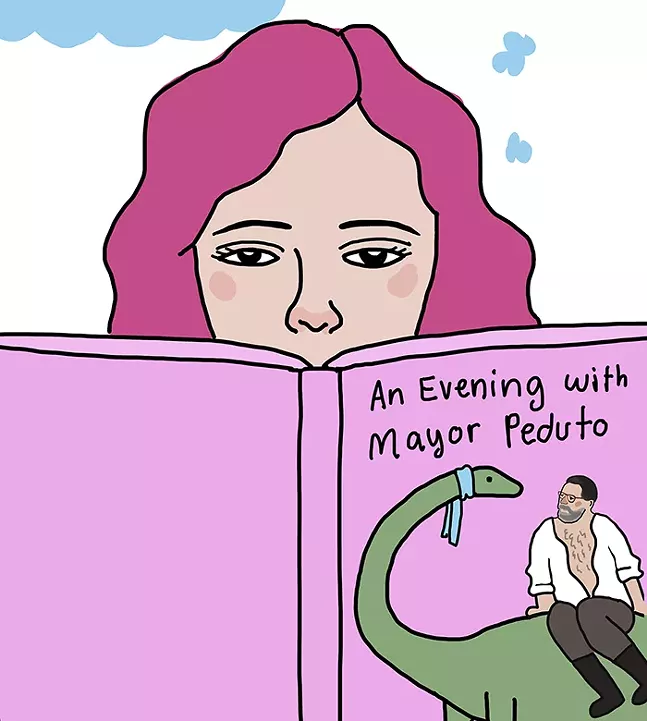 Ever fantasize about Mayor Bill Peduto riding bareback on Dippy the Dinosaur through the streets of Oakland? Who hasn't, right? We want your Pittsburgh fan fiction!
Sure, our staff could fill pages with our own fairy tales about Sally Wiggin and Wiz Khalifa and the ghost of Myron Cope coaching some young stud Yoda-style, but we wanted to give you, our amazing readers, a chance to participate too. We're looking for short stories about your favorite local celebrities and personalities.
Send us your submissions for a chance to appear in our Valentine's Day issue on Wed., Feb. 13. Our favorite entry will also receive a prize package.
Stories should be rated PG-13 and no longer than 500 words. Email your story to
info@pghcitypaper.com
with "Pittsburgh Fan Fiction" in the subject line by Fri., Feb. 1.
Let's have some fun, Pittsburgh. Don't disappoint these folks:
PG-13 stories about me and @FSBigBob will be showered with praise and RTs ❤️❤️❤️❤️❤️❤️❤️ https://t.co/bnnYc5Jqod

— Mikey (@fsmikey) January 23, 2019
Someone plz write a Steely McBeam/Joe Magarac romance wherein it ends with one of them carrying the other out of the steel mill An Officer and a Gentleman style thx https://t.co/AdjveNKcSX

— Virginia Montanez (@JanePitt) January 23, 2019