Deo Subba, proprietor of an eponymous Asian restaurant on the North Side, is Nepalese, and thus part of one of Pittsburgh's newest and fastest-growing immigrant communities. Naturally, the arrival of Nepalese culture has meant the introduction of Nepalese cuisine. Subba Asian Restaurant casts a broader net, with a menu that includes Chinese and Indian dishes as well. Since Nepal itself is tucked between China and India, this makes sense. A sign in the window promises sushi, too, but there's no hint of it on the menu, which may be for the best: China, India and Nepal is already a lot of ground for one kitchen to cover.
And if the Chinese offerings were predominantly Chinese-American tropes along the lines of kung pao chicken, Hunan beef and shrimp lo mein — and if the Indian was no more than an abbreviated list of generic curries and biryanis — well, we took that as a sign to start where our interest already lay, which was in Subba's Nepalese fare. But by the time we finished, we held Subba's entire menu in esteem.
In Nepalese cooking, too, the menu is brief, allowing us to sample each of three types of dishes on offer: momos, the substantial dumplings at the core of the cuisine; sadako, a sort of sauceless stir-fry; and curries.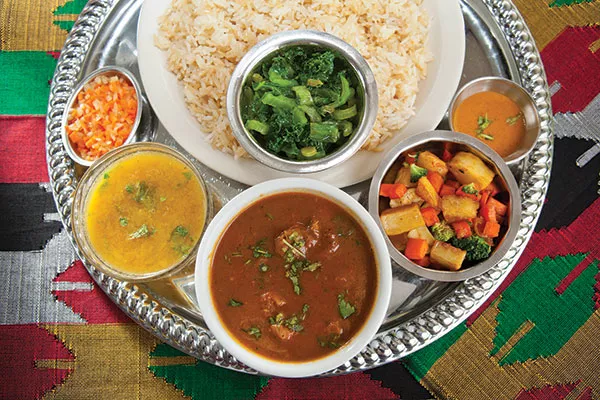 Subba's momos are available steamed or pan-fried, and with meat or vegetable filling. The meat momos were shaped like crescents with crimped edges, while the vegetable ones resembled the dim sum dumplings often called purses, round with gathered dough at the top. The wrappers, which should have been almost translucently thin, were thick and doughy, but what was inside was delicious. In the meat momos, minced — not ground — morsels, heated inside the close quarters of the dumpling, formed a savory steam that settled as flavorful broth. A similar effect in the vegetable momos rendered this filling tender and juicy. Both fillings were spicy and could be enhanced by dipping into an even spicier sesame-chili chutney.
A plate of sadako almost put us in mind of a salad, with its barely sautéed, still fresh-tasting and crunchy vegetables, including peppers, onions and cabbage. Instead of a sauce, a light, lemony dressing united the ingredients in a bright flavor profile. Only the meat (we ordered pork) was disappointing, not in its robust, spicy seasoning, but in its tough texture. Despite this, the flavoring of this dish was so addictive, we polished off the plate.
Nepali curries were served in the style of Indian thali, on a large platter filled with many components: steamed rice; a bowl of curried meat; a dollop of soupy dal; a tiny cup of savory mustard greens, and another of beautifully cooked mixed vegetables; an even tinier bowl of shredded, pickled veggies; and a further portion of the spicy chutney from the momos. Each component was marvelous: The vegetables seemed to have been pan-steamed, such that they were browned at the edges yet remained tender and moist, while the greens were cooked just enough to lose their harsh rawness and gain flavor from the dressing-like sauce. We prefer a thicker dal, but this one's thin texture did not translate to a thin flavor, and the simple earthiness of the lentils filled a gap in a platter that seemed to cover the full range of possible flavors. The curry itself was peppery and straightforward with tender, boneless chicken. An Indian lamb curry bloomed with warm spices: cumin, cinnamon, coriander and more. Its unmistakably northern Indian flavor reminded us that, after all, Nepal borders that part of India.
Our first taste of Subba's Chinese cooking was a bowl of hot-and-sour soup. Button mushrooms were a pale substitute for standard/authentic wood ears, but the soup was otherwise first-rate, without the weirdly gloppy texture that this soup sometimes exhibits. Chicken lo mein was better yet. All too many restaurants fail to get this seemingly simple noodle dish right, whether because of excess greasiness, disharmonious flavorings or indifferent ingredients. Not only did Subba avoid all these pitfalls, but the added thin slices of chicken were some of the tastiest we've had in any context. Clearly cooked whole and then sliced and tossed with the noodles, the chicken breast was neither bland, tough nor marred by twice-cooked flavor, but instead deeply flavored from its first, impeccable cooking. 
Subba's location, on the second floor of a nondescript building off East Ohio Street, may be discreet, and its decor may be humble. But the flavors of its Chinese, Indian, and — best of all — Nepalese cooking are big and bold.