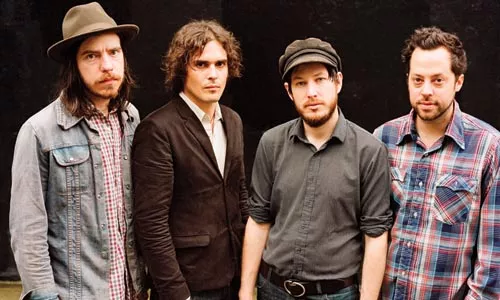 At last year's South By Southwest music festival, my friend Csaba and I attempted to catch Vetiver live, but as often happens there, some circumstance derailed us. He tried a few more times -- the recent Sub Pop signing played some eight showcases over the festival -- with no success. "Vetiver," he later told me ruefully, "came to seem interchangeable with 'enigma.'"
Even if Vetiver was our questing beast of SXSW, the band pulls into Thunderbird Café this Fri., Jan. 15, for a show with local Americana group Boca Chica. Referring to Vetiver as a band or group, however, is a bit misleading; it's more a loose confederacy built around singer-songwriter Andy Cabic, who sometimes records all the instruments himself. He's joined on tour this time by guitarist Daniel Hindman, bassist Bob Parins, drummer Otto Hauser, and Sarah Versprille on keys and vocals.
Last year's release, Tight Knit, was Vetiver's debut on Sub Pop -- which no doubt contributed to the increasing buzz -- but the group has four albums in its discography, going back to 2004's self-titled release, produced by The Pernice Brothers' Thom Monahan.
Whether Vetiver is riding a moody drone (To Find Me Gone's "You May Be Blue," "Been So Long") or plucking out a joyful naïve melody (Tight Knit's "Everyday"), there's a strong '60s and '70s singer-songwriter vibe to the music. While Cabic's associations with Devendra Banhart, Joanna Newsom and others tend to get Vetiver lumped in with the freak folks, it's probably equally accessible to fans of Fleet Foxes and Grizzly Bear, or CSN and Townes Van Zant.
Despite being Vetiver's "break-out" album, Tight Knit is more for those looking to bliss out, not rock out. Allmusicguide.com notes that "It takes skill to create a record filled with so little energy and drive ... that's not a criticism though it probably sounds like it should be." Which may just be another way of saying, "interchangeable with 'enigma.'"
Vetiver with Boca Chica. 9 p.m. Fri., Jan. 15. Thunderbird Café, 4023 Butler St., Lawrenceville. $8 ($10 day of show). 412-682-0177 or www.thunderbirdcafe.net