Thick-cut Toast at B52. Lawrenceville's new vegan cafe elevates a simple snack with toppings like preserves and cashew cheese (perfectly mimicking the flavor of tart goat cheese). 5202 Butler St.

Rich People Things: Real-Life Secrets of the Predator Class. Chris Lehman's smart and scathing series of essays on Things Rich People Like, including meritocracy, the creative class and Malcolm Gladwell.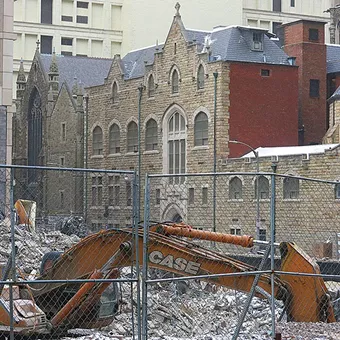 Smithfield Street View of Trinity Episcopal. Mourn Sax Fifth Avenue's mirrored landmark if you must, but the temporarily vacant lot offers a fresh perspective on the 1870s architecture of this iconic Downtown church.
Red Wine and Coke. A Basque specialty and a surprisingly refreshing way to drink too much red wine in one sitting. Allegheny Wine Mixer calls its version a Kalimoxto, and it is delicious and affordable. 5326 Butler St., Lawrenceville