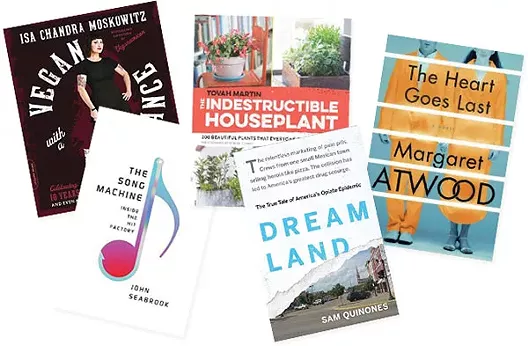 Dreamland: The True Tale of America's Opiate Epidemic. This recent book by journalist Sam Quinones looks at the ties between American's current heroin epidemic, the prescription-pill market and a distribution network born of a Mexican farming community.
The Heart Goes Last. Margaret Atwood's new novel is a face-first plunge into a dystopian society where prison is an everyday solution to economic problems. A must-read.
The Indestructible Houseplant. Do potted plants tremble when they see you coming? This inspiring book by Tovah Martin offers information on — and beautiful photos of — 200 varieties of houseplants that can thrive under anyone's care.
The Song Machine: Inside the Hit Factory. Wonder why so much contemporary pop music sounds the same? John Seabrook looks at the middle-aged guys from Sweden who, in a studio lab, assemble bits and pieces of music into sure-fire hits.
Vegan With a Vengeance: 10th Anniversary Edition. In terms of both indispensability and omnipresence, Isa Chandra Moskowitz's debut cookbook is sort of The Joy of Cooking for vegans. But it's worth replacing that old copy for this new edition, which features streamlined versions of old recipes, as well as some new ones.