The dancer's 5' 10" frame is draped across the mirror-lined stage -- naked except for a pink thong wrapped around her wrist, a tattoo arching around her pelvic bone and black platform stilettos
.
Hanging her head upside down off the stage, she flips her long auburn hair into the face of a female patron and smiles. A dollar bill slides onto the stage.
Dancers who've already finished up their 10-minute set, meanwhile, mingle with the patrons, while the DJ announces a two-for-one lap-dance special.
It's a typical lunchtime scene at Blush, Downtown's long-lived strip club. But almost every aspect of the scene would change under legislation proposed by City Councilor Theresa Kail-Smith. Lap dances would be a thing of the past, and even after performing on stage, dancers would have to stay at least 5 feet away from customers. Tipping, too, would have to be done at a distance.
And that auburn-haired dancer's provocative tattoo? It would be registered with police.
Kail-Smith says the city needs more say in how, and where, strip clubs operate. Courts have sided with clubs hoping to locate inside city limits -- despite objections from city officials and neighbors, who have to live with whatever problems the clubs bring along.
"We want [adult businesses] to have the right to operate," she says. "But at the same time, we want to make sure the community isn't suffering."
Still, industry advocates are threatening a fight.
"You're trying to take an industry and completely collapse it," argues Louis Caputo, an attorney representing Blush. "Whether you like them or not, these are businesses. And people make their living off them."
Kail-Smith was a neighborhood advocate before being elected to Pittsburgh City Council in February 2009. By her own account, this is her first substantive legislation, and it took root last year, as the city has fought a losing court battle to prevent a strip club from opening in the West End section of her district. City officials have similarly been unable to thwart plans for a Hustler club near the Rivers Casino.
Currently, city zoning law doesn't specify an appropriate location for adult entertainment like strip clubs or adult bookstores. Would-be owners must seek approval from city council and the Planning Commission for any site they wish to occupy. That process, Smith says, makes it easy for owners to appeal those decisions, by arguing unfair bias: "Our zoning is open to lawsuits based on First Amendment Constitutional rights," she says. "We were too restrictive."
Smith proposes making zoning rules more clear-cut, by allowing adult businesses in industrial areas, so long as they are 500 feet from residences, churches, schools and other community centers. The clubs must also be 750 feet from highway on- and off-ramps.
But the legislation doesn't just regulate where clubs can go: It also spells out what must -- and must not -- take place inside. Among the proposed rules:

No nude performances allowed; dancers may appear "semi-nude" -- defined as being "a state of dress in which opaque clothing covers not more than the genitals, pubic region and nipple of the female breast, as well as portions of the body covered by supporting straps or devices" -- on a stage at least 18 inches high. Dancers must be 3 feet from a patron seating area while on stage, and remain 6 feet away from patrons at all other times.
Dancers and patrons are not allowed to touch, making "lap dances" illegal.
Dancers must remain at least 5 feet from patrons even one hour after performing -- a rule that is "intended to control illicit sexual contact and reduce the incidents of prostitution" involving dancers.
Clubs must meet minimum-lighting requirements, and be laid out to ensure "an unobstructed view from an operator's station of every area of the premises, including the interior of each [private] viewing room but excluding restrooms."
Not only must club owners be subjected to a police background check, so must dancers and other employees. In addition to identifying information like home address and names (including stage aliases), dancers must submit their fingerprints, a photograph -- even describe "any tattoos on [any] anatomical area that normally would be visible when the applicant is on the premises of the [club]." Licenses can be revoked upon conviction for prostitution or other offenses

Dancers are prohibited from "knowingly accept[ing] a direct tip, gratuity, cash payment or other item of value from any patron"

These rules, which would apply to new and existing clubs alike, are drawn heavily from a model ordinance drafted by Ohio's attorney general, for use by municipalities there.
While some regulations, like the raised-stage rule, may sound arbitrary, proponents say they serve a purpose. "These clubs can be dangerous for police officers," says Richard McCleary, a professor at University of California-Irvine who has spoken with Kail-Smith's office, and whose research on strip clubs is widely cited by proponents of regulation. "You want the law to be crafted so an officer can walk in, make sure things are being run properly, and walk out." And once properly installed, a raised stage makes it easy to verify that dancers are maintaining the required distance.
Licensing of dancers, meanwhile, "is a relatively new thing," says McCleary. But cities are worried about an overlap between strip clubs and prostitution; licensing dancers "works to keep the most flagrant violators out." As for the tattoo disclosure, "it sounds bad, but that's standard for identification purposes."
But Kail-Smith's regulations would certainly represent a new standard of regulation in the local entertainment scene: Pittsburgh's strip-club dancers would be subjected to more scrutiny than, say, bartenders. (The state LCB does not require background checks for bartenders, or mandate any training unless their workplace has previously run afoul of liquor laws.)
Kail-Smith's bill is motivated by concern over "secondary effects" -- the consequences a strip club brings with it. And fear of lower property values is just one example, says Bram Reichbaum, a local blogger whom Kail-Smith retained to research the issue.
Strip clubs, says Reichbaum, "are attracting a lot of easy marks" -- men who will not report crime because they don't want to admit where they've been -- "to a place where the business is to have these entertainers go into closed rooms behind closed doors." The result is that both inside and outside the club there are "a lot of ingredients for a regional crime node."
To document the concern, Reichbaum looked at crime rates between 2005 and 2009, mapping them against the location of strip clubs. He found nearly 25 burglaries within 1,000 feet of Oakland's Cricket Lounge, for example, compared to only six per 1,000-foot-radius circle in the city as a whole.
Still, when the North Side Chronicle reported local misgivings about the Hustler club, an official with the Shadyside Chamber of Commerce told the paper she'd never had a complaint about the Cricket. And Reichbaum's numbers don't note what crime levels were like before the strip clubs opened. In Reichbaum's analysis, for example, the area around Blush had considerably higher crime rates than the rest of the city -- higher even than other clubs in the city. But Caputo, the Blush attorney, notes that the 1,000-foot-radius surrounding it is "the entire Downtown." Linking crime to the club -- as opposed to any other tenant -- "is all speculation," he says.
"We can only show correlations" rather than causation, Reichbaum says.
Indeed, the connection between strip clubs and crime is hotly disputed. The industry touts the research of UC-Santa Barbara professor Daniel Linz, who feuds regularly with McCleary and other "secondary effects" researchers.
Linz has argued that if anything, adult clubs are less likely to be crime hotspots than other businesses. In one study, he found that clubs "often appear to have better lighting in their parking lots and better security surveillance" than other businesses. What's more, when compared to other bars, men at strip clubs are less likely to get into fights about women --"due to the fact that the majority of patrons attend the clubs without female partners."
Larry Walters, a Florida-based First Amendment attorney whose clients have included adult businesses, says that if Kail-Smith's legislation passes, a court battle is likely. Some rules seem harsh, he says: While the tattoo-disclosure requirement is part of Ohio's "model ordinance," Walters says, "Having someone register their tattoos is pretty out there."
And "[i]f they want a six-foot buffer zone and no mingling, they have to show the court how not having those things in place is a problem."
If the city can't prove that, "it tells me two things," says Walters. "First, it tells me that the law is not going to be upheld. Secondly, it tells me that … someone doesn't like dancers performing naked in a club" -- and is pushing new rules to get around the club's Constitutional rights.
Club owners declined to speak about Kail-Smith's bill. But owners of the club Cheerleaders in the Strip District directed City Paper to Jeff Levy, the executive director of the Pennsylvania Hospitality and Entertainment Association. Levy's organization represents adult-oriented businesses, and Levy says many clubs already have lights, security guards and cameras.
"So when I look at even more stringent legislation like this … it looks to me like it's designed to put the industry out of business."
Some local clubs would have little difficulty complying with aspects of the law: Cheerleaders, for example, has VIP lounges open to plain view. And McCleary, of UC-Irvine, agrees that many clubs already take precautions. "You do have well-capitalized clubs that are trying to run a good business and plan to be at a site for 10 or 20 years. They don't want prostitution, because that's just trouble"
Still, he adds, "The problem is there are also bottom-feeder clubs. And these laws basically are aimed at the bottom-feeders." And those clubs, he said, harm not just the community, but the dancers themselves.
Both in Pittsburgh and across the country, dancers are typically independent contractors: They pay an upfront sum to the club owner to gain access to the clientele, hoping to earn the money back and then some.
Those rates can vary, as can a dancer's earning potential.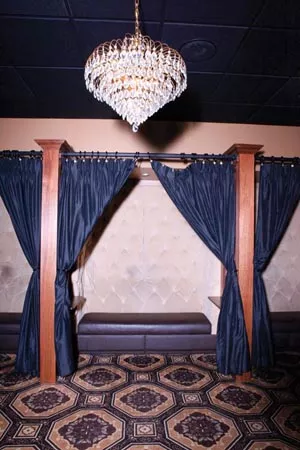 Levy says the fee is a "licensee agreement" whereby the dancer agrees to pay a "fee for the privilege of dancing in the club." The fee, Levy says, pays for "ancillary expenses to running the business," including a "house mom" in the back to take care of the performers' needs, showers, back room, music and security. He says the fees can range from "a few dollars in some cities to a few hundred dollars in larger cities."
Levy says the amount of money dancers earn can be quite substantial; money they make in tips through both stage dancing and private lap dances "can be quite substantially more than the licensing fee."
When CP attended a lunchtime rotation at one area club, one dancer took in as little as $2 during a 10-minute performance. Another scooped up $11, though one dancer said money earned onstage made up a small portion of revenue: Lap dances -- which Smith's legislation would ban -- are "how we really make our money."
Levy says the performers can't do their job and earn their money from 6 feet away: "You may as well be 20 feet away. It's going to affect the amount of money that they make. You may as well close it down because we're not going to be able to operate. We have employees who use the money earned in these clubs to feed their families and pay their tuition.
"We're not going to allow these people to go on the unemployment line."
Most dancers were wary of speaking at length, even anonymously, about the industry. One exception was a male dancer, "Paul," who worried that Kail-Smith's bill could put dancers at greater risk.
In established clubs, Paul says, "Behaviors are very codified and understood." By contrast, if clubs go out of business, "you're going to end up having to go to someone's house to do a private show, and you don't know how risky it could be."
Paul also worried about rules to limit interaction between dancers and customers. Open communication "reduces the level of objectification" he says. "Without it, you'd just be a shaking piece of meat."
Paul says he can take home as much as $150 on a good night. "It's a better job opportunity than anything on the market right now," he says -- though he acknowledges many other dancers earn far less.
Indeed, a website devoted to studying secondary effects (secondaryeffectsresearch.com) includes no small amount of testimony about how exploitative, even coercive, strip clubs can be. One former manager testifies about how women are driven to prostitution and drug use, claiming that they are "controlled and finally destroyed by a world that our communities have closed their eyes to."
The site also contains research by Kelly Holsopple, a one-time stripper who compiled a study which concluded that "despite the common perception that a woman can dance her way through school, many strippers report that their jobs take over their lives. Long and late hours, fatigue, drug and alcohol problems, and out-of-town bookings make it difficult to switch gears."
Strippers can be subjected to demeaning treatment by customers and club owners alike, Holsapple says -- ranging from insults and requests for sex to stalking and assault. "[E]nduring sexual violence is part of her job description. Women in stripping are expected to endure these abuses, degradations, and humiliations with a smile and a 'Thank You.'"
Reichbaum says he'd like to see workplace issues addressed in debate over the legislation. "These dancers should have W-2s," he says. "They may pay $150 a night in order to work these clubs, then have to find a way to make the money back in dark, private rooms."
In any case, Kail-Smith says, she's not trying to make it harder for strippers to earn a living. While her legislation would outlaw the strip-club ritual of tucking a bill inside a G-string, she says, "In other cities they have tip jars, and there are other ways to receive tips.
"This legislation is already in place elsewhere, and the industry in those places is thriving."
In fact, other cities have had mixed results with regulating strip clubs. Seattle's city council briefly experimented with a lap-dance ban in 2005; the following year, voters rejected it by 2-to-1 margin in a public referendum. Similarly, city councilors in Los Angeles passed their own strip-club regulations in September 2003 -- but rolled back a lap-dance ban just two months later, fearing an industry-sponsored referendum would cancel out other restrictions.
Elsewhere, laws may not be enforced. Tampa Bay passed its own "6-foot rule" a decade ago, and police engaged in a series of high-profile arrests. But a judge promptly declared the law unconstitutional. While it remains on the books, it hasn't prevented the town from being billed -- in a news story widely circulated online -- as the "Lap Dance Capital of the World."
But some cities have had success with regulation. San Diego, for example, has a no-touching rule and a six-foot buffer zone around nearly nude dancers. Like the proposed Pittsburgh ordinance, it requires dancers to register for a police background check (though no tattoo disclosure is required). Yet club owners seem largely content with it. A manager at Pure Platinum, a San Diego strip club, says that the ordinance "hasn't affected us either way."
The manager, who declined to provide her name, says dancers are able to do "air dances" -- gyrating around customers without making physical contact -- in skimpy outfits. There are VIP rooms for customers who pay for multiple dancers, but "There are no closed doors," and the action is monitored. Police check to see the club is in compliance "whenever they feel like it."
Kail-Smith stresses that she is open to amendments. Though she compiled the bill without speaking to club owners or employees, she says if they have concerns, they should "pick up the phone. If there are issues we need to address, we're more than willing to."
In fact, as of press time Reichbaum was already suggesting that the post-performance "no mingling" rule would likely be scrapped, due to the challenges of enforcing it.
"There is always going to be a market for looking at beautiful, naked people," Reichbaum says.
McCleary, of UC-Irvine, says experiences in places like San Diego show that regulations can work. But he warns that motives on both sides need to be examined.
"What troubles me is that there are people who want to use the law to push their own religious or moral position -- these are folks who try to get dirty books taken out of the library," he says. "On the other hand, it troubles me a lot that [some unscrupulous club owners] are exploiting these women [and] hiding behind the First Amendment."
Chris Potter contributed to this report