Take a stroll down Penn Avenue in the Strip District and you get the sense of a neighborhood stuck in time. Vendors and shops line the streets much like they have for the past 50 years, selling produce, fresh seafood, Steelers memorabilia and more.
But as you venture onto Penn's parallel streets closer to the river, you can't help but notice things are changing. Here, tractor trailers on their way to and from Smallman Street's produce warehouses dodge pedestrians navigating narrow, fragmented sidewalks, and residents walk their dogs along railroad tracks lined with upscale restaurants.
The influx of residents calling the Strip District home marks yet another shift in the neighborhood's history — and that increase in residents is set to skyrocket.
Over the next few years, the Strip District could welcome as many as 1,400 residential units, as at least seven developers vie to rehabilitate dilapidated factories and vacant lots. But they could have an unforeseen impact on the neighborhood's diversity, nighttime economy and overall identity.
"The challenges are to keep the Strip District real and authentic," says Daniel Rothschild, president of Rothschild Doyno Collaborative, an architecture and urban-design firm in the Strip District. "It's one of the most vibrant shopping districts we have and has that old-world feeling that most cities covet. So the challenge for us is to make sure we don't disturb that."
According to a 2002 report by students at the University of Pittsburgh, there were an estimated 266 residents living in the Strip District in 2000. (The population was nearly the same in 1990, at 275.) A decade later, that number has ballooned to more than 600, according to the most recent U.S. Census data and that figure could triple after proposed developments are completed.
Residential developments in the neighborhood began to pick up steam in 2007, when the 400-unit Cork Factory building opened. Shortly after, the Otto Milk condos followed suit with 82 units.
Like these developments, the residential units in the works will cater to residents with higher incomes than those traditionally found in the Strip. Before 2000, three quarters of the 58 families living in the neighborhood made less than $25,000 a year.
]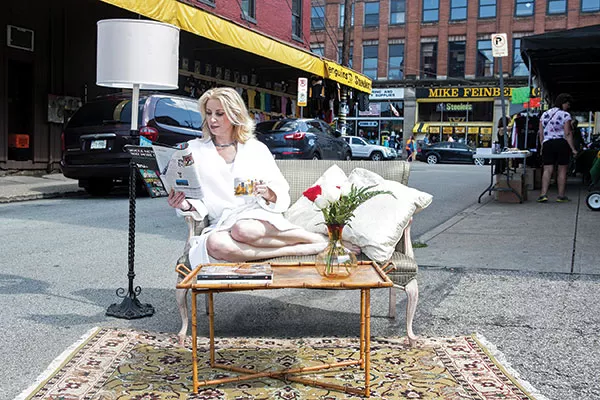 Today, with one-bedroom condos in the Otto Milk Building selling for almost $300,000, the median income in the neighborhood is also rising. From 1999 to 2009, the median household income in the Strip District rose from $55,000 to $75,000, according to census data.
While Becky Rodgers, executive director of community organization Neighbors in the Strip, is a proponent of residential development in the neighborhood, she worries the pending residential projects will have a negative impact on economic diversity.
"We're very supportive of residential development, especially when it's rehabbing old buildings," Rodgers says. "But I would love to see more diversity in the price of housing."
Among the projects currently under construction are 11 homes priced at $1 million or more. And while price details for the other projects aren't known, Rodgers says she anticipates they will similarly be luxury housing and worries that high rents will exclude young professionals. Rents at the Cork Factory range from $1,500 to $4,000. Rodgers would like to see rents as low as $750.
"What can we do to get the government to do that? Even if it's a small percentage of the housing being built," Rodgers says. "I know the developers are doing it to make money. I know money is tight for all government agencies, but it seems to me there has to be a way everyone gives a little to keep the diversity."
In order to maintain the Strip's diversity, state Sen. Wayne Fontana says Neighbors in the Strip should look at what residents have done to fight for affordable housing in the lower Hill District development. In residential projects that use public subsidies, community groups can require developers to set aside a number of affordable housing units.
"That's something that needs to be considered," Fontana says.
Rothschild agreed saying, "One only need to look at the lower Hill District to see the importance of the community voicing their interest in maintaining diversity through affordable housing."
The Urban Redevelopment Authority and city planning department did not respond to requests for comment. However, of the seven residential projects in the works, only one includes a request for public funds.
So far at least, residential developments have attracted a somewhat diverse population that also includes young professionals.
"I like that you can walk to pretty much everything you need, and you are still very close to Downtown amenities, but you don't have to pay quite as much as apartments that are right Downtown," says 29-year-old Amanda Roll, who lives in the Cork Factory.
"The location is terrific," says 70-year-old Richard Nimtz, who moved into the Cork Factory three years ago.
The Cork Factory was built in part by Chuck Hammel, president of Pitt-Ohio trucking company. Hammel is currently involved in plans for two more developments: One involves 11 luxury homes in an old warehouse at 25th and Smallman that are currently under construction, and the other, a plan to repurpose one of his truck terminals along the riverfront to build a 300-unit apartment complex between 25th and 26th streets.
Hammel has also thrown his hat into the ring, as part of McCaffrey Interests, to bid on the Strip District's most high-profile development: the Pennsylvania Railroad Fruit Auction & Sales terminal building. McCaffrey is among three developers hoping to be selected by the city to develop the historic site.
"The city's decision is going to be very important to the Strip," Rodgers says. "Will it enhance what's here or detract?"
Hammel's Pitt-Ohio trucking company has been a staple of the Strip District for years, but he's in the process of relocating his terminal to Harmar as a result of changes in the Strip District — changes he helped usher in as one of the developers of the Cork Factory.
"When we moved to the Strip District back in the late '60s, the only thing that was happening in the Strip District were a bunch of old warehouses," Hammel says. "You didn't have the traffic; you didn't have the pedestrians. Frankly, it's still location-wise the best place we could be, but to me it just became too dangerous to run trucks in and out of a heavily populated area."
Along with the neighborhood's trucking terminals, another part of the Strip's identity is its nightclubs. The Strip District's reputation as a nightlife destination has increased and decreased over the years as a result of crime, but since 2000, crime in the Strip has decreased by 75 percent and nightclubs have again become a staple of the neighborhood.
Chris Firman is a partner in Static and Xtaza two nightclubs in the Strip. Over the near-decade he's been a stakeholder in the neighborhood, he says he's seen a number of improvements, and he welcomes more.
"We support all of the residential developments," Firman says. "I think it's going to positively impact the nightlife and businesses."
While Firman welcomes the new development, local DJ Aaron Clark worries he and others like him will soon have to relocate after-hours events they hold at Club Pittsburgh, a venue in the Strip District.
"We know that we'll have to go eventually because it's inevitable," Clark says. "Residents are always going to complain about noise, even if the noise was there first."
Hot Mass, the after-hours cooperative event Clark helps organize with several others, brings in noted DJs from around the globe. The event's central location makes is a draw for locals coming from areas across the city, and its proximity to nearby hotels makes it easier for organizers to find lodging for visiting artists, says Clark.
But Clark doesn't know how long the events will continue after the completion of a 59-unit development set to be located a block from Club Pittsburgh, at 1100 Smallman St. He anticipates neighbors will complain about the noise.
Rodgers didn't comment on the Hot Mass events specifically, but said daytime and nighttime businesses are going to have to make "adjustments." But if businesses don't break the law, including having "music at a certain level, they're entitled to their freedoms to operate their business. If a nighttime business is doing that, everyone can live together peacefully," Rodgers says.
Still, Clark worries about other business owners being displaced as landlords look for ways to capitalize on the impending development.
"It's a lot of people that are going to move in," Clark says. "The thing is, do all of these businesses that have been there forever own their buildings? If they're leasing space, that's where it gets tricky, because landlords only see dollar signs."
Despite Clark's concerns, several local business owners are excited to have more residents in their neighborhood. Pamela's Diner co-owner Gail Klingensmith says she and her partner chose the Strip District to expand their franchise because of its neighborhood feel and more residents will only add to it.
"Even when there were not a lot of people living there, there was a neighborhood feel," says Klingensmith. "We loved the neighborhood we loved the diversity."
In the 10 years since Klingensmith opened the Strip District location, she says the neighborhood has steadily improved. And she doesn't see the neighborhood losing its identity anytime soon.
"If I could live anywhere in the city, I would buy a unit in the Strip District, and I'm 60," Klingensmith says. "There's so much culture and diversity there and everyone is welcome. It's a multi-ethnic neighborhood. Everyone has a little bit of ownership there."