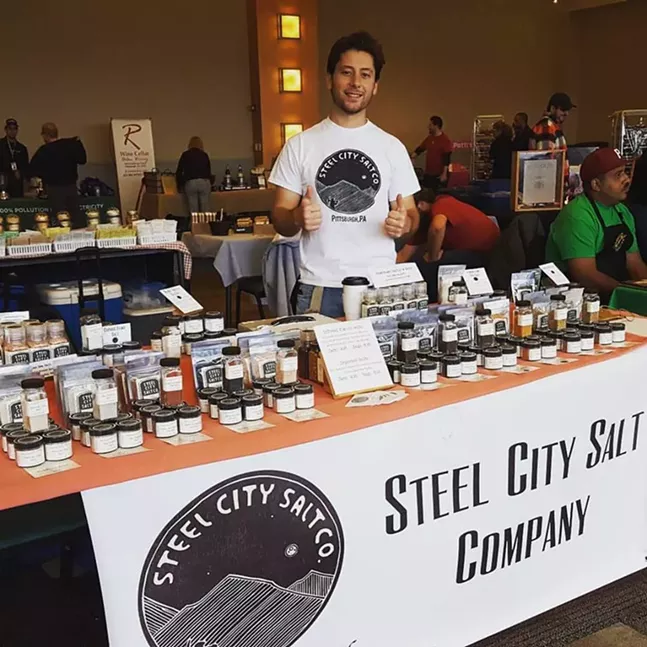 At first glance, salt may seem too simple a product to build a business on. Sodium and chloride, found readily in nature — there you go.
But there's a whole lot more complexity and variety to it than you'd think, says John Tarallo, founder of Steel City Salt Company.
Your basic table salt, for example, is processed to remove minerals, resulting in a sharp, acidic taste, says Tarallo. Naturally harvested salts, like the Himalayan or Sicilian varieties, retain those minerals, which leads to more subtle and complex tastes.
Such varieties are what shoppers will find at Steel City Salt Company, which sets up shop in the Strip District each weekend, and is currently working toward a brick-and-mortar storefront in Millvale. July is the hoped-for opening date.
Tarallo's product line includes salt-based seasonings, with favorites like Steeltown Garlic and Herb (with dried garlic, onion, parsley, rosemary, sage and thyme) and the Black and Gold (mixing Steel City's Hickory Smoked Sea Salt with various spices).
The Millvale store for Steel City Salt Company, which Tarallo runs with his wife and a rotating cast of family members, will accommodate both manufacturing and retail in one location. They're in the process of finalizing the space, but rest easy: The Strip location will remain open in the interim and beyond.
9 a.m.-3 p.m. Fri.-Sun. 21st Street and Penn Avenue, Strip District. www.steelcitysalt.com