There's a chord that shows up a lot on String Machine's new record, Death of the Neon. It's a major-seventh, if you feel like looking it up. The "seventh" part means that it's a regular major chord but the octave is knocked down a half step. It's easy to play on the piano if you have one laying around - basically, start with C and play every other white key until you get to the next B. That part doesn't really matter. What's important is that it's a basically a sadder version of the boilerplate happy major chord. It sounds vaguely defeated, sort of vulnerable. It is the opposite of aggressive and sounds lovely. These major-sevenths are weaved all throughout the simple, effective chord changes that populate the record. While that means there's plenty of defeat and vulnerability to go around, the songwriting smartly pits those moments against flashes of anxiety, nostalgia, and low-grade contentment. It's a tough dynamic to keep up, but they do.
Things kick off with the one-two punch of "Engine/It's Time" and "Eight Legged Dog," two slow burners that set the melancholic pace for the rest of the album. They're followed by the album's highlight "Old Mack," which has the most up-front opening of any track on the record, but soon eases into a painfully pretty verse/chorus loop that makes you want to start the song over as soon as it ends. The majority of the tracks, which is to say six of the nine, follow more or less standard approaches to structure, but the outliers — "Engine/It's Time," "No Holiday/Excite Again," and "Death of the Neon (Pt. 1, 2, & 3)" — are more easily distracted and veer off their courses for joy rides and detours that give the album a sense of unpredictability. The second half of "Excite Again" in particular is one of the more unforgettable moments on Neon, a pensive two-chord riff paired with seriously beautiful vocals from David Beck and Laurel Wain. (String Machine has a cousinly resemblance to the great Columbus, Ohio band Saintseneca throughout the record, but it really shines through in the harmonies.)
String Machine's first album,
Threads
, was released in 2016, when Beck was 20. It was a deeply personal record and a good one at that, but it's nice to hear Beck settled into his sound a bit. While tracks like the glitchy, Animal Collective-nodding "Garden" gave
Threads
a memorable dynamic and variety, it was at times a little unfocused in ways that this new album is not. That could be chalked up to Beck's band, since
Threads
was mostly a solo record executed with the help of friends, and
Death of the Neon
sounds less auteurish. The album has a cast of seven — Dylan Kersten, Nic Temple, Mike Law, Ian Compton, Katie Morrow, Wain, and Beck — and they really nailed how to amplify the personal nature of Beck's songwriting without sounding bloated. Cellos and trumpets can raise eyebrows in the excessive-production department, but they're dispatched here with thoughtful restraint.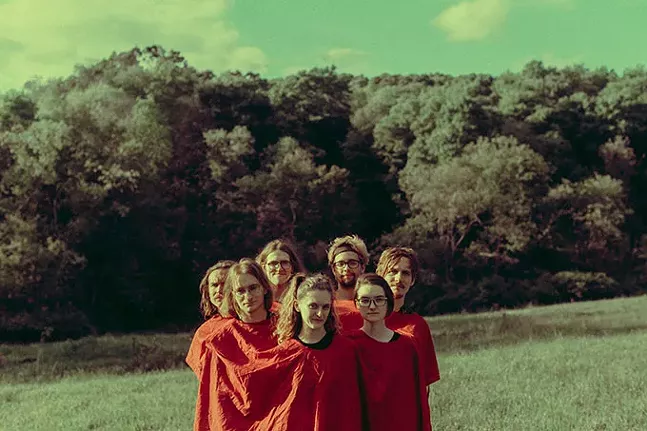 In fact, basically everything on Neon is thoughtful in this way and that's what sticks after the record ends. The chords, production, and lyrics feel deeply considered and planned out. Nothing sounds accidental, every word and chord rings true. Part of the pleasure of listening to this record, even when it's distressing or sad, is that every lap through the tracklist reveals another thoughtful detail that you missed the first time around. It's a giver.