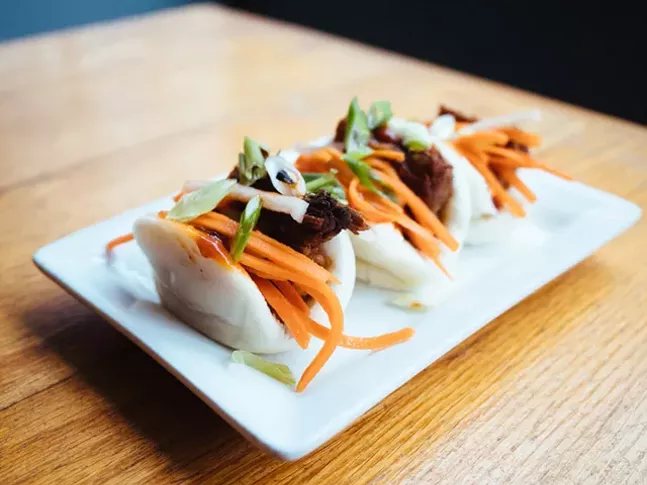 Matthew Christie and Lauren Leon founded their restaurant in 2016 as a way to celebrate "the unique but simple things hidden by everyday life" and for them, that meant street food: inexpensive, simple, and tasty. The result is Streets on Carson, a South Side spot with a menu that takes its cues from the sort of food found at markets and bazaars from around the world.
To create the menu, executive chef Christie searches for everyday favorites from across cultures. Many of his dishes are area trademarks (Philly Cheesesteak, for example). They're humble, hearty plates, packed with flavor, carrying both cultural and culinary significance.
Inside the restaurant, a huge graffiti mural covers the back walls. Tables are named after nearby streets and two working traffic lights hang in the front windows. Parts of the Pittsburgh skyline pop out from the bar.
Christie's two-part menu, labeled "little guys" and "sammies," lists each item with its country of origin. The range is vast, with plates from Taiwan and Argentina.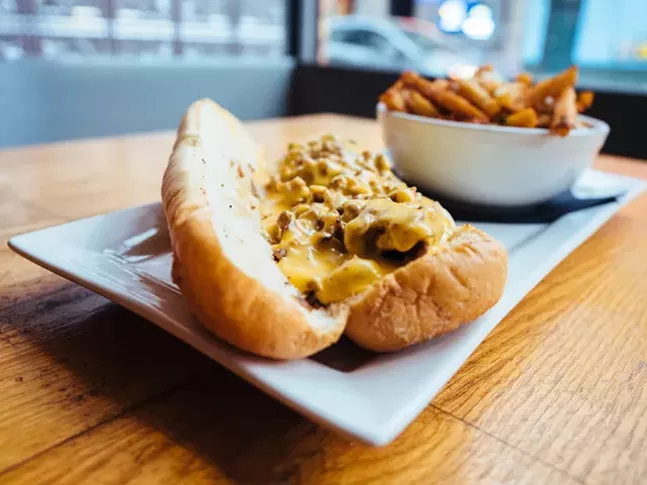 My meal had four countries represented (five if you count the French fries): meatballs from Marrakech, Morocco; beef from Nigeria; a sandwich from Bolivia; and snack-sized potato cakes from Islamabad, Pakistan. Flavors were intense and distinct, each dish strikingly, and wonderfully different from the rest.
Moroccan meatballs reflected a popular Middle Eastern breakfast, shakshuka, but brought the robust, one-pot-for-everything, stew-like layered spices of Moroccan cuisine. Bites of the aloo tikki (Pakistani potato cakes), were like taking a shot of cumin. The kick was an unexpected and welcome surprise, the spicy punch rounded out with a sweet tamarind reduction. Nigerian-seared beef skewers, suya, were light and refreshing compared to their "little guy" companions. There was a sun-ripened, acidic touch to the rub, a nice refuge from its tablemates.
The sandwich de chola, Bolivia's "peasant sandwich," was piled high with shaved pork, pickled vegetables, pork rinds, salsa, and a hot pepper sauce on a toasted, house-made roll. It's one of Bolivia's must-have street foods, the mild-flavored, sizable sandwich a perfect serving to stave off pre-dinner hunger. Textures were nicely balanced, with the soft roll contrasting against the crunchy vegetables and pork rinds.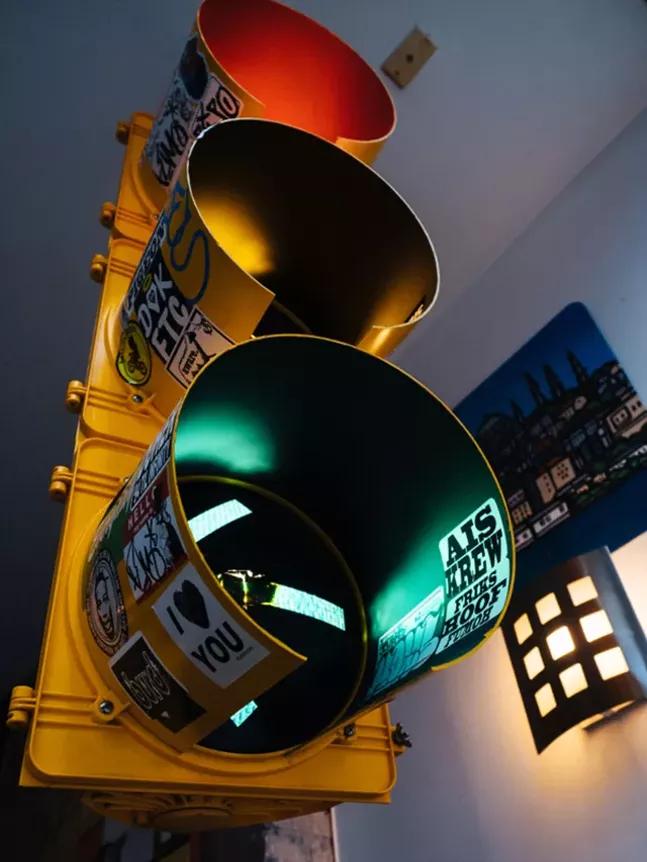 Streets on Carson brings a versatile menu to the South Side, perfect for a first date or after a long night out. The restaurant fills a much needed neighborhood gap with easy-to-eat, adventurous plates and a chance to eat around the globe without ever leaving Pittsburgh.
Favorite Features

1. Art for sale
See a cool piece of art inside the restaurant? Ask if it's for sale! Some of the framed, smaller pieces list prices. Take a bit of the Streets home with you.

2. Rotating menu
There are so many global dishes Christie wants to explore, he keeps the menu rotating. Keep an eye out for the newest edition, ready for release on May 14

3. Kitchen Coffee
Kitchen staff at restaurants work hard. We all know this. Buy your chefs a round of "Kitchen Coffee" (beer) to say thanks.