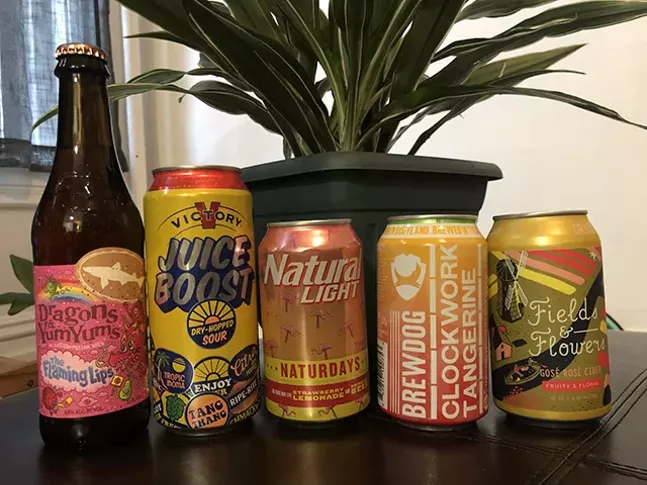 Standing in Pistella Beer Distributors on Penn Avenue, even looking at the case of Strawberry Lemonade Natural Light (aka "Naturdays") made my stomach uneasy. The novelty of a fruit-flavored version of the college-beer staple was intriguing until the case was nearby. But curiosity was stronger than my nausea, and a case of Naturdays was brought home to sample. It's during this time of year — the start of spring but an entire season away from summer — that beer companies like to bring out the seasonal, fruity beers. And I'm all for pretending the weather's warm by drinking "summery" beers while wrapped in a heated blanket.
On the can, underneath floating pink lawn-flamingos, reads the tagline "For those who like strawberry lemonade and drinking beer." The Natural Light team markets the beer as something anyone who likes fruit flavored beer will enjoy. But it should be more like "For those who like sugary syrup and cheap beer," because, for anyone who's ever drank a Natural Light, Naturdays tastes just how you'd expect. The initial flavor is a subtly sweet strawberry lemonade taste, before giving way to the classic, "Is this beer or is this water?" flavor. It's like the Natural Light team accidentally squirted in one of those Crystal Light liquid concentrate water enhancers and was like "Oh snap! We created a new flavor."
So, since Naturdays was a disappointment (which isn't a surprise), here are a few other summertime beers to drink when the sun comes out and the temperature hits above 50 degrees.
Dragons and YumYums, Dogfish Head — Made in collaboration with The Flaming Lips, this beer is light and sweet, with a burst of flavors — dragonfruit, yumberry, passion fruit, pear juice, and black carrot juice. Best enjoyed on its own in order to appreciate the subtleties of each fruit.

Juice Boost, Victory — The can advertises the beer as a "dry-hopped sour," but Juice Boost is sweet, hoppy and fruity.
Clockwork Tangerine, BrewDog — Almost like orange soda with a kick, this session IPA is tangy and crisp.

Field and Flowers, Graft Cider — Combine craft beer, cider, and actual roses, and out pops this funky, flowery beer.