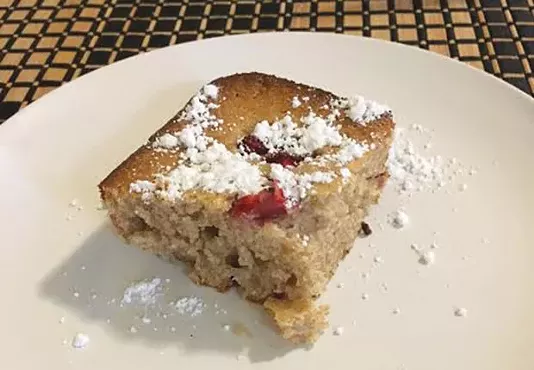 This cake is super moist, like your cheeks after realizing you're approaching the would-have-been one-year anniversary of your relationship with a man who you on/off love(d) for the past seven years. The denseness of the cake functions as a great muffle for loud intakes of breath (read: sobs) between bites, which is handy if you are eating it at work while Google searching "how to wean myself off Zoloft." (Even though crying at your desk while eating cake is probably not the best time to consider getting off your anti-depressants. But shit, seven whole years gone to waste with wanting.)
This is a variation of a couple of recipes found on the Internet after realizing I had both ricotta cheese and strawberries in my fridge and a strong desire to eat my feelings.
Ingredients
1½ cups flour
2 tsp. baking powder
¼ tsp. salt
½ cup sugar
3 large eggs
1½ cups whole-milk ricotta
½ tsp. vanilla
zest of half a lemon
1 cup strawberries
½ cup butter (a whole fucking stick), or substitute ½ cup safflower oil if you don't want to hate yourself later
Instructions
Preheat oven to 350 degrees. Coat a 9-inch cake pan with nonstick spray. Melt butter. Whisk the wet ingredients together (still too soon for you to even find the word "wet" vaguely sexual), with the sugar and lemon zest, and then add half of the strawberries, remembering that you've yet to meet a person who wanted to feed you fruit erotically or eat something sweet and cold off your skin. In a separate bowl, whisk together the dry ingredients, and add them to the wet mixture. Bake until golden brown, about 50 minutes, or just enough time to cry in the bathtub while listening to a Spotify playlist you and your ex made together the previous summer. As you towel off, make the split-second decision to delete the playlist completely.

Let it cool before serving yourself a generous slice with powdered sugar and remaining strawberries sprinkled on top.
Kelly Andrews is a poet who plans to stick around Pittsburgh indefinitely. You can find more sad, healthy (and funny) meals on her blog sadhealthymeals.wordpress.com.