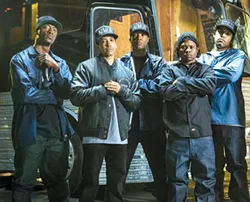 History is written by the victors, and sometimes those eventual winners are hard to predict. Like teenagers in the rough town of Compton, south of Los Angeles, amid the violence of the crack and gang scene. But in 1986, five guys from there formed a rap band, N.W.A., which delivered an incendiary combination of hard beats and true tales from the streets, and helped define a musical genre.
Straight Outta Compton, directed by F. Gary Gray (Friday), tells this sprawling tale — part history of West Coast rap, part hagiography of its featured performers, part social critique. It's too much, even for this two-and-a-half-hour film, but it succeeds as a solid-enough bio-pic that hits all the stops on the rags-to-riches-to-conflict-to-resolution road. Each main character is introduced in his "element": Easy E (Jason Mitchell) is evading the cops; Dr. Dre (Corey Hawkins) is listening to music; and Ice Cube (O'Shea Jackson Jr., Ice Cube's real-life son) is scribbling lyrics in his school notebook.
Gray sketches in the urban environment that gave rise to N.W.A.'s signature "reality raps": the gangs, the lack of economic opportunity, the persistent and harassing police presence. (This historical aspect of the film will resonate keenly this summer with the renewed focus on tensions between police and African-American communities.) Then it charts the creation of the explosive first album, Straight Outta Compton, with all its attendant controversies, primarily focused on the LP's violent lyrics. The film touts N.W.A. as First Amendment warriors, while wholly ignoring other contemporary complaints, such as the lyrics' misogyny. (Don't look for enlightenment with this film and its non-stop parade of nameless, faceless half-naked women.)
The first half of Compton is a blast — looser, and full of humor and those wayback songs — and it all comes to a glorious head when N.W.A. takes the stage in Detroit, forbidden to perform "Fuck Tha Police." Of course, they do, and as depicted here, it encapsulates the raw exhilarating power of being culturally outrageous. Despite its moments of personal and cultural strife, Compton is pretty mythologizing; unsurprisingly, Ice Cube and Dr. Dre are producers.
The film's latter half loses that energy as it tries to cover the dramas of the ensuing decades: Cube's split; Dre's defection to Death Row; the L.A. riots; collaborations with new talent (Tupac, Snoop Dogg); Easy E's illness; and myriad beefs, label-hops and assorted reconciliations.
It's a bit exhausting, but, as we know, it ends on a sunny note for its two surviving protagonists. Ice Cube has transitioned into a lovable mainstream movie star and, as recounted in an end title that drew a huge cheer from the audience, Dr. Dre recently sold his Beats Music company (headphones, etc.) to Apple for $3 billion. Straight outta Compton, yo.